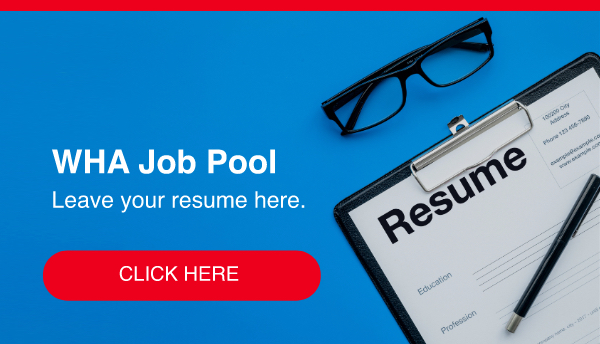 WHA E-Job Market Weeks
The First Online Job Fair in Eastern Seaboard
The impact from COVID-19 situation in Thailand has critically hit the workforce in many industries. Thus, there are some sunrise industries that still look forward to fill the vacancies in their manufacturing plants. WHA would like to assist both WHA customers to find candidates and the community in the EEC area to find a job easily by launching the WHA E-Job Market Weeks during 15-31 July 2020
For recruiters who would like to leave your job vacancies, please click download and complete the form and send to jobpool@wha-industrialestate.com.
For job seekers who would like to leave your application form, please click https://www.wha-industrialestate.com/en/job-pool/application-form
WHA E-Job Market Partners

Filter by Location:
Filter by Company:
Main responsibility:
Reviewing all accounting transection, including AR and AP module.
Checking the accuracy and completeness of tax invoices, issue invoice, tax invoice and receipt.
Reconciling a bank statement / prepare cash flow balance report.
Cross-checking transaction records of an accounting team member
Checking accrued expense booking / Balance sheet reconciliation
Follow up on VAT refund with revenue department
Communicate with auditors during the auditing process
Qualification:
Bachelor's degree in Finance and Accounting
Minimum an experience 5 years in financial and Accounting in manufacturing
Age 35 years old or over
Leadership
Good command in English language
Able to use MS Office, SAP system, AX system
Please submit your CV in English only with current photo and salary expectation
For more information please contact Duangkamon (คุณดวงกมล) or Patitta (คุณปทิตตา)
Address : 5 Phang-muang Chapoh 3-1 Road, Huaypong, Muang, Rayong 21150
Tel : +66 3801 0212 ext. 102, 116
Email : Patitta.k@sekisui.com and duangkamon.s@sekisui.com
---
สนใจสามารถกรอกใบสมัครงานได้ที่นี่
Apply
ผู้ประกอบการ : บริษัท เอส แอนด์ แอล สเปเชียลตี้ โพลิเมอร์ จำกัด
ที่อยู่ : เลขที่ 5 ถนนผังเมือง 3-1 นิคมอุตสาหกรรมดับบลิวเอชเอตะวันออก (มาบตาพุด) ต.ห้วยโป่ง อ.เมือง จ.ระยอง 21150
โทรศัพท์ : (038) 010-210 ต่อ 116 หรือ 097-2857882
Responsibility :
Reviewing and recording the transection payment in the AX system.

Checking Local and Oversea payment.
Checking Local and Oversea payment.
Checking the company credit cards.

Checking accrued expense and other expense.
Fixed asset module

Record fixed asset acquisitions and run depreciation in the system.
Manage tag number to fixed assets.
Record disposal of fixed assets procedure.

Issue the company Debit note/Credit note.
Monthly Adjust foreign currency revaluation in the end month.
Monthly Closing reconcile and summary report /Bank /BS /Spare parts
Annual Financial Statement and submission.
Review BOI Privilege report and submission.
Reviewing corporate income tax PJD 50 and submission and coordination with KPMG to review a document.
Reviewing Half-year corporate income tax PJD 51 in November
Internal control a document and follow up accounting policy.
Qualification :
Thai nationality Male and Female age 35 year up.
Bachelor degree in Financial or Accounting.
Have experience minimum 5 year in Financial and Accounting in manufacturing.
Good computer skill and advance level of Excel ( MS Office, SAP system , AX system)
Knowledge in tax invoices ,issue invoice , VAT refund and etc.
Good communication English skill.
Have Leadership.
Able to bear the pressure.
Company Welfare :
ค่าเช่าบ้าน Housing allowance
อาหารกลางวัน Meal allowance
ค่าเดินทาง/รถรับ - ส่ง Transportation /Van
ประกันกลุ่ม Insurance Group
กองทุนสำรองเลี้ยงชีพ Provident Fund
เงินช่วยเหลือการสมรส Marriage allowance
เงินช่วยเหลืองานฌาปนกิจ Funeral allowance
เงินช่วยเหลือค่าคลอดบุตร New born allowance
เบี้ยขยัน Diligent allowance
ชุดยูนิฟอร์ม Uniform
ตรวจสุขภาพประจำปี Annual Health Check-up
ท่องเที่ยวประจำปี Company trip
สินเชื่อเพื่อที่อยู่อาศัย ธอส. Housing Loan By GH Bank
โบนัสประจำปี (1 ปี 2 ครั้ง) Bonus
ค่ารักษาพยาบาล/ทันตกรรม
Working time : Mon-Fri 08.30 a.m. -17.00 p.m.
Contact information : HR & GA department
E.mail : duangkamon.s@sekisui.com
Tel. : (038) 010-210 ต่อ 116 หรือ 097-2857882
---
สนใจสามารถกรอกใบสมัครงานได้ที่นี่
Apply