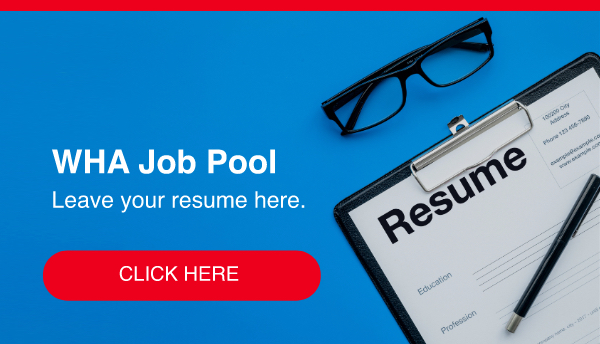 WHA E-Job Market
The First Online Job Fair in Eastern Seaboard
The impact from COVID-19 situation in Thailand has critically hit the workforce in many industries. Thus, there are some sunrise industries that still look forward to fill the vacancies in their manufacturing plants. WHA would like to assist both WHA customers to find candidates and the community in the EEC area to find a job easily by launching the WHA E-Job Market.
For recruiters who would like to leave your job vacancies, please send the details to jobpool@wha-industrialestate.com.
For job seekers who would like to leave your application form, please click https://www.wha-industrialestate.com/en/job-pool/application-form
Filter by Location:
Filter by Company:
บริษัท อาร์พีที เอเซีย จำกัด
สำนักงานใหญ่ เลขที่ 109/15 หมู่ 4 ต.ปลวกแดง อ.ปลวกแดง จ.ระยอง 21140
Tel. 033 - 017291-3 Fax. 033 - 017294
... รับสมัครพนักงาน ด่วน ...
เอกสารที่ใช้ในการสมัคร :
รูปถ่ายสี 1 นิ้ว 1 รูป
วุฒิการศึกษา
สำเนาทะเบียนบ้าน
สำเนาบัตรประจำตัวประชาชน
ประกาศนียบัตรต่าง ๆ (ถ้ามี)
ใบอนุญาตขับขี่รถยนต์ และรถมอเตอร์ไซด์
เอกสารการเกณฑ์ทหาร หรือ เรียน รด. (สด. 8 และ สด.43 เท่านั้น)
เอกสารการเปลี่ยนแปลงชื่อ หรือ นามสกุล
เอกสารการสมรส (ถ้ามี)
เอกสารการผ่านงาน หรือผ่านการอบรมต่างๆ (ถ้ามี)
สวัสดิการ :
Gasoline allowance, Housing allowance,
Group&Life insurance
Provident fund
Annual Bonus & Salary review
Etc.
รายละเอียดตำแหน่งงาน (Job Details)
Job Detail
Working knowledge in plastics materials and processes, tooling design, product testing
Solving "Pain point" using algorithm to facilitate factory and department to 4.0 generation
Availability to attend nightly phone calls and travel to Thailand and other international locations.
Attention to detail and the persistence to drive projects to completion is required.
QUALIFICATIONS
Thai national, male, age 23-30
Bachelor degree in Electrical, Software, Mechatronics, Mechanical Engineering or any related field.
Have experience 10 years in design, development, coding is required
Know how to use Solid Work for modeling and drawing.
Know how to and delivered code in Python, Java script knowing how to make thing easier by creating algorithm
Know about Data science, AI, machine learning – able to program and put out to solve real issues
Good "people skills" to work in an environment of teamwork and cooperation.
Demonstrated English language capability and fluency is required (written and verbal).
หากท่านใดสนใจ สามารถรับใบสมัครได้ที่ นิคมอุตสาหกรรมอีสเทรินซีบอร์ด
บริษัท อาร์พีที เอเซีย จำกัด
สำนักงานใหญ่ เลขที่ 109/15 หมู่ 4 ต.ปลวกแดง อ.ปลวกแดง จ.ระยอง 21140
ติดต่อสอบถามข้อมูลเพิ่มเติมได้ที่ฝ่ายทรัพยากรบุคคล โทรศัพท์ 033-017291-3 ต่อ 0
ได้ในวันและเวลาทำการ (จ-ศ. 08.00 – 17.00 น.) หรือ ส่งใบสมัครมาที่ E-Mail address: karnchana_p@reynoldspolymer.com
เอกสารที่ใช้ในการสมัคร :
รูปถ่ายสี 1 นิ้ว 1 รูป
วุฒิการศึกษา
สำเนาทะเบียนบ้าน
สำเนาบัตรประจำตัวประชาชน
ประกาศนียบัตรต่าง ๆ (ถ้ามี)
ใบอนุญาตขับขี่รถยนต์ และรถมอเตอร์ไซด์
เอกสารการเกณฑ์ทหาร หรือ เรียน รด. (สด. 8 และ สด.43 เท่านั้น)
เอกสารการเปลี่ยนแปลงชื่อ หรือ นามสกุล
เอกสารการสมรส (ถ้ามี)
เอกสารการผ่านงาน หรือผ่านการอบรมต่างๆ (ถ้ามี)
สวัสดิการ :
ค่าอาหาร
ค่าน้ำมัน
เบี้ยขยัน
ค่าเช่าบ้าน
ค่ากะ
ชุดยูนิฟอร์ม
ประกันสังคม
รายละเอียดตำแหน่งงาน (Job Details)
อ่านแบบและเชื่อมงานตามแบบที่ได้รับ อย่างถูกต้อง
เชื่อมโลหะ ทำงานตามแบบตามที่ผู้บังคับบัญชามอบหมายได้
สามารถใช้เครื่องเชื่อมคาร์บอนไดออกไซด์และเชื่อมไฟฟ้าได้
สามารถทำงานเป็นทีมได้อย่างมีประสิทธิภาพ
งานอื่นๆที่ได้รับมอบหมาย
คุณสมบัติผู้สมัคร
เพศชาย อายุ 25- 35 ปี
วุฒิการศึกษา ปวส. ขึ้นไป
ผ่านเกณฑ์ทหารแล้ว
ขยัน อดทน ร่างกายแข็งแรง
มีความคิดริเริ่มและความคิดสร้างสรรค์
มีความรับผิดชอบต่อหน้าที่ และตรงต่อเวลา
สามารถเข้ากะได้
หากท่านใดสนใจ สามารถรับใบสมัครได้ที่ นิคมอุตสาหกรรมอีสเทรินซีบอร์ด
บริษัท อาร์พีที เอเซีย จำกัด
สำนักงานใหญ่ เลขที่ 109/15 หมู่ 4 ต.ปลวกแดง อ.ปลวกแดง จ.ระยอง 21140
ติดต่อสอบถามข้อมูลเพิ่มเติมได้ที่ฝ่ายทรัพยากรบุคคล คุณนนธนา โทรศัพท์ 033-017275-6
"ได้ในวันและเวลาทำการ (จ-ศ. 08.00 – 17.00 น.) หรือ ส่งใบสมัครมาที่หน้าบริษัทหรือ E-Mail address: karnchana_p@reynoldspolymer.com ,nontana_s@reynoldspolymer.com