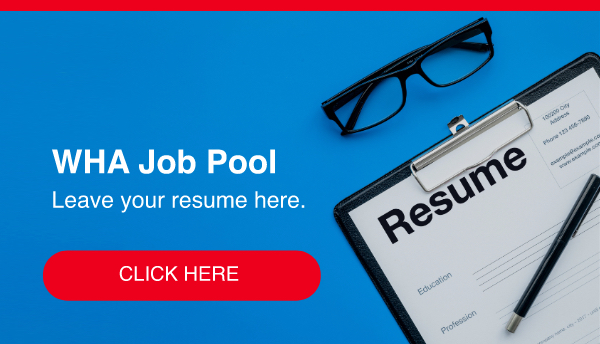 WHA E-Job Market
The First Online Job Fair in Eastern Seaboard
The impact from COVID-19 situation in Thailand has critically hit the workforce in many industries. Thus, there are some sunrise industries that still look forward to fill the vacancies in their manufacturing plants. WHA would like to assist both WHA customers to find candidates and the community in the EEC area to find a job easily by launching the WHA E-Job Market.
For recruiters who would like to leave your job vacancies, please send the details to jobpool@wha-industrialestate.com.
For job seekers who would like to leave your application form, please click https://www.wha-industrialestate.com/en/job-pool/application-form
Filter by Location:
Filter by Company:
เอกสารที่ใช้ในการสมัคร :
รูปถ่ายสี 1 นิ้ว 1 รูป 6 ใบอนุญาตขับขี่รถยนต์ และรถมอเตอร์ไซด์ ใบอนุญาตขับขี่รถยนต์ และรถมอเตอร์ไซด์
วุฒิการศึกษา 7 เอกสารการเกณฑ์ทหาร หรือ เรียน รด. (สด. 8 และ สด.43 เท่านั้น) เอกสารการเกณฑ์ทหาร หรือ เรียน รด. (สด. 8 และ สด.43 เท่านั้น)
สำเนาทะเบียนบ้าน 8 เอกสารการเปลี่ยนแปลงชื่อ หรือ นามสกุล เอกสารการเปลี่ยนแปลงชื่อ หรือ นามสกุล
สำเนาบัตรประจำตัวประชาชน 9 เอกสารการสมรส (ถ้ามี) เอกสารการสมรส (ถ้ามี)
ประกาศนียบัตรต่าง ๆ (ถ้ามี) 10 เอกสารการผ่านงาน หรือผ่านการอบรมต่างๆ (ถ้ามี) เอกสารการผ่านงาน หรือผ่านการอบรมต่างๆ (ถ้ามี)
รายละเอียดตำแหน่งงาน (Job Details)
Job Detail
ESSENTIAL DUTIES AND RESPONSIBILITIES
Review data from Customer/sales manager to determine if enough information is provided to generate the level of estimate being requested
Provide feedback and/or ask questions or make assumptions when appropriate to further the estimate if there is not enough information provided
Prepare estimate in accordance with current Estimating Standard procedures
Coordination with any/all departments to complete the pricing
Coordinate with Director of Installation for onsite bonding and installation quotes
Coordinate with the shipping department to prepare estimated time and cost to ship acrylic
Submit requests to RPT Purchasing Manager to obtain cost for glass, special tooling, machine work, or any other special items required to compile a bid. In some cases, it may be necessary to solicit pricing directly from a vendor for bid purposes
Consult with the sales team, vendors, production team, and/or RPT staff to discuss and resolve issues and formulate estimates
Conduct special studies to provide value engineering when necessary to fit a project to the client's budget.
Compile bids for daily review & approval. Create reports for client, sales & accounting department, or production team, as necessary
Maintain/Update Estimating Tracker during estimate process to keep information as current as possible
Other duties assigned
คุณสมบัติผู้สมัคร
Must be proficient with Microsoft Excel and Outlook
Business Bachelor's degree or equivalent experience preferred
Must speak and write English proficiently.
Strong mathematical skills are a must, including geometry and some trigonometry
Manufacturing and/or estimating experience preferred.
Must be flexible with working times
Thai Nationality, Males or Female will be fine
หากท่านใดสนใจ สามารถรับใบสมัครได้ที่ นิคมอุตสาหกรรมอีสเทรินซีบอร์ด
บริษัท อาร์พีที เอเซีย จำกัด
สำนักงานใหญ่ เลขที่ 109/15 หมู่ 4 ต.ปลวกแดง อ.ปลวกแดง จ.ระยอง 21140
ติดต่อสอบถามข้อมูลเพิ่มเติมได้ที่ฝ่ายทรัพยากรบุคคล คุณกาญจนา พงษ์สวัสดิ์ โทรศัพท์ 033-017275-6 ต่อ 109
ได้ในวันและเวลาทำการ (08.00 – 17.00 น.) หรือ ส่งใบสมัครมาที่ E-Mail address: karnchana_p@reynoldspolymer.com ,wanwisa_j@reynoldspolymer.com
บริษัท อาร์พีที เอเซีย จำกัด
สำนักงานใหญ่ เลขที่ 109/15 หมู่ 4 ต.ปลวกแดง อ.ปลวกแดง จ.ระยอง 21140
Tel. 033017291-3 Fax. 033017294
... รับสมัครพนักงาน ด่วน ...
เอกสารที่ใช้ในการสมัคร :
รูปถ่ายสี 1 นิ้ว 1 รูป
วุฒิการศึกษา
สำเนาทะเบียนบ้าน
สำเนาบัตรประจำตัวประชาชน
ประกาศนียบัตรต่าง ๆ (ถ้ามี)
ใบอนุญาตขับขี่รถยนต์ และรถมอเตอร์ไซด์
เอกสารการเกณฑ์ทหาร หรือ เรียน รด. (สด. 8 และ สด.43 เท่านั้น)
เอกสารการเปลี่ยนแปลงชื่อ หรือ นามสกุล
เอกสารการสมรส (ถ้ามี)
เอกสารการผ่านงาน หรือผ่านการอบรมต่างๆ (ถ้ามี)
สวัสดิการ :
Gasoline allowance, Housing allowance,
Group&Life insurance
Provident fund
Annual Bonus & Salary review
Etc.
รายละเอียดตำแหน่งงาน (Job Details)
Job Detail
Take responsibility and ownership of day-to-day scheduling of all manufacturing, fabrication and transportation activities. Responsible for overall plant maintenance and safety. Monitor and document the performance of all production teams and work centers to ensure that all productivity, quality and safety activities are being met or exceeded. Constantly looking for and advising Management where the company can improve Production, Quality and Safety performance.
QUALIFICATIONS
Male, Thai nationality, 45 years or over.
Excellent communication and motivation skills.
Organized, punctual, good reporting manner.
10 years relevant factory environment supervisory experience in Thailand
Experience in the Chemical industry or Plastic manufacturing environment.
Willing to relocate to the Eastern Seaboard & Siam Eastern Industrial Area
Has a good skill of Management, motivator, team player and leader
The individual is expected to interface between Thai and International practices and expectations. The individual must recognize that RPT Asia is an International company and is operated and managed utilizing global management practices and expectations.
Must be able to speak and write English fluently. Request Toeic 700 point above
Definitely a 'can do' practical attitude. Must have a "hands on" approach to problem solving.
Can meet deadlines without constant supervision.
Ability to identify problems and challenges and provide solutions to these issues.
Can manage Installation, Onsite Project, Planning, Operations
Has a good skill of communications
Has a positive thought
Graduated with a bachelor's or master's degree in engineering
หากท่านใดสนใจ สามารถรับใบสมัครได้ที่ นิคมอุตสาหกรรมอีสเทรินซีบอร์ด
บริษัท อาร์พีที เอเซีย จำกัด
สำนักงานใหญ่ เลขที่ 109/15 หมู่ 4 ต.ปลวกแดง อ.ปลวกแดง จ.ระยอง 21140
ติดต่อสอบถามข้อมูลเพิ่มเติมได้ที่ฝ่ายทรัพยากรบุคคล คุณกาญจนา โทรศัพท์ 033-017275-6 ต่อ 109
ได้ในวันและเวลาทำการ (จ-ศ. 08.00 – 17.00 น.) หรือ ส่งใบสมัครมาที่ E-Mail address: karnchana_p@rptasia.com, wanwisa_j@rptasia.com