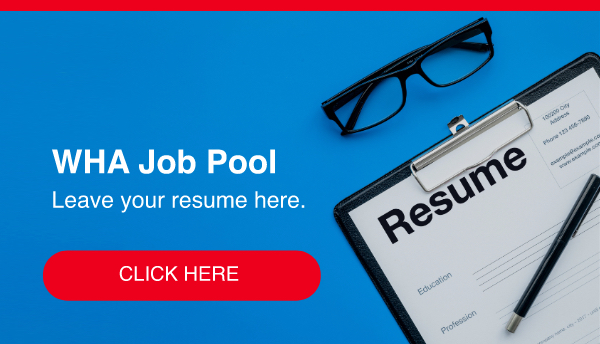 WHA E-Job Market
The First Online Job Fair in Eastern Seaboard
The impact from COVID-19 situation in Thailand has critically hit the workforce in many industries. Thus, there are some sunrise industries that still look forward to fill the vacancies in their manufacturing plants. WHA would like to assist both WHA customers to find candidates and the community in the EEC area to find a job easily by launching the WHA E-Job Market.
For recruiters who would like to leave your job vacancies, please send the details to jobpool@wha-industrialestate.com.
For job seekers who would like to leave your application form, please click https://www.wha-industrialestate.com/en/job-pool/application-form
Filter by Location:
Filter by Company:
Benefits : Uniform / Lunch / / Diligence / Position / Housing / Skill / Bonus 2 times per year
Responsibilities
Prepare and shipping for Domestic and Export
Experience in Automotive
Control Stock and Material
Fork Lift Certificate
Good Comunication Skills
Leader Ship
other assigned
Qualification
Male , age 30-40 years old.
Diploma in related field. At least 3-5 years Warehouse experience.
Microsoft Office - word / excel
Have patience / Accountability
Creative and Active
Motivation Skill
Application letter in English indicating current and expected salary together with resume, transcript, a recent photo may be sent by post, fax or e-mail. Walk-in candidates are welcome.
Contact : K.Natrada ( HR )
Nakamura Precision ( Thailand ) Co.,Ltd. 64/161 Moo.4 T.Plungdang A.Plungdang Rayong 21140
Tel . 033-012091-2 / Fax 033-012093
E-mail : adchara-s@nakamurath.com
สวัสดิการ : ชุดยูนิฟอร์ม / ค่าเช่าบ้าน / เบี้ยขยัน / ค่าอาหาร / ค่าตำแหน่ง / ค่าทักษะ / รถรับส่ง / โบนัสประจำปี
หน้าที่และความรับผิดชอบ
แพ็คงาน
จัดเก็บดูแลสินค้าวัสดุอุปกรณ์ พร้อมทั้งติดป้ายชี้บ่งสถานะ
เช็คจำนวนและตรวจสอบ คุณภาพสินค้าสำเร็จรูป
รับผิดชอบหน้าที่ในส่วนงานของแผนกสโตร์ และงานอื่น ๆ ที่ได้รับมอบหมาย
** ขับรถโฟล์คลิฟท์ได้ จะพิจารณาเป็นพิเศษ **
คุณสมบัติ
วุฒิการศึกษาระดับ ม.6 ขึ้นไป

มีประสบการณ์ด้านการผลิต อุตสาหกรรมยานยนต์

มีมนุษย์สัมพันธ์ดี มีทัศนคติที่ตีต่อผู้ร่วมงานทุกระดับ มีความละเอียดรอบคอบและอดทน
หลักฐานการสมัคร
รูปถ่ายหน้าตรงไม่สวมหมวก – แว่นตา ขนาดรูปถ่าย 1 นิ้ว จำนวน 1 รูป
สำเนาวุฒิการศึกษา
สำเนาบัตรประจำตัวประชาชน
สำเนาทะเบียนบ้าน
หลักฐานผ่านการเกณฑ์ทหาร (ถ้ามี)
Contact : K.Natrada ( HR )
Nakamura Precision ( Thailand ) Co.,Ltd. 64/161 Moo.4 T.Plungdang A.Plungdang Rayong 21140
Tel . 033-012091-2 / Fax 033-012093 E-mail : adchara-s@nakamurath.com