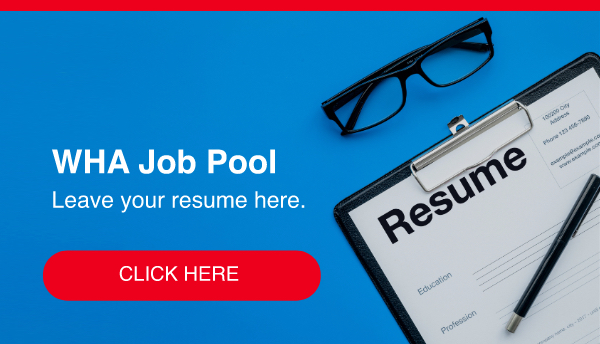 WHA E-Job Market
The First Online Job Fair in Eastern Seaboard
The impact from COVID-19 situation in Thailand has critically hit the workforce in many industries. Thus, there are some sunrise industries that still look forward to fill the vacancies in their manufacturing plants. WHA would like to assist both WHA customers to find candidates and the community in the EEC area to find a job easily by launching the WHA E-Job Market.
For recruiters who would like to leave your job vacancies, please send the details to jobpool@wha-industrialestate.com.
For job seekers who would like to leave your application form, please click https://www.wha-industrialestate.com/en/job-pool/application-form
Filter by Location:
Filter by Company:
สวัสดิการ
ค่าเช่าบ้าน / เบี้ยขยัน / ค่าอาหาร / ค่าตำแหน่ง / ค่าทักษะ / รถรับส่ง / ชุดยูนิฟอร์ม/โบนัสประจำปี
หน้าที่และความรับผิดชอบ
เสิร์ฟกาแฟผู้บริหาร และแขก ทำความสะอาดภายใน และภายนอกอาคารสำนักงาน
ทำความสะอาดภายใน และพื้นที่ภายนอกโรงงานที่ได้รับมอบหมาย
ทำความสะอาดห้องน้ำสำนักงาน โรงงาน และโรงอาหาร
ทำความสะอาดจุดเบรค จุดสูบุหรี่
รดน้ำต้นไม้ ดูแลสวน
และงานอื่น ๆ ที่ได้รับมอบหมาย
** เคยมีประสบการณ์หน้างานแม่บ้านบริษัท ฯ จะพิจารณาเป็นกรณีพิเศษ **
คุณสมบัติ
เพศหญิง อายุ 35-45 ปี
วุฒิการศึกษาระดับ ป.6 ขึ้นไป (อ่านออก เขียนได้)
มีใจรักงานบริการ มีมนุษย์สัมพันธ์ดี เชื่อฟังคำสั่งผู้บังคับบัญชา
มีความซื่อสัตย์สุจริต
มีความตรงต่อเวลา และปฏิบัติตามกฎระเบียบบริษัท ฯ
หลักฐานการสมัคร
รูปถ่ายหน้าตรงไม่สวมหมวก – แว่นตา ขนาดรูปถ่าย 1 นิ้ว จำนวน 1 รูป , สำเนาวุฒิการศึกษา สำเนาบัตรประจำตัวประชาชน,สำเนาทะเบียนบ้าน,หลักฐานผ่านการเกณฑ์ทหาร (ถ้ามี)
Contact : K.Natrada ( HR )
Nakamura Precition ( Thailand ) Co.,Ltd. 64/161 Moo.4 T.Plungdang A.Plungdang Rayong 21140
Tel . 033-012091-2 / Fax 033-012093 E-mail : adchara-s@nakamurath.com
Benefits: Lunch / Diligence / Position /Housing/Night shift/Bonus 2 times per year Uniform / Transportation
Responsibilities:
Conduct investigation of accidents and suggest preventive solution.
Examine potential unsafe working condition.
Provide safety training on site.
Perform safety inspaction and prepare reports.
Be able foresee the incident and advise.
Coordinate the monthly safety meeting.
Coordinate at least one evacuation exercise per year to ensure that all staff becomes familiar with these procedures Naatural disaster,Industrial action ,Political unrest,Fire and Explosions.
Ensuring adequate emergency preparedness.
Perform other related duties as assigned.
Qualification
Male or Fe, Age 25 - 35 years up.
Bachelor's Degree in Occupational Health & Safety
Minimum 1-3 years of experience in safety.
Have expert knowledge of Safety and Environmental Law.
Having experience in Automotive industry.
Having knowledge in IATF 16949
Planing,Organizing and analytical skills.
Good command in English and good computer proficiency.
Ability to work well under pressure.
Application letter in English indicating current and expected salary together with resume, transcript,
a recent photo may be sent by post, fax or e-mail. Walk-in candidates are welcome.
Contact : HR
Nakamura Precision ( Thailand ) Co.,Ltd. 64/161 Moo.4 T.Plungdang A.Plungdang Rayong 21140
Tel . 033-012091-2 / Fax 033-012093 E-mail : adchara-s@nakamurath.com