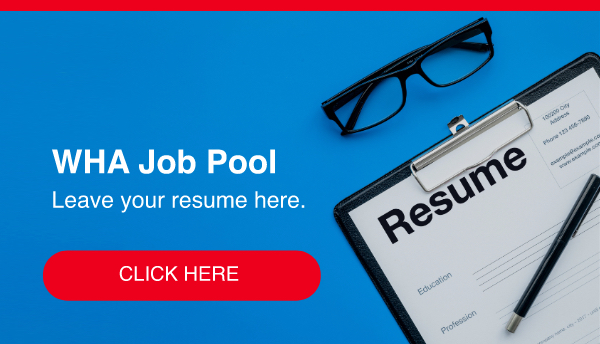 WHA E-Job Market
The First Online Job Fair in Eastern Seaboard
The impact from COVID-19 situation in Thailand has critically hit the workforce in many industries. Thus, there are some sunrise industries that still look forward to fill the vacancies in their manufacturing plants. WHA would like to assist both WHA customers to find candidates and the community in the EEC area to find a job easily by launching the WHA E-Job Market.
For recruiters who would like to leave your job vacancies, please send the details to jobpool@wha-industrialestate.com.
For job seekers who would like to leave your application form, please click https://www.wha-industrialestate.com/en/job-pool/application-form
Find the latest job vacancies from companies in WHA Industrial Estates.
Filter by Location:
Filter by Company:
TANATEX Chemicals (Thailand) Co., Ltd.
บริษัท ทานาเท็กซ์ เคมีเคิลส์ (ไทยแลนด์) จำกัด ผู้ผลิตเคมีสิ่งทอชั้นนำระดับโลก สำนักงานใหญ่ตั้งอยู่ที่ประเทศเนเธอร์แลนด์ และสำนักงานขายกระจายอยู่ทั่วโลก อาทิ ลาตินอเมริกา อินเดีย อเมริกา เอเซียแปซิฟิกและญี่ปุ่น
โรงงานตั้งอยู่ที่นิคมอุตสาหกรรมดับบลิวเอชเอ อีสเทิร์นซีบอร์ด 1 เพื่อขยายฐานการผลิตรองรับการเติบโตของลูกค้าในภูมิภาคเอเซีย มีความประสงค์จะรับพนักงาน ตำแหน่งดังนี้
หน้าที่และความรับผิดชอบ
รับผิดชอบในการจัดเตรียม ทดสอบ วิเคราะห์และบันทึกผลการทดสอบตามงานที่ได้รับมอบหมาย
จัดเตรียมร่างรายงานผลการทดสอบเพื่อเสนอหัวหน้างาน
ติดต่อประสานงานกับผู้จัดการเทคนิคผลิตภัณฑ์ เมื่อผลการทดสอบไม่เป็นไปตามสมมุติฐาน
คุณสมบัติ
เพศชาย หรือ เพศหญิง อายุ 21 ปีขึ้นไป
ม.6 สายวิทย์/คณิต หรือ ปวช ด้านเคมีอุตสาหกรรม
ปวส.เคมีสิ่งทอ/เคมีปฏิบัติ/เคมีอุตสาหกรรม
ป.ตรี สาขาสิ่งทอ/เคมีสิ่งทอ/เทคโนโลยีสิ่งทอ/เคมีปฏิบัติ/เคมีอุตสาหกรรม
เงินเดือน ตามโครงสร้างบริษัท
สวัสดิการ
ค่าเช่าบ้าน เดือนละ 2,000 บาท
ค่าเดินทาง เดือนละ 2,400 บาท
ค่าเบี้ยขยัน 500-800 บาท
ค่าอาหารกลางวัน (ตามปฏิทินทำงานบริษัท) 60 บาท
ค่าอาหาร OT วันละ 30 บาท ประกันชีวิตกลุ่ม/สุขภาพ/อุบัติเหตุ/ค่าทำฟัน
กองทุนสำรองเลี้ยงชีพ
เครื่องแบบพนักงาน
โบนัสตามผลประกอบการ
เงินรับขวัญบุตร
เงินช่วยเหลือพิธีศพ
สนใจสมัคร หรือ สอบถามข้อมูลเพิ่มเติม ได้ที่ฝ่ายทรัพยากรบุคคล บริษัท ทานาเท็กซ์ เคมีเคิลส์ (ไทยแลนด์) จำกัด
โรงงาน นิคมอุตสาหกรรม ดับบลิวเอชเอ อีสเทิร์นซีบอร์ด 1
500/107 ม. 2 ต. ตาสิทธิ์ อ. ปลวกแดง จ. ระยอง 21140
โทร. 033-010460 ต่อ 0
e-mail : Sarinee.Kongcharoen@tanatexchemicals.com
Website : www.tanatexchemicals.com
Job name : Safety Officer
Department : Production
Position of the job (organization chart)
The Safety Officer reports to the Plant Manager, functional report to Managing Director
Purpose of the job:
The Safety Officer responsible for site safety compliance both internal and external. Preparing proposals, plans and procedures, as well as implementing and supervising OSHE program in compliance with the company's Management Policy, international law and (local) legislation. Responsible for product data management, coordinating and facilitating the implementation of OSHE procedures.
Result areas
In compliance with law & regulations (and company rules)
The Safety Officer will take care that Tanatex Safety in workplace & Report
Daily monitoring site safety with discretionary reporting.
Provide and conduct relevant safety training to comply with internal and external requirement.
Prepare, accompany and following up the ministerial regulation, shall arrange to have the Committee of OSHE and set a monthly meeting as per specific agenda and quarterly report the safety performance to labour department and welfare.
Prepare yearly inspection and report to IEAT regarding to environment; noise, light, air, crane boiler and hazardous waste.
Reporting as required by external parties i.e.
DIW
Labour Department
Hazardous materials classification
In compliance with (commercial) certificates
The Safety Officer will take care that Tanatex is in compliance with commercial certificates by setting up, executing and monitoring management systems and by carry out a continuous improvement process on OSHE aspects.
Prepare, accompany and following up (external) audits. The relevant certificates are: ISO 9001, ISO 14001
Applied knowledge and expertise
Applying specific knowledge and expertise of technical and organizational nature to improve SHE aspects within the Tanatex organization:
Setting up and maintain the Safety report
Risk assessment and management (inventory, analyzing and evaluation) of chemicals, chemical processes and working conditions.
Proposing technical and organizational measures to reduce / minimize risks
Organize and execute safety studies conform the relevant standards
Registration and research of incidents and (near) accidents conform relevant standards
Guiding the management of change (MoC) process
Preparing for emergencies by setting up and maintain an emergency plan.
Initiate actions to establish a corporate governance policy for the company
Advise & support
Procure, consult and advise on current and relevant OSHE topics of regulatory-, technical-, and organizational nature within Tanatex, so that management and other responsible problem owners are supported in their problem solving, and the results of the entire organization are positively influenced.
Participate in meetings, workshops and studies
Reports and studies
Written consultancy on specific subject
Safeguarding OSHE measures by supervision in second line and by internal audits
Reporting, analysis and control
Realizes timely and accurate cost reduction programs, reports and management reviews
When necessary initiate and implement cost reduction processes
Initiates annual assessment of activities through Management Review
Monthly reporting on activities of the department
Ad hoc project as assigned.
Job qualifications
Male/Female age over 25 years old.
Bachelor degree or higher, major in Occupational Health Safety and Environmental, Chemical Engineering
Minimum 3 years-experience in relevant job.
A strong personality with excellent communicative skills and integrity.
Good reporting and Good analysis
Good command of English.
SAP knowledge
Certificate Safety Officer Advanced Technical Level or Professional Level
License of Specific Responsible Person for Hazardous Handling to be advantage (มีใบรับรอง บุคลากรเฉพาะรับผิดชอบความปลอดภัยการเก็บรักษาวัตถุอันตราย) จะพิจารณาเป็นพิเศษ
Able to work in Rayong
Core Managerial Functional Competencies
Core Competency: Customer Focused, Innovation, Quality Commitment, Results Orientation, Teamwork
Managing Performance: Developing Others, Managing Performance, Delegating & Empowering Others
Functional Competency: Accountability, Attention to Details, Leadership, Monitoring, Problem Analysis
Interested candidates are invited to email full resume in ENGLISH, stating present and expected salaries, and recent photo to
Human Resources Department
TANATEX Chemicals (Thailand) Co.,Ltd.
WHA Eastern Seaboard Industrial Estate 1
500/107 M. 2 T. Tasit A. Pluakdaeng Rayong