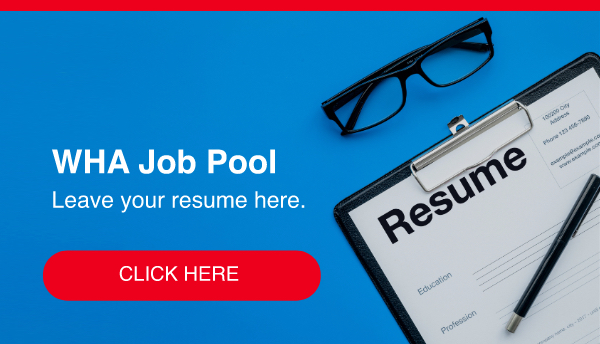 WHA E-Job Market
The First Online Job Fair in Eastern Seaboard
The impact from COVID-19 situation in Thailand has critically hit the workforce in many industries. Thus, there are some sunrise industries that still look forward to fill the vacancies in their manufacturing plants. WHA would like to assist both WHA customers to find candidates and the community in the EEC area to find a job easily by launching the WHA E-Job Market.
For recruiters who would like to leave your job vacancies, please send the details to jobpool@wha-industrialestate.com.
For job seekers who would like to leave your application form, please click https://www.wha-industrialestate.com/en/job-pool/application-form
Find the latest job vacancies from companies in WHA Industrial Estates.
Filter by Location:
Filter by Company:
บริษัท นิชินโบะ สมบูรณ์ ออโตโมทีฟ จำกัด NISSHINBO SOMBOON AUTOMOTIVE CO.,LTD.(NSA) บริษัทฯ ร่วมทุนระหว่างไทย-ญี่ปุ่นได้รับการส่งเสริมการลงทุนจาก BOI ได้รับการรับรองมาตรฐานคุณภาพ IATF16949:2016 และระบบคุณภาพสิ่งแวดล้อม ISO14001:2015 และระบบการจัดการด้านอาชีวอนามัยและความปลอดภัย ISO45001:2018 บริษัทฯ ดำเนินกิจการผลิตเบรกรถยนต์ชั้นเยี่ยมของประเทศญี่ปุ่น ซึ่งเป้าหมายของบริษัทฯ ดำเนินขยายการผลิตไปทั่วโลก ต้องการรับสมัครพนักงานดังนี้;-
Worker of Production
Male age 18 - 30 years.
High school / Vocation.
Experience 0-2 years up in Automotive parts.
สวัสดิการ
เงินช่วยเหลือค่าที่พักอาศัย
ค่าอาหาร
รถรับส่ง
เบี้ยขยัน
ค่าทำงานกะ
ประกันชีวิตกลุ่ม
เครื่องแบบพนักงาน
รถรับ-ส่ง
ของเยี่ยมไข้
ของขวัญเยี่ยมคลอด
ค่ารักษาพยาบาลพนักงานและครอบครัว
ของขวัญวันเกิด
เงินช่วยเหลือแต่งงาน
เงินช่วยงานศพ
กีฬาสี
งานเลี้ยงสังสรรค์ปีใหม่
ท่องเที่ยวประจำปี
รายละเอียดโรงงาน
ดำเนินธุรกิจผลิตเบรกรถยนต์
หมายเหตุ : รถรับ-ส่ง สายเคหะแหลมฉบัง, เครือสหพัฒน์, ศรีราชา, บึงทอง-เขาขยาย, สะพานสี่-ห้วยปราบ, ปลวกแดง-ระยอง, พัทยา-อ่าวอุดม
ติดต่อสอบถามได้ที่ : แผนกทรัพยากรบุคคล (038) 954448-51, (033) 012491-8 ต่อ 452, 426