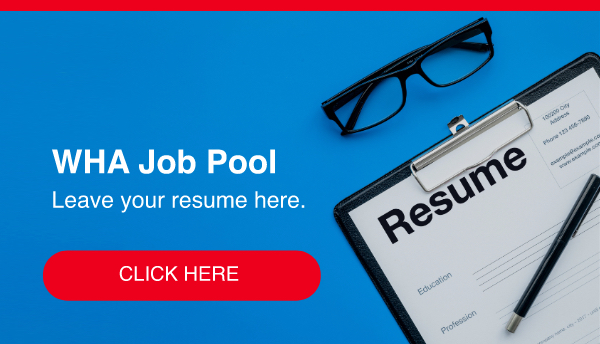 WHA E-Job Market
The First Online Job Fair in Eastern Seaboard
The impact from COVID-19 situation in Thailand has critically hit the workforce in many industries. Thus, there are some sunrise industries that still look forward to fill the vacancies in their manufacturing plants. WHA would like to assist both WHA customers to find candidates and the community in the EEC area to find a job easily by launching the WHA E-Job Market.
For recruiters who would like to leave your job vacancies, please send the details to jobpool@wha-industrialestate.com.
For job seekers who would like to leave your application form, please click https://www.wha-industrialestate.com/en/job-pool/application-form
Find the latest job vacancies from companies in WHA Industrial Estates.
Filter by Location:
Filter by Company:
บริษัท เคทู อัลไลด์ คอมโพเน้นท์ จำกัด
ตั้งอยู่ที่ 300/55 หมู่ที่ 1 นิคมอุตสาหกรรมอีสเทิร์นซีบอร์ด(ระยอง) ตำบลตาสิทธิ์ อำเภอปลวกแดง จังหวัดระยอง 21140 ประกอบกิจการเกี่ยวกับผลิตชิ้นส่วนภายในรถยนต์และชิ้นส่วนเล็กทรอนิกซ์ มีความประสงค์รับสมัครบุคลากรร่วมงานดังนี้
หน้าที่และความรับผิดชอบ
ดูแลบำรุงรักษาเครื่องจักร เครื่องมือ และอุปกรณ์ที่ใช้ในกระบวนการรวมถึงเครื่องมือของฝ่าย maintenance ให้อยู่ในสภาพพร้อมใช้งาน
ตรวจสอบเครื่องจักร เครื่องมือและอุปกรณ์ที่ใช้ในกระบวนการตามนโยบายที่กำหนด เพื่อให้แน่ใจว่าอยู่ในสภาพที่ใช้งานได้อย่างมีประสิทธิภาพ
ช่อมบำรุงเครื่องมือ เครื่องจักรและอุปกรณ์ที่ใช้ในกระบวนการผลิต เมื่อเกิดการชำรุด เสียหาย
จัดทำรายงานประสิทธิภาพในการทำงานของเครื่องจักร สภาพปัญหาที่เกิดขึ้น สาเหตุการเกิดของปัญหา
จัดทำเอกสาร checklist เครื่องมือ เครื่องจักรรวมถึงอุปกรณ์ที่ใช้ในกระบวนการ และเก็บรวบรวมข้อมูลนำส่งหัวหน้างาน
ปฏิบัติตามวิธีการปฏิบัติงานที่ได้กำหนดไว้ รวมถึงปฏิบัติงานให้ได้ตามเป้าหมายที่กำหนด
คุณสมบัติ
อายุ 25 ปี - 35 ปี
จบการศึกษาระดับปริญญาตรี ด้านอาชีวอนามัยและความปลอดภัย
มีใบประกอบวิชาชีพเจ้าหน้าที่อาชีวอนามัยและความปลอดภัยระดับวิชาชีพ
มีประสบการณ์ตามสายงานอย่างน้อย 1 ปี ขึ้นไป
สวัสดิการ
ค่าครองชีพ 2,000 บาท/เดือน
ค่าอาหาร 50 บาท/วัน
ค่าเดินทาง 40 บาท/วัน
เบี้ยขยัน 500/800/1000
มีรถรับส่งพนักงานสายปลวกแดง/บ่อวิน/ห้วยปราบ/สะพานสี่/บึง-เครือสหพัฒน์ฯ/ศรีราชา
โบนัสประจำปี
กองทุนสำรองเลี้ยงชีพ
เบิกค่ารักษาพยาบาล บิดา,มารดา,ภรรยา/สามีและบุตร 15,000 บาท/ปี
เงินช่วยเหลือกรณีสมรส,คลอดบุตร,อุปสมบท
สนใจส่งประวัติส่วนตัวได้ที่
คุณทิพย์มณภา (HR)
e-mail: n.thipmonpha@k2alliedcomponent.com
โทรศัพท์: 038-026-523 ต่อ 207
แผนที่: https://goo.gl/maps/Q8GNn6MpGvftrdt3A
บริษัท เคทู อัลไลด์ คอมโพเน้นท์ จำกัด
ตั้งอยู่ที่ 300/55 หมู่ที่ 1 นิคมอุตสาหกรรมอีสเทิร์นซีบอร์ด(ระยอง) ตำบลตาสิทธิ์ อำเภอปลวกแดง จังหวัดระยอง 21140 ประกอบกิจการเกี่ยวกับผลิตชิ้นส่วนภายในรถยนต์และชิ้นส่วนเล็กทรอนิกซ์ มีความประสงค์รับสมัครบุคลากรร่วมงานดังนี้
หน้าที่และความรับผิดชอบ
Maintain the quality of incoming parts.
Coordinate with the new model team to set quality standards and Q-point and implement to QC and production.
Prepare and maintain master samples and limit samples in the scope of in-process and finished goods and provide to production with training.
Keep a record of daily quality results and summarize by weekly and monthly and report to superior.
Analyze non-conforming products and standards both material and product.
Coordinate with related sections to improve internal quality issues and customer quality issues
Implement quality awareness, and inspection standard training in QC team and related section
Support document preparation for QC according to quality management system.
Productivity and workflow improvement in QC field.
คุณสมบัติ
Female, Age between 22 - 35 years old.
Bachelor's degree in the industrial engineering field.
Work experience in automotive at least 2 years.
Analytical Thinking.
Excel basic to intermediate skills.
IATF16949 Knowledge.
MSA skill.
SQE Experience.
Quality Measuring Standard and Tools.
สวัสดิการ
ค่าครองชีพ 2,000 บาท/เดือน
ค่าอาหาร 50 บาท/วัน
ค่าเดินทาง 40 บาท/วัน
เบี้ยขยัน 500/800/1000
มีรถรับส่งพนักงานสายปลวกแดง/บ่อวิน/ห้วยปราบ/สะพานสี่/บึง-เครือสหพัฒน์ฯ/ศรีราชา
โบนัสประจำปี
กองทุนสำรองเลี้ยงชีพ
เบิกค่ารักษาพยาบาล บิดา,มารดา,ภรรยา/สามีและบุตร 15,000 บาท/ปี
เงินช่วยเหลือกรณีสมรส,คลอดบุตร,อุปสมบท
สนใจส่งประวัติส่วนตัวได้ที่
คุณทิพย์มณภา (HR)
e-mail: n.thipmonpha@k2alliedcomponent.com
โทรศัพท์: 038-026-523 ต่อ 207
แผนที่: https://goo.gl/maps/Q8GNn6MpGvftrdt3A
บริษัท เคทู อัลไลด์ คอมโพเน้นท์ จำกัด
ตั้งอยู่ที่ 300/55 หมู่ที่ 1 นิคมอุตสาหกรรมอีสเทิร์นซีบอร์ด(ระยอง) ตำบลตาสิทธิ์ อำเภอปลวกแดง จังหวัดระยอง 21140 ประกอบกิจการเกี่ยวกับผลิตชิ้นส่วนภายในรถยนต์และชิ้นส่วนเล็กทรอนิกซ์ มีความประสงค์รับสมัครบุคลากรร่วมงานดังนี้
หน้าที่และความรับผิดชอบ
กำหนดและดำเนินการแผนงานด้านอาชีวอนามัยและความปลอดภัย
จัดการงานด้านสภาพแวดล้อมในการทำงาน
การสร้างความตระหนักด้านอาชีวอนามัยและความปลอดภัยให้แก่พนักงาน
สนับสนุนงานด้านระบบ ISO14001:2015
สนับสนุนงานด้านธุรการที่ได้รับมอบหมาย
คุณสมบัติ
อายุ 25 ปี - 35 ปี
จบการศึกษาระดับปริญญาตรี ด้านอาชีวอนามัยและความปลอดภัย
มีใบประกอบวิชาชีพเจ้าหน้าที่อาชีวอนามัยและความปลอดภัยระดับวิชาชีพ
มีประสบการณ์ตามสายงานอย่างน้อย 1 ปี ขึ้นไป
สวัสดิการ
ค่าครองชีพ 2,000 บาท/เดือน
ค่าอาหาร 50 บาท/วัน
ค่าเดินทาง 40 บาท/วัน
เบี้ยขยัน 500/800/1000
มีรถรับส่งพนักงานสายปลวกแดง/บ่อวิน/ห้วยปราบ/สะพานสี่/บึง-เครือสหพัฒน์ฯ/ศรีราชา
โบนัสประจำปี
กองทุนสำรองเลี้ยงชีพ
เบิกค่ารักษาพยาบาล บิดา,มารดา,ภรรยาและบุตร 15,000 บาท/ปี
เงินช่วยเหลือกรณีสมรส,คลอดบุตร,อุปสมบท
สนใจส่งประวัติส่วนตัวได้ที่
คุณทิพย์มณภา (HR)
e-mail: n.thipmonpha@k2alliedcomponent.com
โทรศัพท์: 038-026-523 ต่อ 207
แผนที่: https://goo.gl/maps/Q8GNn6MpGvftrdt3A