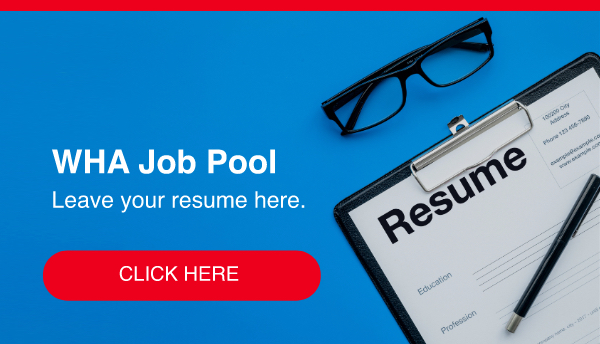 WHA E-Job Market
The First Online Job Fair in Eastern Seaboard
The impact from COVID-19 situation in Thailand has critically hit the workforce in many industries. Thus, there are some sunrise industries that still look forward to fill the vacancies in their manufacturing plants. WHA would like to assist both WHA customers to find candidates and the community in the EEC area to find a job easily by launching the WHA E-Job Market.
For recruiters who would like to leave your job vacancies, please send the details to jobpool@wha-industrialestate.com.
For job seekers who would like to leave your application form, please click https://www.wha-industrialestate.com/en/job-pool/application-form
Filter by Location:
Filter by Company:
หน้าที่ความรับผิดชอบ
ดูแลรับผิดชอบงานในสายการผลิต และปฎิบัติตามขั้นตอนการผลิตเพื่อให้ได้ผลิตภัณฑ์ที่เป็นไปตามมาตรฐานของบริษัท
ปฎิบัติตามการคำสั่งสรุปการทำงานของแต่ละกระบวนการผลิต
ตรวจสอบชิ้นงานในแต่ละกระบวนการผลิตให้เป็นไปตามระเบียบการปฏิบัติงานและเอกสารการทำงานที่เกี่ยวข้อง
จัดเตรียมชุดเอกสารของแต่ละกิจกรรมการผลิตและจัดส่งรายงานให้กับหัวหน้างานผู้ที่เกี่ยวข้อง
มุ่งเน้นการผลิตสินค้าที่มีคุณภาพให้เป็นไปตามเป้าหมายที่บริษัทกำหนด
เข้าร่วมกิจกรรมและการฝึกอบรมที่บริษัทกำหนด
คุณสมบัติ
การศึกษาระดับ ปวส. ขึ้นไป
เพศชาย ประสบการณ์ในสายการผลิต 5 ปี ขึ้นไป
มีประสบการณ์ในอุตสาหกรรมผลิตชิ้นส่วนรถยนต์จะพิจารณาเป็นกรณีพิเศษ
สามารถทำงานเป็นทีมได้ และทำงานเข้ากะได้
สามารถสื่อสารภาษาอังกฤษได้จะพิจารณาเป็นกรณีพิเศษ
มีประสบการณ์เกี่ยวกับการปรับปรุงระบบ 5ส และความปลอดภัย
มียานพาหนะในการเดินทางมาทำงานเองได้
เอกสารประกอบการสมัครงาน
ประวัติการทำงาน, สำเนาทะเบียนบ้าน, สำเนาบัตรประชาชน, หลักฐานการศึกษา, เอกสารการผ่านการ เกณฑ์ทหารและรูปถ่าย)
ผู้ที่สนใจสามารถติดต่อสมัครได้ด้วยตนเอง หรือส่ง e-mail มาที่ sutin.hoare@sgf.com
บริษัท เอสจีเอฟ (ไทยแลนด์) จำกัด
นิคมอุตสาหกรรม ดับบลิวเอชเอ อีสเทิร์นซีบอร์ด 2
890/3 หมู่ 3 ตำบลเขาคันทรง อำเภอศรีราชา จังหวัดชลบุรี 20110
โทร. (033) 017-112
Main Duties
Inbound
Unload materials and merchandise from incoming vehicles and stack them to assigned places
Receiving process (Raw material, WIP, Finished good)
Outbound
Picking and wrapping orders for shipment.
Locate and move stock of products to pallets or packaging for storage or shipment
Loading materials and merchandise to cargo
Transfer
Identify damages and report shortages or quality deficiencies
Transfer raw materials to production workstations
Inspect machinery to determine the need for repairs and guarantee safety by performing regular maintenance
Warehouse
Update and records of stock card
Assist in physical inventories checks, updating of SAP and records concerning stock movements
Maintain the facility's equipment and materials in a neat, clean, and orderly fashion. On daily basis, inspect and perform minor maintenance on the forklift or other equipment.
Ensure proper stock FIFO and rotation.
คุณสมบัติ
การศึกษาระดับ ปวส. ขึ้นไป
เพศชาย อายุ 25 ปี ขึ้นไป
มีประสบการณ์การทำงานด้าน Warehouse 5 ปี ขึ้นไป
มีประสบการณ์ในอุตสาหกรรมผลิตชิ้นส่วนรถยนต์จะพิจารณาเป็นกรณีพิเศษ
สามารถทำงานเป็นทีมได้ และทำงานเข้ากะได้
สามารถสื่อสารภาษาอังกฤษได้จะพิจารณาเป็นกรณีพิเศษ
มีประสบการณ์เกี่ยวกับการปรับปรุงระบบ 5ส และความปลอดภัย
มียานพาหนะในการเดินทางมาทำงานเองได้
เอกสารประกอบการสมัครงาน
ประวัติการทำงาน, สำเนาทะเบียนบ้าน, สำเนาบัตรประชาชน, หลักฐานการศึกษา, เอกสารการผ่านการ เกณฑ์ทหารและรูปถ่าย)
ผู้ที่สนใจสามารถติดต่อสมัครได้ด้วยตนเอง หรือส่ง e-mail มาที่ sutin.hoare@sgf.com
บริษัท เอสจีเอฟ (ไทยแลนด์) จำกัด
นิคมอุตสาหกรรม ดับบลิวเอชเอ อีสเทิร์นซีบอร์ด 2
890/3 หมู่ 3 ตำบลเขาคันทรง อำเภอศรีราชา จังหวัดชลบุรี 20110
โทร. (033) 017-112