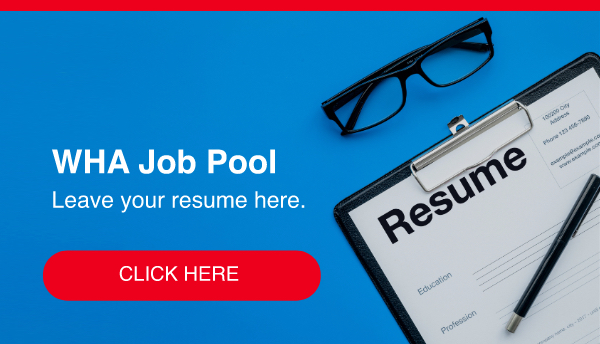 WHA E-Job Market Weeks
The First Online Job Fair in Eastern Seaboard
The impact from COVID-19 situation in Thailand has critically hit the workforce in many industries. Thus, there are some sunrise industries that still look forward to fill the vacancies in their manufacturing plants. WHA would like to assist both WHA customers to find candidates and the community in the EEC area to find a job easily by launching the WHA E-Job Market Weeks during 15-31 July 2020
For recruiters who would like to leave your job vacancies, please click download and complete the form and send to jobpool@wha-industrialestate.com.
For job seekers who would like to leave your application form, please click https://www.wha-industrialestate.com/en/job-pool/application-form
WHA E-Job Market Partners

Filter by Location:
Filter by Company:
หน้าที่ความรับผิดชอบ
ดูแลรับผิดชอบงานในสายการผลิต และปฎิบัติตามขั้นตอนการผลิตเพื่อให้ได้ผลิตภัณฑ์ที่เป็นไปตามมาตรฐานของบริษัท
ปฎิบัติตามการคำสั่งสรุปการทำงานของแต่ละกระบวนการผลิต
ตรวจสอบชิ้นงานในแต่ละกระบวนการผลิตให้เป็นไปตามระเบียบการปฏิบัติงานและเอกสารการทำงานที่เกี่ยวข้อง
จัดเตรียมชุดเอกสารของแต่ละกิจกรรมการผลิตและจัดส่งรายงานให้กับหัวหน้างานผู้ที่เกี่ยวข้อง
มุ่งเน้นการผลิตสินค้าที่มีคุณภาพให้เป็นไปตามเป้าหมายที่บริษัทกำหนด
เข้าร่วมกิจกรรมและการฝึกอบรมที่บริษัทกำหนด
คุณสมบัติ
การศึกษาระดับ ปวส. ขึ้นไป
เพศชาย ประสบการณ์ในสายการผลิต 5 ปีขึ้นไป
มีประสบการณ์ในอุตสาหกรรมผลิตชิ้นส่วนรถยนต์จะพิจารณาเป็นกรณีพิเศษ
สามารถทำงานเป็นทีมได้ และทำงานเข้ากะได้
สามารถสื่อสารภาษาอังกฤษได้จะพิจารณาเป็นกรณีพิเศษ
มีประสบการณ์เกี่ยวกับการปรับปรุงระบบ 5ส และความปลอดภัย
มียานพาหนะในการเดินทางมาทำงานเองได้
เอกสารประกอบการสมัครงาน
ประวัติการทำงาน, สำเนาทะเบียนบ้าน, สำเนาบัตรประชาชน, หลักฐานการศึกษา, เอกสารการผ่านการเกณฑ์ทหารและรูปถ่าย)
ผู้ที่สนใจสามารถติดต่อสมัครได้ด้วยตนเอง หรือส่งจดหมายสมัครงานได้ตั้งแต่บัดนี้เป็นต้นไป
บริษัท เอสจีเอฟ (ไทยแลนด์) จำกัด
นิคมอุตสาหกรรม ดับบลิวเอชเอ อีสเทิร์นซีบอร์ด 2
890/3 หมู่ 3 ตำบลเขาคันทรง อำเภอศรีราชา จังหวัดชลบุรี 20110
โทร. (033) 017-112
---
สนใจสามารถกรอกใบสมัครงานได้ที่นี่
Apply
Manufacturing automotive part - drive shaft coupling we are locate in WHA Eastern Seaboard Industrial Estate 2 890/3 Moo 3, Tambol Khao Kan Song , Amphur Sriracha Chonburi
Headquartered in the town of Waldkraiburg in Upper Bavaria SGF is a world-wide active supplier for automotive and industrial customers. Founded in 1946 the company's name originally was "Süddeutsche Bremsbelag GmbH".
In 2018 the company generated € 126 million in annual sales with approx. 740 employees, who are working at three locations in Germany. These employees are our asset. Add to that seven decades of know-how and compelling innovation. With this strategy we design products fitted for all areas of application – with particular consideration of cost effectiveness, comfort and safety. Worldwide.
Responsibility:
Male (Military Exempt) or Female Age 26 years up.
Bachelor Degree in accounting or related field.
Minimum 3 year experience in accounting and finance
ERP System (SAP, JDE, Oracle, Dynamics or similar), etc.;
Computer skill : Microsoft Office Word, Excel, Internet, E-mail.
Good command of both written and oral English.
Location: WHA Eastern Seaboard Industrial Estate 2
TEL: 033-017117
E-MAIL: Jurairat.tubtim@sgf.com, Rapeepun.Jaitang@sgf.com
---
สนใจสามารถกรอกใบสมัครงานได้ที่นี่
Apply