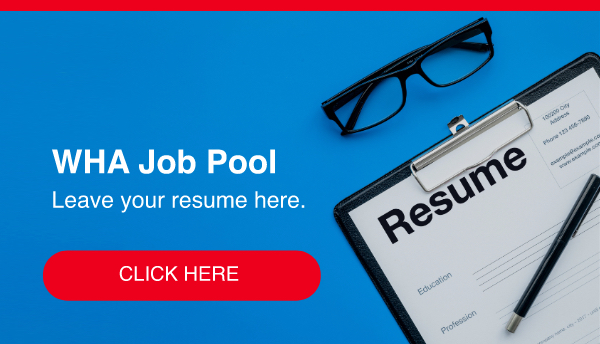 WHA E-Job Market
The First Online Job Fair in Eastern Seaboard
The impact from COVID-19 situation in Thailand has critically hit the workforce in many industries. Thus, there are some sunrise industries that still look forward to fill the vacancies in their manufacturing plants. WHA would like to assist both WHA customers to find candidates and the community in the EEC area to find a job easily by launching the WHA E-Job Market.
For recruiters who would like to leave your job vacancies, please send the details to jobpool@wha-industrialestate.com.
For job seekers who would like to leave your application form, please click https://www.wha-industrialestate.com/en/job-pool/application-form
Filter by Location:
Filter by Company:
Qualifications:
Bachelor's Degree Material, Polymer, Industrial Engineer.
Minimum 3 years' experience in Purchasing,
Strategic sourcing and exposure to international Supply Chain
Good knowledge in Quality management system: ISO9001, IATF 16949.
Good knowledge in SAP MM domain functional. Good command of English language in reading, written and oral communication.
Responsibilities:
Direct material:
Management of products belonging to specific product group, particularly metal part, rubber and yarn, thread and procuring them on the Asian market –primary in Thailand (Local sourcing).
Selecting and managing of supplies (supplier qualification, supplier evaluation, supplier development).
Shared responsibility for claim management with supplier in the case of problems.
Continuous market analysis to determine alternative suppliers, new developments and improved solutions.
Coordinate with Quality Control, Materials control and Logistics staff in incoming and outgoing parts inspection in order to make sure that receipt and delivery of parts are in good quality (right parts, right package, right quantity, and right time).
Perform as a working team with Sales & Marketing and Engineering in generating and working out the cost improvement based on VA/VE program to meet customer's requirement and company's goals.
Supporting all purchasing issues.
Indirect material:
Handling the purchasing function for local and overseas purchasing for indirect materials.
Improve sourcing performance in term of cost saving, supplier sustainability, category strategy.
Identifying potential suppliers, building, and maintaining good relationships with them.
Manage stakeholder engagement, lead project teams and lead negotiation with key suppliers. Work upon Manager's assignments or any other job duties as assign.
Interested applicants must send cv to sutin.hoare@sgf.com (pdf or jpg only) More detail: Sutin Hoare 063-3630403
SGF (Thailand) Co.,Ltd.
WHA Eastern Seaboard Industrial Estate2
890/3 Moo 3,Khao Kan Song, Sriracha, Chonburi 20110
โทร. (033) 017-112