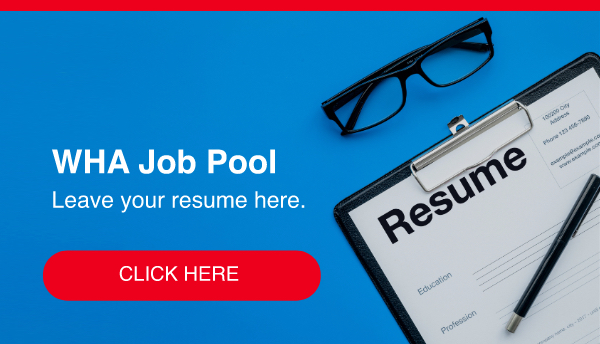 WHA E-Job Market
The First Online Job Fair in Eastern Seaboard
The impact from COVID-19 situation in Thailand has critically hit the workforce in many industries. Thus, there are some sunrise industries that still look forward to fill the vacancies in their manufacturing plants. WHA would like to assist both WHA customers to find candidates and the community in the EEC area to find a job easily by launching the WHA E-Job Market.
For recruiters who would like to leave your job vacancies, please send the details to jobpool@wha-industrialestate.com.
For job seekers who would like to leave your application form, please click https://www.wha-industrialestate.com/en/job-pool/application-form
Filter by Location:
Filter by Company:
Nippon Steel Welding (Thailand) Co.,Ltd.
บริษัท นิปปอน สตีล เวลดิ้ง (ประเทศไทย) จำกัด
300/41 หมู่ 1 นิคมอุตสาหกรรมอีสเทิร์นซีบอร์ด (ระยอง) ต.ตาสิทธิ์ อ.ปลวกแดง จ.ระยอง 21140
Tel: (038) 656-234 Fax: (038) 656-233 Mail: supatra.2w@th.weld.nipponsteel.com
บริษัท นิปปอน สตีล เวลดิ้ง (ประเทศไทย) จำกัด เป็นบริษัทร่วมทุน ไทย-ญี่ปุ่น ดำเนินธุรกิจด้านการผลิตและนำเข้าลวดเชื่อมโลหะ เครื่องเชื่อมโลหะ เพื่อจำหน่ายทั้งภายในประเทศและส่งออกไปยังประเทศต่างๆ และในปัจจุบันบริษัทได้เพิ่มกำลังการผลิต จึงมีความประสงค์รับสมัครบุคลากรเพื่อร่วมงานกับทางบริษัทฯ ในตำแหน่งต่างๆ ดังต่อไปนี้
คุณสมบัติ
Age 28 years old up Male-Female.
Bachelor's degree in accounting.
Have experience more 5 years in Accounting and Financial.
Knowledge of general accounting, AR/AP , Fixed asset , - Prepare accounts reconciliation on monthly basis. Inventory , Vat , Tax.
Computer : MS-Office, Sage program will be advantage.
Experience in Accounting in manufacturing.
Good knowledge Taxation and BOI.
**Can hard working, patient, able to work under pressure.
**หากผลการทำงานอยู่ในเกณฑ์ดี จะมีการพิจารณาปรับเป็นพนักงานประจำ
หน้าที่และรายละเอียดของงาน
Prepare AR and reconciliation of all related accounts.
Prepare Journal Vouchers for monthly and end process.
Prepare monthly vat report and withholding tax report.
Prepare accounts reconciliation on monthly basis.
Prepare monthly GL details of inventories for BS and PL.
Support month-end closing process including journal entries.
Other tasks assignment.
สวัสดิการ (เฉพาะ พ่อบ้าน)
กองทุนประกันสังคมและกองทุนทดแทน
อาหารเช้าและกลางวันฟรี
ลาพักร้อน 6 วัน สูงสุด 20 วัน
ชุดยูนิฟอร์ม รองเท้า
รถรับส่งพนักงาน เส้นทาง สายศรีราชา บริเวณโรงแรมเดอะซิตี้, ปากร่วม,สะพานสี่, อีสเทิร์นซีบอร์ด และในเครือสหพัฒน์
วิธีการสมัคร
1. ติดต่อกรอกใบสมัครได้ด้วยตนเองที่ บริษัทฯ
2. ส่งเอกสารสมัครงานพร้อมประวัติย่อ โดย ระบุตำแหน่งงานที่ต้องการสมัครให้ชัดเจน
มาที่แผนกทรัพยากรบุคคล บริษัท นิปปอน สตีล เวลดิ้ง(ประเทศไทย) จำกัด
300/41 หมู่ 1 นิคมอุตสาหกรรมอีสเทิร์นซีบอร์ด (ระยอง) ต.ตาสิทธิ์ อ.ปลวกแดง จ.ระยอง 21140
Tel: (038) 656-234 Fax: (038) 656-233 ติดต่อ คุณสุพัตรา
3. ส่งเอกสารสมัครงานมายังอีเมล์ "supatra.2w@th.weld.nipponsteel.com"
โดยระบุหัวข้อเมล์ Subject : สมัครงาน "ชื่อตำแหน่งที่ต้องการสมัคร" ให้ชัดเจนและ แนบประวัติย่อ
Nippon Steel Welding (Thailand) Co.,Ltd.
บริษัท นิปปอน สตีล เวลดิ้ง (ประเทศไทย) จำกัด
300/41 หมู่ 1 นิคมอุตสาหกรรมอีสเทิร์นซีบอร์ด (ระยอง) ต.ตาสิทธิ์ อ.ปลวกแดง จ.ระยอง 21140
Tel: (038) 656-234 Fax: (038) 656-233 Mail: supatra.2w@th.weld.nipponsteel.com
บริษัท นิปปอน สตีล เวลดิ้ง (ประเทศไทย) จำกัด เป็นบริษัทร่วมทุน ไทย-ญี่ปุ่น ดำเนินธุรกิจด้านการผลิตและนำเข้าลวดเชื่อมโลหะ เครื่องเชื่อมโลหะ เพื่อจำหน่ายทั้งภายในประเทศและส่งออกไปยังประเทศต่างๆ หลายทวีปทั่วโลก และในปัจจุบันบริษัทได้เพิ่มกำลังการผลิต จึงมีความประสงค์รับสมัครบุคลากรเพื่อร่วมงานกับทางบริษัทฯ ในตำแหน่งต่างๆ ดังต่อไปนี้
คุณสมบัติ
เพศชาย สัญชาติไทย อายุ 30 - 50 ปี ผ่านการเกณฑ์ทหารเป็นที่เรียบร้อย
วุฒิการศึกษาระดับ ป.6 ขึ้นไป
มีประสบการณ์เคยผ่านงานดูแลสวน งานช่อมทั่วไป
รายละเอียดอื่น ๆ ตามตกลง
สามารถขับรถโฟร์คลิฟท์ได้ (จะพิจารณาพิเศษ)
ทำงาน วันจันทร์ - ศุกร์ หยุด เสาร์, อาทิตย์
หน้าที่และรายละเอียดของงาน
ดูแล ต้นไม้ ทำความสะอาดพื้นที่โดยรอบโรงงาน
งานซ่อมถัง / ซ่อมพาเลท
ดูแลโรงขยะ
ปฏิบัติหน้าที่อื่นๆ ตามที่ได้รับมอบหมาย
สวัสดิการ
กองทุนประกันสังคมและกองทุนทดแทน
อาหารเช้าและกลางวันฟรี
ลาพักร้อน 6 วัน สูงสุด 20 วัน
ชุดยูนิฟอร์ม รองเท้า
รถรับส่งพนักงาน เส้นทาง สายศรีราชา บริเวณโรงแรมเดอะซิตี้, ปากร่วม,สะพานสี่, อีสเทิร์นซีบอร์ด และในเครือสหพัฒน์
วิธีการสมัคร
ติดต่อกรอกใบสมัครได้ด้วยตนเองที่ บริษัทฯ
ส่งเอกสารสมัครงานพร้อมประวัติย่อ โดย ระบุตำแหน่งงานที่ต้องการสมัครให้ชัดเจน มาที่แผนกทรัพยากรบุคคล บริษัท นิปปอน สตีล เวลดิ้ง(ประเทศไทย) จำกัด
300/41 หมู่ 1 นิคมอุตสาหกรรมอีสเทิร์นซีบอร์ด (ระยอง) ต.ตาสิทธิ์ อ.ปลวกแดง จ.ระยอง 21140 Tel: (038) 656-234 Fax: (038) 656-233 ติดต่อ คุณสุพัตรา
ส่งเอกสารสมัครงานมายังอีเมล์ " supatra.2w@th.weld.nipponsteel.com" โดยระบุหัวข้อเมล์ Subject : สมัครงาน "ชื่อตำแหน่งที่ต้องการสมัคร" ให้ชัดเจนและ แนบประวัติย่อ