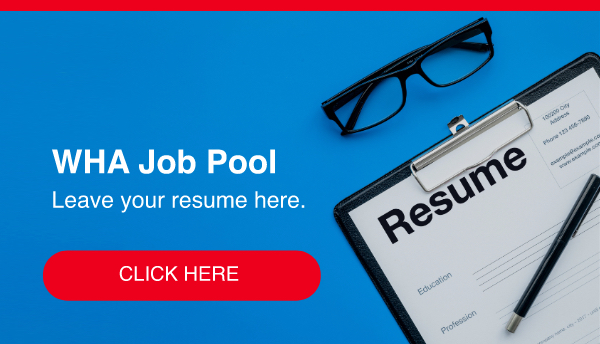 WHA E-Job Market
The First Online Job Fair in Eastern Seaboard
The impact from COVID-19 situation in Thailand has critically hit the workforce in many industries. Thus, there are some sunrise industries that still look forward to fill the vacancies in their manufacturing plants. WHA would like to assist both WHA customers to find candidates and the community in the EEC area to find a job easily by launching the WHA E-Job Market.
For recruiters who would like to leave your job vacancies, please send the details to jobpool@wha-industrialestate.com.
For job seekers who would like to leave your application form, please click https://www.wha-industrialestate.com/en/job-pool/application-form
Find the latest job vacancies from companies in WHA Industrial Estates.
Filter by Location:
Filter by Company:
Established a half century ago in Japan, our company has perfected a variety of progressive techniques for producing car springs. The company started Siam Chuyo in Thailand in 2002 to produce motorcycle and car parts. We have particular expertise in the production of washers with springy qualities to meet the demands of discerning customers.
Siam Chuyo is also able to produce new designs on demands thanks to the pregressive moulding technology we apply. We take care to thoroughly train our technicians in the moulding and shaping techniques required for our customers special orders to ensure the finest quality parts available in the market.
Detail of responsibility
Coordinate between Japanese and Thai Staff or manager
Coordinate with Production, MNT, Logistic, QA Department
Translate documents Thai - Japanese- Thai
Specification
Male / Female
Age between 25 years old up.
Experience 1-2 Year Up
Bachelor's degree in Japanese or related field.
Japanese N3
Able to use the MS office Japanese version of Word-PRO
Have experience in automotive company will be advance. (จะพิจารณาเป็นพิเศษ)
Good to coordinate with team and Service mind.
Able to use computer Microsoft Office.
สวัสดิการ
รถรับ-ส่ง พนักงาน
อาหารกลางวันฟรี + เงิน 400 บาท
ค่าอาหารสำหรับการทำงานล่วงเวลา / ทำงานในวันหยุด
เบี้ยขยัน 550 / 650 / 750
ค่าเช่าบ้าน / ค่ากะ 110 บาท/คืน
ประกันชีวิต / ประกันสุขภาพ
เงินช่วยเหลือพิเศษ กรณีแต่งงาน, คลอดบุตร, เสียชีวิต, อุปสมบท, วันเกิดพนักงาน วันเกิดบิดา มารดา, เงินช่วยเหลือค่ารักษาพยาบาลบุคคลในครอบครัว
กองทุนสำรองเลี้ยงชีพ
เงินกู้ฉุกเฉิน, เงินกู้เพื่อการศึกษา, เงินกู้ซื้อที่อยู่อาศัย
ชุดยูนิฟอร์ม
กิจกรรมนันทนาการต่างๆ เช่นงานเลี้ยงปีใหม่, ท่องเที่ยวประจำปี, กีฬาภายใน
โบนัสประจำปีตามผลประกอบการ
สนใจส่งใบสมัครได้ที่ ป้อมรปภ. หรือติดต่อที่
คุณณปภัช ร่องเสี้ยว (เจ้าหน้าที่ฝ่ายทรัพยากรมนุษย์)
บริษัทสยามชูโย จำกัด 500/13 หมู่ 3 ตำบลตาสิทธิ์ อำเภอปลวกแดง
จังหวัดระยอง 21140 Tel. 033-012022-6 ต่อ 209 Fax. 033-012029
E-mail. wanida@chuyo.co.th