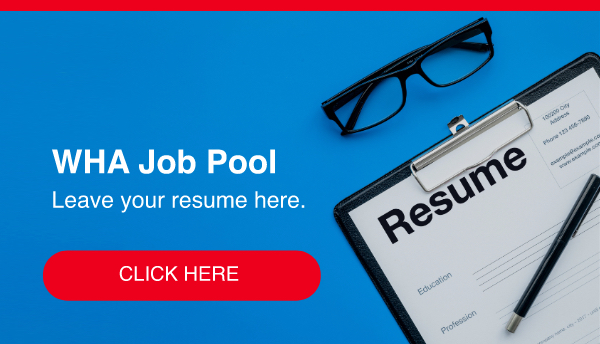 WHA E-Job Market
The First Online Job Fair in Eastern Seaboard
The impact from COVID-19 situation in Thailand has critically hit the workforce in many industries. Thus, there are some sunrise industries that still look forward to fill the vacancies in their manufacturing plants. WHA would like to assist both WHA customers to find candidates and the community in the EEC area to find a job easily by launching the WHA E-Job Market.
For recruiters who would like to leave your job vacancies, please send the details to jobpool@wha-industrialestate.com.
For job seekers who would like to leave your application form, please click https://www.wha-industrialestate.com/en/job-pool/application-form
Find the latest job vacancies from companies in WHA Industrial Estates.
Filter by Location:
Filter by Company:
Job Summary งานโดยสังเขป :
To establish and develop local suppliers to meet IATF 16949 requirements
Manage to development and PPAP approve new component to meet AQP timing
Maintain and improve TI Rayong suppliers in ASL to meet score card
Comply with quality requirements and provide continuous cost reduction to the Company
Key Responsibility หน้าที่หลัก :
Direct
New part development, to lead since supplier selection final by PUR then starting development activities
Evaluate risk all of supplier in bidder list, to confirm supplier status such as quality, production control system, scrap management then defense to committee meet those supplier meet our requirement
Lead and approve PPAP for new component and all carry over together application engineer to sign in PSW, and continue ensure no supplier quality issue after 3 month SOP
Audit APQP, Run@Rate at suppliers site and initial control during first 3 moth after start mass production
Issue suppliers SNCR and follow up until close the issue in GQPS include with cost tracking and claim request to the suppliers as 8D method.
Check 2D&3D drawing to ensure technical requirement are clear and kick off with the suppliers, the close to communicate to suppliers
Support SNCR follow up at suppliers plants if necessary
Lead develop supplier suppliers change request
Improve top 5 worse suppliers to meet TI balance scorecard
Set annual plan and visit to improve top worse suppliers
In direct
Involve AQP team since start each new project
Work closely with PUR and Engineering team
Have a duty to responsible and cooperating on the environment, safety and quality of the compan
Educational Background วุฒิการศึกษา :
Bachelor Degree in Engineering in any field
Professional Experience / Skills ประสบการณ์การทำงาน / ทักษะ ความชำนาญ :
In-depth knowledge of IATF 16949
Minimum 5 year's experience in Supplier development field or quality control related injection supplier/rubber/nylon tube/metal stamping/coating suppliers in automotive industry
Experience work with suppliers about CQI-12, CQI-15 and CQI-23
Ability to solve day-to-day operational issues
Ability to work under pressure
Proactive and fast response in task response
Computer literate in MS Office Application, Excel and PowerPoint
Excellent command of spoken and written Thai and English
Excellent communication skills, both downward and upward in the organization
Passion for systematic processes, responsiveness, cleanliness, organization and process control
Training requirements ความต้องการด้านการฝึกอบรม :
IATF 16949. ISO14001, OHSAS18001 requirement
CQI-12, CQI-15 and CQI-23
BPCS
Negotiation Skills
Problem solving, 8D report
Work Location: Based in Hemaraj Eastern Seaboard Industrial Estate, Rayong Province.
If you're a fluid thinker and are looking to join a dynamic, growing global organization, please send your application letter in English together with full resume, stating present as well as expected salaries by click "Apply Now" to mkokkror@tifs.com
Please avoid to use quick apply
***** All applications will be treated confidentially *****