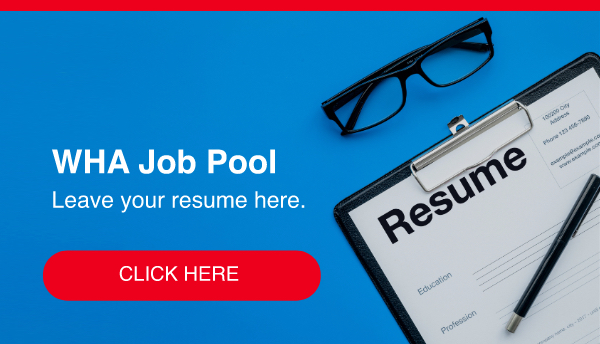 WHA E-Job Market
The First Online Job Fair in Eastern Seaboard
The impact from COVID-19 situation in Thailand has critically hit the workforce in many industries. Thus, there are some sunrise industries that still look forward to fill the vacancies in their manufacturing plants. WHA would like to assist both WHA customers to find candidates and the community in the EEC area to find a job easily by launching the WHA E-Job Market.
For recruiters who would like to leave your job vacancies, please send the details to jobpool@wha-industrialestate.com.
For job seekers who would like to leave your application form, please click https://www.wha-industrialestate.com/en/job-pool/application-form
Find the latest job vacancies from companies in WHA Industrial Estates.
Filter by Location:
Filter by Company:
คุณสมบัติผู้สมัคร
เพศ ชาย ผ่านการเกณฑ์ทหารแล้ว
อายุ 20-45 ปี
วุฒิการศึกษา ม.3 ขึ้นไป
สามารถเชื่อม MIG และTIG ได้
มีประสบการณ์ 1-2 ปี
ถ้ามีใบ cer จะรับพิจารณาเป็นพิเศษ
ทำงานล่วงเวลาได้
ทำงานเป็นทีมกับเพื่อนร่วมงานได้ดี
ขยัน อดทน มีความรับผิดชอบ
สามารถเริ่มงานได้ทันที
สวัสดิการ
บรรจุเป็นพนักงานประจำ (รายเดือน)
เบี้ยขยัน
ตรวจสุขภาพประจำปี
ค่าอาหาร
ค่าเดินทาง
เงินออกทุกวันที่ 28 ของเดือน
ประกันสังคม
สนใจติดต่อ คุณสมชาย 0822186177
som@gessner.co.th
คุณสมบัติผู้สมัคร
เพศ ชาย ผ่านการเกณฑ์ทหารแล้ว
อายุ 20-45 ปี
วุฒิการศึกษา ม.3 ขึ้นไป
มีประสบการณ์ ในการพ่นสีในงานอุตสาหกรรม หรือรถยนต์
ทำงานล่วงเวลาได้
ทำงานเป็นทีมกับเพื่อนร่วมงานได้ดี
ขยัน อดทน มีความรับผิดชอบ
สามารถเริ่มงานได้ทันที
สวัสดิการ
บรรจุเป็นพนักงานประจำ (รายเดือน)
เบี้ยขยัน
ตรวจสุขภาพประจำปี
ค่าอาหาร
ค่าเดินทาง
เงินออกทุกวันที่ 28 ของเดือน
ประกันสังคม
สนใจติดต่อ คุณสมชาย 0822186177
som@gessner.co.th
In addition to the Duties set out below, the Employee's Duties in this position include all those that would normally attach to an Accountant. The Company may change these Duties during the course of the Employee's employment after consultation with the Employee.
Reporting directly to the General Manager (Thailand), the Employee's Duties include;
Accounting & Finance
Prepare, review and submit Monthly and Annual Management Accounts, including

- Statement of Financial Position (Balance Sheet) and
- State of Income (Profit & Loss)

Prepare and maintain 13-week Rolling Cash Flow
Record Monthly General Ledger journals
Monitor and review Accounts Receivable and Payable transactions and reconciliations.
Monitor and review Accounts Receivable and Payable transactions and reconciliations.
Monitor and review Bank Reconciliations and Cash Transactions (Banking)
Maintain Asset Register and recording of Monthly Depreciation.
Calculate and Monitor Labour & Overhead Recovery Rates.
Inventory Administration
Monitor and review;

- Supplier costs
- Moving Weighted Average and Standard Costs of Manufactured Parts and Components
- Oversee Cyclical Stock Counts and stock take entry.
- Enter Stock Adjustments as required.

Compliance

- Prepare and Submit following approval, Compliance Reports for Revenue Department and other Regulatory Bodies (Board of Investment), including;

- VAT and Annual Tax.
- Employee Details, Payments, Deductions and benefits
- Statutory Financial Records
- Management Accounts, Asset Registers and Stock Records
- BOI Asset updates
Insurance & Banking
Prepare and Submit documentation for Banking, including Loans, Guarantees
Submit Payments and Transfers to On-line Banking for Approval.
Arrange and review suitable all insurances including property, operations, public liability, vehicles, marine cargo & employees.
Human Resources
Prepare and complete new Employee Contracts and on-boarding details into Payroll System.
Maintain Confidential Employee Records
Monitor and review Monthly Payroll, including Timesheet Reporting, calculations for Overtime, Leave, Withholding Tax and Social Security Funds.
Prepare Monthly Payroll Reconciliation Reports
Engage with all staff foster and engaged culture, good communication and improve moral.
Systems & Software
Implement and monitor accounting and production processes using Accentis ERP Software, including;

- Data Entry
- Security & Permissions
- Liaise with Accentis Support Staff for additional reporting requirements.

Implement and monitor a new Payroll Software system that is compliant with Thailand regulations and integrate with Accentis ERP accounting software.
Contact details
Ms. Kanhathai Sapsin
Mobile : 0991415922
Email: kanny.sap@gmail.com