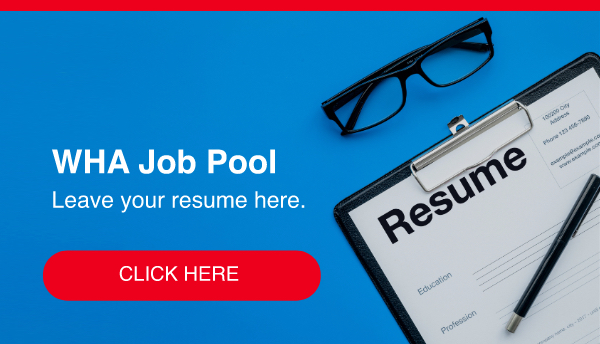 WHA E-Job Market Weeks
The First Online Job Fair in Eastern Seaboard
The impact from COVID-19 situation in Thailand has critically hit the workforce in many industries. Thus, there are some sunrise industries that still look forward to fill the vacancies in their manufacturing plants. WHA would like to assist both WHA customers to find candidates and the community in the EEC area to find a job easily by launching the WHA E-Job Market Weeks during 15-31 July 2020
For recruiters who would like to leave your job vacancies, please click download and complete the form and send to jobpool@wha-industrialestate.com.
For job seekers who would like to leave your application form, please click https://www.wha-industrialestate.com/en/job-pool/application-form
WHA E-Job Market Partners

Filter by Location:
Filter by Company:
บริษัท จิน รัน นิว เอนเนอร์ยี่ เทคโนโลยี่ จำกัด เปิดฐานการผลิตแห่งที่สองต่อจากโรงงานก่อนหน้านี้ในประเทศจีน โดยบริษัทประกอบกิจการผลิต จำหน่าย ส่งออกผลิตภัณฑ์โครงท่อเหล็กชุบสังกะสีรองรับแผงโซล่าเซลล์ และชิ้นงาน อุปกรณ์ยึดโครงรับแผงโซล่าเซลล์ที่ทำจากโลหะแสตนเลส สตีล ต้องการรับสมัครเจ้าหน้าที่ความปลอดภัยตามคุณสมบัติต่อไปนี้
Key Responsibilities
Be responsible for all safety activities
To start up Committee of Safety and Health
To make advice the team on safety in company
To executive safety program
To coordinate daily safety requirement of the facility
To make safety reports to management and government office
Key Qualifications
Thai nationality, Male/Female, age 30-45 years old
Bachelor's degree in Occupational Health and Safety
Having Safety Officer license
Good command of English both written and spoken.
Good command of Chinese is preferred.
Good analytical, problem solving, good communication and interpersonal skills.
Able to work 6 days in a week.
Able to work under due date and dynamic environment.
Computer literacy in MS Office.
Job Location: Our Factory in Eastern Seaboard and our branch in Sriracha
Jin Run New Energy Technology Co., Ltd.
64/65, Moo 4, Tambon Pluakdaeng, Amphur Pluakdaeng, Rayong 21140
More Information please contact: 66 81 860 1909 (HR)
---
สนใจสามารถกรอกใบสมัครงานได้ที่นี่
Apply
บริษัท จิน รัน นิว เอนเนอร์จี้ เทคโนโลยี่ จำกัด เปิดฐานการผลิตแห่งที่สองต่อจากโรงงานก่อนหน้านี้ในประเทศจีน โดยบริษัทประกอบกิจการผลิต จำหน่าย ส่งออกผลิตภัณฑ์โครงท่อเหล็กชุบสังกะสีรองรับแผงโซล่าเซลล์ และชิ้นงาน อุปกรณ์ยึดโครงรับแผงโซล่าเซลล์ที่ทำจากโลหะแสตนเลสสตีล
สามารถสื่อสาร ภาษาจีน ได้เป็นอย่างดี
ยินดีพิจารณานักศึกษาจบใหม่
สถานที่ทำงาน คือ โรงงานที่ อ.ศรีราชา ชลบุรี
ใกล้กับเทศบาลตำบลสุรศักดิ์ และ ตรงข้ามเจพารค์
ลักษณะงาน
แปลภาษาในโรงงาน และ ในสำนักงาน (เป็นบางครั้ง)
เงินเดือน
15,000 – 18,000 (ขึ้นอยู่กับจำนวนปีประสบการณ์)
วันทำงาน คือ จันทร์ – เสาร์ เวลา 08:00 น. – 17:00 น.
วิธีการสมัคร
แจ้งชื่อ และ เบอร์โทรของผู้สมัคร ไว้ที่ id line 0818601909
หรือส่งอีเมล์ฝากประวัติที่ pornchuleep@gmail.com
---
สนใจสามารถกรอกใบสมัครงานได้ที่นี่
Apply