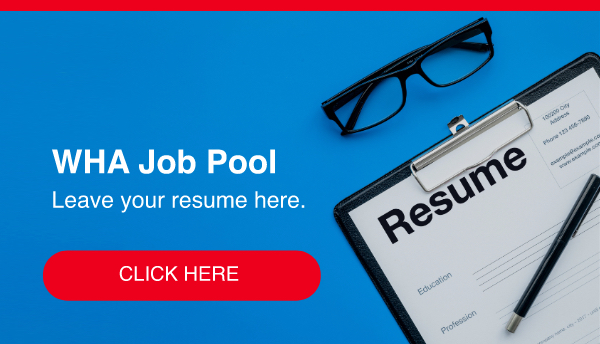 WHA E-Job Market
The First Online Job Fair in Eastern Seaboard
The impact from COVID-19 situation in Thailand has critically hit the workforce in many industries. Thus, there are some sunrise industries that still look forward to fill the vacancies in their manufacturing plants. WHA would like to assist both WHA customers to find candidates and the community in the EEC area to find a job easily by launching the WHA E-Job Market.
For recruiters who would like to leave your job vacancies, please send the details to jobpool@wha-industrialestate.com.
For job seekers who would like to leave your application form, please click https://www.wha-industrialestate.com/en/job-pool/application-form
Find the latest job vacancies from companies in WHA Industrial Estates.
Filter by Location:
Filter by Company:
รายละเอียด
Control information technology.
System, Network, ERP implement, HOT FIX/ Control.
Daily backup/Protect data loss/CCTV system.
Monthly report KPI.
Planning budget-IT.
Risk assessment from issue system & network & all IT routine Job.
คุณสมบัติ
Male 28-38 years old.
Bachelor's degree in related field.
At least 5 year experience in IT.
Knowledge of IATF16949, ISO9001.
Knowledge information security and privacy policy.
Knowledge PDPA Thailand law act 2562.
Having service mind.
Having the knowledge in ISO and manufacture.
สนใจสมัคร ส่ง Resume มาที่ E-mail: panyakan@yanagawa-tt.co.th และ hassavee@yanagawa-tt.co.th
ฝ่ายทรัพยากรบุคคล (คุณปัญญกัญญ์ และ คุณหัสวีร์) บริษัท ยานากาว่า เทคโนฟอร์จ (ไทยแลนด์) จำกัด
22 ซอย 2 หมู่ 4 นิคมอุตสาหกรรมอีสเทิร์นซีบอร์ด ซอย 2
ตำบลปลวกแดง อำเภอปลวกแดง จังหวัดระยอง 21140 โทรศัพท์ : 033-212-991-3 ต่อ 10
HEAD OFFICE & FACTORY นิคมอุตสาหกรรม อีสเทิร์นซีบอร์ด (ระยอง) เลขที่ 22 หมู่ 4 ตำบล ปลวกแดง อำเภอ ปลวกแดง จังหวัดระยอง 21140 โทรศัพท์ (033) 212-991-3 โทรสาร (033) 212-994
Job Description
Translate the documents of internal requirement and documents as assigned.
Interpreter from Japanese and Thai in HRM&HRD, GA, IT, Account, Purchase, Safety Dept.
Liaise both internally and externally
Another jobs related to HRM&HRD, GA Dept. as assigned.
Qualifications
Male, Age 28-40 Years Old.
Bachelor's degree in Japanese or related field.
3 years' experience up of Japanese interpreter.
Good communication in Japanese N2 (Speaking, Listening, Reading and Writing).
Honest, work hard person and can keep secret.
Having good relationship, communication skill and can coordinate with others well.
Having service mind.
Having the knowledge in ISO and manufacture.
สนใจสมัคร ส่ง Resume มาที่ E-mail: panyakan@yanagawa-tt.co.th และ hassavee@yanagawa-tt.co.th
ฝ่ายทรัพยากรบุคคล (คุณปัญญกัญญ์ และ คุณหัสวีร์) บริษัท ยานากาว่า เทคโนฟอร์จ (ไทยแลนด์) จำกัด
22 ซอย 2 หมู่ 4 นิคมอุตสาหกรรมอีสเทิร์นซีบอร์ด ซอย 2
ตำบลปลวกแดง อำเภอปลวกแดง จังหวัดระยอง 21140 โทรศัพท์ : 033-212-991-3 ต่อ 10
HEAD OFFICE & FACTORY นิคมอุตสาหกรรม อีสเทิร์นซีบอร์ด (ระยอง) เลขที่ 22 หมู่ 4 ตำบล ปลวกแดง อำเภอ ปลวกแดง จังหวัดระยอง 21140 โทรศัพท์ (033) 212-991-3 โทรสาร (033) 212-994