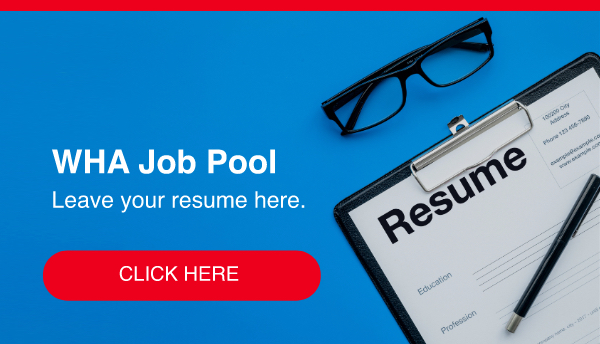 WHA E-Job Market
The First Online Job Fair in Eastern Seaboard
The impact from COVID-19 situation in Thailand has critically hit the workforce in many industries. Thus, there are some sunrise industries that still look forward to fill the vacancies in their manufacturing plants. WHA would like to assist both WHA customers to find candidates and the community in the EEC area to find a job easily by launching the WHA E-Job Market.
For recruiters who would like to leave your job vacancies, please send the details to jobpool@wha-industrialestate.com.
For job seekers who would like to leave your application form, please click https://www.wha-industrialestate.com/en/job-pool/application-form
Find the latest job vacancies from companies in WHA Industrial Estates.
Filter by Location:
Filter by Company:
Saint-Gobain Sekurit Thailand established in 1998 as automotive safety glass company in Thailand, Sekurit Thailand Co., Ltd. supplies automobile safety glass to different OEM for both local and export markets.
Main responsibilities:-
Analyze problem, improvement and control all maintenance activities and subordinates to support the automation of all machines, utilities, building and equipment and service to SGST according to the maintenance department policy.
Setup plan for preventive maintenance relate automation devices include machinery for reliability of machine. (Prevent breakdown)
Manage the team work to prevent, discover and correct condition which lead to breakdown, production interruption or acceleration deterioration of equipment.
Maintain all of KPI targets such as %BD. by lead his subordinates to apply industrial engineering tools.
Provides or requests from Production department to his subordinate's action for preventive and corrective machine down time.
Coordinate with others department to follow up and concern the maintenance plan.
Maintain working environment in good teamwork and with other party in good communication.
Advises his subordinates for problems solving and technical knowledge to maintain the working in high efficiency.
Lead the groups in order to implement Planning, Performing and Historical recording for the maintenance activities.
Maintain of maintenance procedures, machine problem analysis and problem solving, technical knowledge providing to the team.
Planning maintenance program as follow master plan and prepare for all need in maintenance work.
Maintain and audit EHS , CCCF, KAIZEN,14 rule IT mandatory and 5S.
Ensure to run all concerned activities following to Quality system (QS16949) and EHS approach.
Qualifications:-
Bachelor's degree in automation engineering, mechatronics engineer, electrical engineer, mechanical engineer background is a must.
Experience 3-5 years working in Automation filed in manufacturing company,
Automation engineering knowledge, physics, mathematics, electrical, mechanics, statistics, PLC ,Robotic, Interfacing ,Data communication and networking .
Production process knowledge, product specifications, production line management, production process variables control
Knowledge of PLC Siemens, Programming Robot ABB and Fanuc Drive, Inverter, Servo, Controller, HMI, IT and computer network)
Experience in Smart factory/Industrial 4.0.
Having ever worked as production engineer or similar position is a preferable.
Good command of English both written & spoken.
Competent in problem solving skills.
Leadership, Management the team.
Saint-Gobain Sekurit Thailand established in 1998 as automotive safety glass company in Thailand, Sekurit Thailand Co., Ltd. supplies automobile safety glass to different OEM for both local and export markets.
Responsibilities: -
Responsible to accuracy, completeness and timelyness of product cost, budget, plan, estimation, and management reports, which are used by management and headquater for monitoring the company operation results.
Coordinate with any concern department to receive a proper result for financial report to review and examine consistency.
Prepare financial report for head quarter and assist the manager to prepare budget & plan.
Submit cost & profitability for sales team and submit quatation to their customer.
Responsible to feedback report to concern department for controlling purpose by using budget or commitment.
Simulate cost and product profitability from detail given by using budget & plan structure.
Prepare report submit to concern department.
Follow CO closing process.
Prepare product cost,create & maintain CO master data,physical count,etc.
Commercial analysis and some G/L Account reconcile.
Support accuracy information & analysis.
Help concern department solve an error effect in financial information. Gather the right information and understand the information.
Acheivement with our company EHS/5S goals and able to do as the Internal Auditor.
Support and follow the event of ISO/TS 16949, OHSAS18001, ISO14001, TLS8001.
Qualifications:-
Bachelor's degree in accounting.
Have experience in Cost accounting, Cost analyst at least 5 years.
Knowing of how to conduct related procedures conforming to company regulations.
Fluently communicate with colleagues, and management team both local and oversea area both Thai and English language.
Computer literacy in Microsoft office, Power Point, Excel.
Experience in communicating in groups and making presentations to influence the employee related to training program.
Dealing with function heads, colleagues as well as external agencies and subordinates.