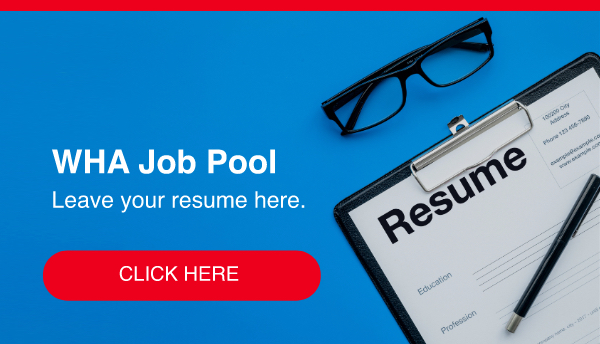 WHA E-Job Market Weeks
The First Online Job Fair in Eastern Seaboard
The impact from COVID-19 situation in Thailand has critically hit the workforce in many industries. Thus, there are some sunrise industries that still look forward to fill the vacancies in their manufacturing plants. WHA would like to assist both WHA customers to find candidates and the community in the EEC area to find a job easily by launching the WHA E-Job Market Weeks during 15-31 July 2020
For recruiters who would like to leave your job vacancies, please send the details to jobpool@wha-industrialestate.com.
For job seekers who would like to leave your application form, please click https://www.wha-industrialestate.com/en/job-pool/application-form
Filter by Location:
Filter by Company:
We appreciate your patronage. Please introduce a talented person to us because we are looking for some personnel with the following background.
Recruitment
Department : Production
Position : Leader
Expected salary : Negotiable
Responsibilities:
Chemical manufacturing in general.
Equipment maintenance.
Machine trouble correspondence.
Aggregation of production quantity and raw material usage quantity.
Other assignments as assigned.
Qualification
Male age 25~35 Years old.
Educational background Diploma or Bachelor Degree in any related field.
Experience in Chemical product manufacturing or any related field.
Fair command of written English or spoken Japanese.
Have own vehicle with license.
Experience in Leader position.
Benefits
Working day on Monday through Friday, 08:00~17:00. There is also the possibility of night shift or 4 Workdays 2 Days Off.
Travel expense based on the actual distance at a maximum allowance of 5,000 THB. ( There is no shuttle bus for Employees).
Free lunch.
Group Insurance after 119 days on probation.
With qualification (skill) allowance.
Consider only English resume.
Contact information
Bulan Butsrisouy
Toagosei(Thailand) Co., Ltd.
890/4 Moo.3 T.Khaokansong
A.Sriracha Chonburi 20110
Tel.033-126-031/092-691-8825
E-Mail: bulan_b@mail.toagosei.co.jp
บริษัทโทอะโกเซ เป็นบริษัทสัญชาติญี่ปุ่น ที่มีการขยายฐานการผลิตที่ประเทศไทย ดำเนินกิจการด้านการผลิตเคมีในอุตสาหกรรม เพื่อเป็นการรองรับการขยายตัวของบริษัท ทางบริษัทจึงต้องการผู้ร่วมงานที่มีความสามารถเพื่อร่วมดำเนินงานให้ไปสู่ความสำเร็จ ในตำแหน่งดังต่อไปนี้
เงื่อนไขการจ้าง : พนักงานประจำ ประเภทรายเดือน (ตามโครงสร้างบริษัทหรือพิจารณาตามประสบการณ์)
คุณสมบัติ:
เพศชาย-หญิง อายุ 21-27 ปี (ผู้ชายต้องผ่านการเกณฑ์ทหารแล้ว)
วุฒิการศึกษา มัธยมศึกษาปีที่ 6 ขึ้นไป (ยินดีพิจารณานักศึกษาจบใหม่)
มีประสบการณ์ด้านการปฏิบัติงานในห้องปฏิบัติการจะพิจารณาเป็นพิเศษ
สามารถเดินทางมาทำงานเองได้ บริษัทไม่มีรถ รับ-ส่ง พนักงาน

พร้อมที่จะเริ่มงานในทันที
สวัสดิการบริษัท:
ค่าเดินทาง (บริษัทไม่มีรถรับ-ส่ง พนักงาน)
ค่าล่วงเวลา
เบี้ยขยัน
อาหารกลางวันฟรี
ชุดยูนิฟอร์ม
ลาพักร้อน ลาพิเศษ ลาป่วย ลากิจ
ประกันสุขภาพกลุ่ม ประกันสังคม
ทำงานวันจันทร์ - ศุกร์ เวลา 8.00 - 17.00 น. หยุด เสาร์-อาทิตย์และตามปฏิทินของบริษัท
รายละเอียดงาน :
ดำเนินงานด้านการวิเคราะห์ผลิตภัณฑ์ และรายงานผลการตรวจสอบที่ถูกต้องให้ตรงต่อเวลาที่กำหนด,
ดูแลรักษาอุปกรณ์พื้นฐานในห้องปฏิบัติการให้อยู่ในสภาพที่พร้อมใช้งานอยู่เสมอทั้งการตรวจสอบงานด้านสิ่งแวดล้อม
การตรวจสอบการรับเข้า-ส่งออกในส่วนผลิตภัณฑ์ Novaron และตรวจสอบผลิตภัณฑ์ Polymer,Elastomer
การปฏิบัติงานตามหลัก 5 ส.
รายละเอียดสำหรับการสมัครตำแหน่งงาน
ติดต่อ คุณ บุหลัน บุตรสีสวย
สถานที่ WHA Eastern Seaboard Industrial Estate 2, (Entrance 1)
ที่อยู่ 890/4 Moo 3, Khaokansong, Sriracha, Chonburi 20110
E-mail: bulan.b@toagosei.co.th
โทรศัพท์ 033-126031
สามารถเขียนใบสมัครได้ที่หน้าบริษัท ตามที่อยู่ด้านล่าง