Geography and Climate
Thailand is the world's 50th largest country, with a total area of 513,120 sq km. Located at the center of Southeast Asia along the Andaman Sea and the Gulf of Thailand, the country shares borders with the Lao People's Democratic Republic and Cambodia to the east, Myanmar to the north and west, and Malaysia to the south.

Thailand's capital is Bangkok, a sprawling metropolis home to 10 million people. Other major cities are Rayong in the East, Nakhon Ratchasima (Korat) in central Thailand and Chiang Mai in the north. In addition to Bangkok and Chiang Mai, major tourist destinations include Phuket in the south and Pattaya on the country's eastern seaboard.

Thailand's climate is tropical, high in both temperature and humidity, with the north and northeast generally cooler than Bangkok in winter and hotter in summer. April and May are the hottest months of the year, and the rainy season extends from June until the end of October. From November to the end of February, the climate is much cooler and less humid.
The Economy
Exports from Thailand shrank 6.71 percent year-on-year to USD 19.38 billion in October 2020, compared to market expectations of a 6 percent fall and after a 3.86 percent decline in September, amid the prolonged impact of the COVID-19 crisis. A ministry official said earlier that outbound shipments this year may not drop much further, but could take a long time to recover.

Considering the first ten months of the year, exports fell 7.26 percent from the same period of 2019. For full 2020, the government expects outbound shipment to fall between 6 to 7 percent, amid deteriorating global demand due to the pandemic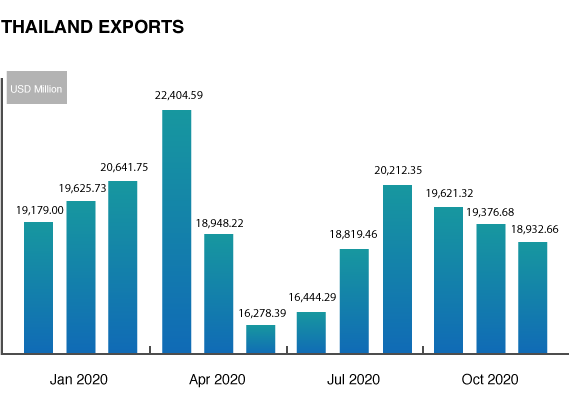 Thailand Ranking