Geography and Climate
Thailand is the world's 50th largest country, with a total area of 513,120 sq km. Located at the center of Southeast Asia along the Andaman Sea and the Gulf of Thailand, the country shares borders with the Lao People's Democratic Republic and Cambodia to the east, Myanmar to the north and west, and Malaysia to the south.

Thailand's capital is Bangkok, a sprawling metropolis home to 10 million people. Other major cities are Rayong in the East, Nakhon Ratchasima (Korat) in central Thailand and Chiang Mai in the north. In addition to Bangkok and Chiang Mai, major tourist destinations include Phuket in the south and Pattaya on the country's eastern seaboard.

Thailand's climate is tropical, high in both temperature and humidity, with the north and northeast generally cooler than Bangkok in winter and hotter in summer. April and May are the hottest months of the year, and the rainy season extends from June until the end of October. From November to the end of February, the climate is much cooler and less humid.
The Economy
In 2017, the growth of Thailand economy was projected to reach 3.5% and on the path to expand further to 3.6% in 2018. With regard to the exports, Thailand exports grew by 13.4 percent from a year earlier to USD 21.44 billion in November 2017. Considering the growth rate from January to November 2017, sales grew by 10 percent compared to the same period to the year earlier. Exports in Thailand averaged 10,152.39 USD Million from 1991 until 2017, reaching an all-time high of 21,812.34 USD Million in September of 2017.

World Bank conducts a study of Ease of Doing Business in countries around the world in 2017, and Thailand is ranked at No.26 in the world, up from No. 48 place. As a result, Thailand is recognized as one of the top 10 economies that have improved significantly most in the ease of doing business in the last year worldwide.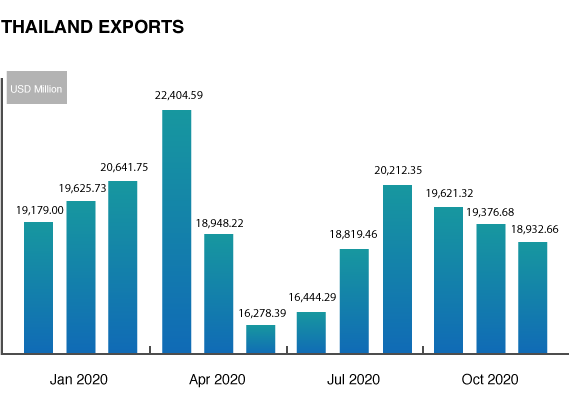 Thailand Ranking