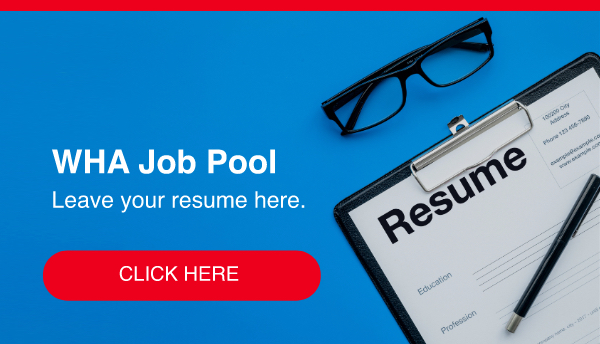 WHA E-Job Market
The First Online Job Fair in Eastern Seaboard
The impact from COVID-19 situation in Thailand has critically hit the workforce in many industries. Thus, there are some sunrise industries that still look forward to fill the vacancies in their manufacturing plants. WHA would like to assist both WHA customers to find candidates and the community in the EEC area to find a job easily by launching the WHA E-Job Market.
For recruiters who would like to leave your job vacancies, please send the details to jobpool@wha-industrialestate.com.
For job seekers who would like to leave your application form, please click https://www.wha-industrialestate.com/en/job-pool/application-form
Filter by Location:
Filter by Company:
Plasess (Thailand) Co., Ltd. Located at 64/33 Village No. 4, Eastern Seaboard Industrial Estate Strategic Road 331, Pluak Daeng Subdistrict, Pluak Daeng District, Rayong Province 21140. Manufacture of plastic parts for automotive. Will be recruit employees in the following positions
Job description
Mold set up
Setting Injection condition
Solve problem about injection holding parts.
Qualifications
Male, age 22-35 years old up
Vocation or Diploma in Mechanical or Electrical or equivalent in related field.
3 years' experience working in the automotive industry
Minimum 3-5 years' experience of automotive as applied to injection molding
Welfare benefits
House expenses 1,600 baht/month
Diligence allowance 450-650-1,100 baht/month
Lunch costs 45 baht / meal
Overtime meal fee 30 baht / meal
Travel expenses 90 baht/ day
Group Accident Insurance
Subsidy, Marriage, Maternity, Death
Annual travel / New Year's party
Bonus / annual raise
Provident Fund 7%
Contacts
Please send an application with full resume in English and recent photo to E-mail address: hr@plasess-thai.co.th , montri@plasess-thai.co.th, Or Contact to Human Resources Department at 038-656040-6 ext. 203
Plasess (Thailand) Co., Ltd. Located at 64/33 Village No. 4, Eastern Seaboard Industrial Estate Strategic Road 331, Pluak Daeng Subdistrict, Pluak Daeng District, Rayong Province 21140. Manufacture of plastic parts for automotive. Will be recruit employees in the following positions
Job description
Job New Model/MASS Production
ECR monitoring sample new Part
Control Standard team for preparation document standard new part
Prepare APQP, PPAP, FMEA and document concern customers
Trial new product
Coordinate with customer to improvement
Cooperate with production team
Qualifications
Male 27-35 Years
Bachelor's degree in Engineering, Mechanical, Industrial or any related field
At least 5 years up experience in auto part manufacturing, Process engineer or in production engineer (Experience in working with New Model is an advantage)
Have basic knowledge of quality system IATF 16949, PPAP, FMEA, Control Plan, etc.
Able to communicate in English
Have a driver's license and able to drive a car.
Be in good health and able to work under pressure
Have good human relations with colleagues and customers
Welfare benefits
House expenses 1,600 baht/month
Diligence allowance 450-650-1,100 baht/month
Lunch costs 45 baht / meal
Overtime meal fee 30 baht / meal
Travel expenses 90 baht/ day
Group Accident Insurance
Subsidy, Marriage, Maternity, Death
Annual travel / New Year's party
Bonus / annual raise
Provident Fund 7%
Contacts
Please send an application with full resume in English and recent photo to E-mail address: hr@plasess-thai.co.th , montri@plasess-thai.co.th, Or Contact to Human Resources Department at 038-656040-6 ext. 203