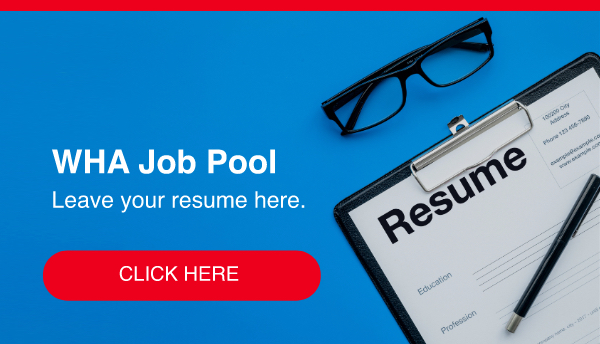 WHA E-Job Market
The First Online Job Fair in Eastern Seaboard
The impact from COVID-19 situation in Thailand has critically hit the workforce in many industries. Thus, there are some sunrise industries that still look forward to fill the vacancies in their manufacturing plants. WHA would like to assist both WHA customers to find candidates and the community in the EEC area to find a job easily by launching the WHA E-Job Market.
For recruiters who would like to leave your job vacancies, please send the details to jobpool@wha-industrialestate.com.
For job seekers who would like to leave your application form, please click https://www.wha-industrialestate.com/en/job-pool/application-form
Find the latest job vacancies from companies in WHA Industrial Estates.
Filter by Location:
Filter by Company:
บริษัท พลาเซส(ประเทศไทย)จำกัด ตั้งอยู่เลขที่ 64/33 หมู่ที่ 4 นิคมอุตสาหกรรมอีสเทิร์นซีบอร์ด ถ.ยุทธศาสตร์สาย 331ต.ปลวกแดง อ.ปลวกแดง จ.ระยอง 21140 ดำเนินกิจการผลิตชิ้นส่วนพลาสติกสำหรับรถยนต์และภาชนะบรรจุอาหาร มีความประสงค์จะรับสมัครพนักงานในตำแหน่งดังต่อไปนี้
เพศหญิง อายุ 25 - 30 ปี
การศึกษาวุฒิปริญญาตรี สาขา ที่เกี่ยวข้อง
มีทักษะอ่าน เขียน ฟัง ภาษาอังกฤษได้
สามารถใช้คอมพิวเตอร์โปรแกรม Microsoft Office.
มีประสบการณ์ด้าน Payroll 2 ปีขึ้นไป
มีความรู้กฎหมายแรงงาน
มีความรู้ในระบบงาน HR ตามข้อกำหนด IATF 16949
สวัสดิการ
ค่าเดินทาง (ไม่มีรถรับส่ง)
กองทุนสำรองเลี้ยงชีพฯ
โบนัสประจำปี
ค่าอาหารกลางวัน
เงินช่วยเหลือกรณีต่างๆ
ท่องเที่ยวประจำปี
ค่าตำแหน่ง ตามนโยบายบริษัทฯ
เบี้ยขยัน
เงินรางวัลอายุงาน
ประกันชีวิตกลุ่ม
เบี้ยขยันประจำปี
วันหยุดพักผ่อนประจำปี
ตรวจสุขภาพประจำปี
วิธีการสมัครงาน
ติดต่อขอรับใบสมัครได้ที่ฝ่ายบุคคล เบอร์ 038-656040-6 ต่อ 203
ส่งจม.สมัครงานพร้อมหลักฐานการสมัครงานตามที่อยู่บริษัท
ทาง e-mail address : hr@plasess-thai.co.th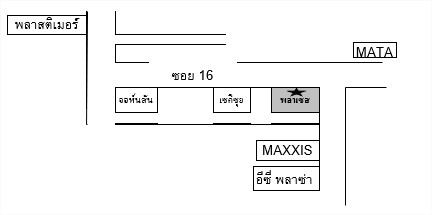 รับสมัครผู้ประกอบการร้านอาหาร ด่วน
สนใจติดต่อ เบอร์โทร 038-656040-6 ,087-9418811
บริษัท พลาเซส (ประเทศไทย) จำกัด
บริษัทฯ มี น้ำ,ไฟฟ้า,แก๊ส,ข้าว ให้
และมีเงินช่วยเหลือ 20,000.00/เดือน
แต่ไม่อุปกรณ์ทำครัว
*** เริ่มขายภายในเดือนพฤศจิกายน 2566
หรือเร็วที่สุด
Plasess (Thailand) Co., Ltd. Located at 64/33 Village No. 4, Eastern Seaboard Industrial Estate Strategic Road 331, Pluak Daeng Subdistrict, Pluak Daeng District, Rayong Province 21140. Manufacture of plastic parts for automotive. Will be recruit employees in the following positions
Job description
Mold set up
Setting Injection condition
Solve problem about injection holding parts.
Qualifications
Male, age 22-35 years old up
Vocation or Diploma in Mechanical or Electrical or equivalent in related field.
3 years' experience working in the automotive industry
Minimum 1-3 years' experience of automotive as applied to injection molding
Welfare benefits
House expenses 1,600 baht/month
Diligence allowance 450-650-1,100 baht/month
Lunch costs 45 baht / meal
Overtime meal fee 30 baht / meal
Travel expenses 90 baht/ day
Night shift 90 bath / day
Group Accident Insurance
Subsidy, Marriage, Maternity, Death
Annual travel / New Year's party
Bonus / annual raise
Provident Fund 7%
Contacts
Please send an application with full resume in English and recent photo to E-mail address: hr@plasess-thai.co.th , montri@plasess-thai.co.th, Or Contact to Human Resources Department at 038-656040-6 ext. 203