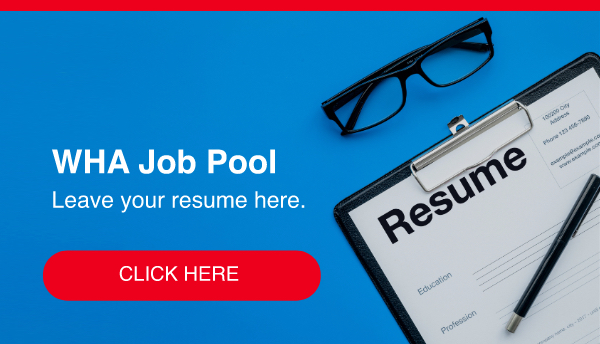 WHA E-Job Market
The First Online Job Fair in Eastern Seaboard
The impact from COVID-19 situation in Thailand has critically hit the workforce in many industries. Thus, there are some sunrise industries that still look forward to fill the vacancies in their manufacturing plants. WHA would like to assist both WHA customers to find candidates and the community in the EEC area to find a job easily by launching the WHA E-Job Market.
For recruiters who would like to leave your job vacancies, please send the details to jobpool@wha-industrialestate.com.
For job seekers who would like to leave your application form, please click https://www.wha-industrialestate.com/en/job-pool/application-form
Filter by Location:
Filter by Company:
บริษัท ทีที เทคโน-ปาร์ค จำกัด ตั้งอยู่เลขที่ 911/88 หมู่ที่ 5 นิคมอุตสาหกรรมดับบลิวเอชเอ อีสเทิร์นซีบอร์ด 1 ต.เขาคันทรง อ.ศรีราชา จ.ชลบุรี 20110 เป็นบริษัทที่จัดตั้งขึ้นมาเพื่ออำนวยความสะดวกดูแลรับผิดชอบงานบัญชี, ภาษี และงานบริหารการให้บริการต่างๆกับบริษัทในกลุ่ม มีความประสงค์ จะรับสมัครพนักงาน
เงินเดือน : ขึ้นอยู่กับประสบการณ์และโครงสร้างบริษัท
คุณสมบัติผู้สมัคร :
Male/Female, age not over 35 years old.
Bachelor degree in Accounting.
Able to use computer literacy MS office.(Excel skill)
Able to literacy in English.
Experience: 3 years or more in accounting or bookkeeping
รายละเอียดของงาน :
Bookkeeping, Monthly closing (Costing if possible)
Other assignment from Accounting Manager.
ผู้ที่สนใจสมัครงานสามารถส่ง Resume มาที่
Email : wilailuck@tttp.co.th , rachanee@tttp.co.th , rapeepat@tttc.co.th
สอบถามรายละเอียดเพิ่มเติมได้ที่ : TEL. (66) 3304-4476
ติดต่อคุณ กชพรรณ ทุ่มทอง, คุณ รัชนี ศรีมูลตรี, คุณระพีภัทร์ กิตติปรียวัฒน์
สถานที่ปฎิบัติงาน
TT Techno-Park Co.,Ltd. (อาคารโตโยต้า ทูโช)
WHA Eastern Seaboard Industrial Estate 1.
911/88 Moo 5 T.Khao Khan Song
A. Sriracha Chonburi 20110