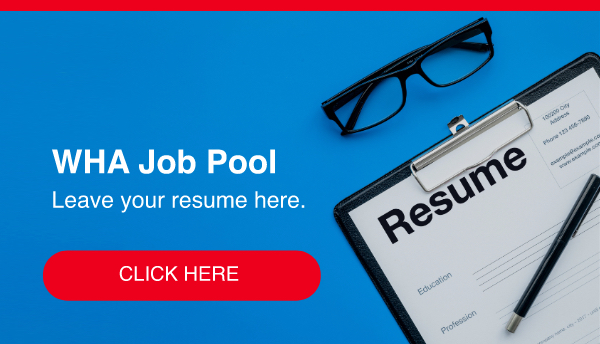 WHA E-Job Market Weeks
The First Online Job Fair in Eastern Seaboard
The impact from COVID-19 situation in Thailand has critically hit the workforce in many industries. Thus, there are some sunrise industries that still look forward to fill the vacancies in their manufacturing plants. WHA would like to assist both WHA customers to find candidates and the community in the EEC area to find a job easily by launching the WHA E-Job Market Weeks during 15-31 July 2020
For recruiters who would like to leave your job vacancies, please send the details to jobpool@wha-industrialestate.com.
For job seekers who would like to leave your application form, please click https://www.wha-industrialestate.com/en/job-pool/application-form
WHA E-Job Market Partners

Filter by Location:
Filter by Company:
สถานที่ปฏิบัติงาน
นิคมอุตสาหกรรมดับบลิวเอชเอ อีสเทิร์นซีบอร์ด 1 จ.ระยอง
เงินเดือนตามโครงสร้างบริษัท
รายละเอียดงาน :
Control and check for ensure that production process according to Standard Operation Procedure (SOP).
Control and prepare production plan.
To check production work to achieve quality target.
Control and check material used for production process of inventory.
Perform to achieve as quality and production plan.
Check actual of production output and control defect and report any abnormal case.
Follow ISO, quality, environment and occupational health and safety policy.
Follow up job assign by superior.
คุณสมบัติผู้สมัคร :
Male เพศชาย / Age : 23-27 Years ปี
Education : High Vocational ปวส. ประสบการณ์การทำงาน 2 year
วิธีการสมัคร :
ติดต่อกรอกใบสมัครได้ที่ป้อม รปภ.หน้าโรงงานได้ ทุกวัน เวลา 08.00-17.00 น.
สามารถสมัครผ่าน JOBTHAI หรือสอบถามรายละเอียดเพิ่มเติม ติดต่อคุณเสาวณี 038-950470-3 ต่อ 405
ที่อยู่ บ.เอ็มจีซี อิเล็กโทรเทคโน (ประเทศไทย) จำกัด นิคมเหมราชอิสเทิร์นซีบอร์ด 1 หมู่4,ตาสิทธิ์,ปลวกแดง,ระยอง
สถานที่ปฏิบัติงาน:

นิคมอุตสาหกรรมดับบลิวเอชเอ อีสเทิร์นซีบอร์ด 1 จ.ระยอง
เงินเดือนตามโตรงสร้างบริษัท
รายละเอียดงาน:
Work as superior assignment to achieve as Manufacture work plan.
Control quality of product and lead times as defined.
To work according to instruction defined.
Report to Superior in any abnormal case of Manufacture products and process.
Pays attention to ISO, Safety and Environment system.
คุณสมบัติผู้สมัคร:
Male เพศชาย
Age : 23-27 Years ปี
Education : Diploma electrical field. / ม.6 / ปวช./ ปวส.
Working Experience : ประสบการณ์การทำงาน 0-1 year
วิธีการสมัคร
กรอกใบสมัครหน้าโรงงาน ทุกวันเวลา 08.00-17.00 น.
กรอกใบสมัครผ่าน Jobthai
Send to E-mail : saowanee.p@mgcett.co.th ติดต่อ : K.Saowanee
MGC Electrotechno (Thailand) Co., Ltd. 500/128 Moo.3 T.Tasit , A.Pluakdaeng , Rayong
ติดต่อ K.Saowanee โทรศัพท์ : 038-950470-3 ต่อ 127