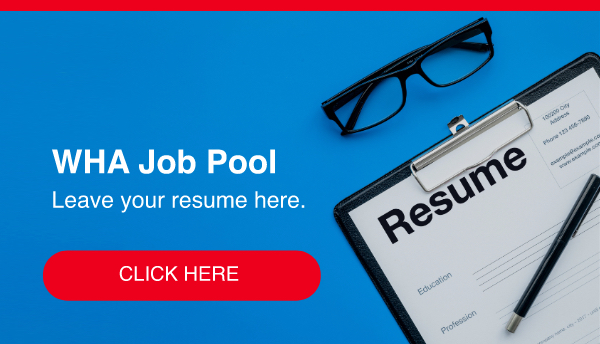 WHA E-Job Market Weeks
The First Online Job Fair in Eastern Seaboard
The impact from COVID-19 situation in Thailand has critically hit the workforce in many industries. Thus, there are some sunrise industries that still look forward to fill the vacancies in their manufacturing plants. WHA would like to assist both WHA customers to find candidates and the community in the EEC area to find a job easily by launching the WHA E-Job Market Weeks during 15-31 July 2020
For recruiters who would like to leave your job vacancies, please send the details to jobpool@wha-industrialestate.com.
For job seekers who would like to leave your application form, please click https://www.wha-industrialestate.com/en/job-pool/application-form
Filter by Location:
Filter by Company:
KLJ Organic (Thailand) Ltd., a part of KLJ Group from India, is a SME manufacturer of Chlorinated Paraffin in Rayong. KLJ Group is a large producer of entire of range of Primary and Tertiary Plasticizers, all types of Compounds, Importer/Distributor of entire range of petrochemical downstream products, a real estate developer and a philanthropist.
The Company is looking for competent candidates for the following positions to be based at its factory location in Rayong:
Qualifications
Male/Female, age 30-40 years old
Graduate in Health & Occupation, Safety and Environment, GPA >2.5
Experience of 6-10 Years as Health, Safety and Environment Officer in a manufacturing plant
Certified as Hazardous Substance Controller from Ministry of Industry
Reasonable ability to communicate English
Good inter-personal, service minded and systematic thinker
Job Description
Independent responsibility to establish and monitor safety organization, systems & process
Ensure compliance with all legal regulations/changes pertaining to safety and environment
Independent dealing with IEAT, Ministry of Industry, Labour and Defence
Ensure compliance with OHSAS 18001 and ISO 14001
Apply new safety knowledge to improve safety systems and processes in the company
Report & Analyze Safety Incidents/Lapses/near-Misses and take corrective/preventive action
Impart/Organize training pertaining to all Safety/Environment/Health related matters
Prepare Training Calendar for the Company and coordinate delivery by concerned trainers
Establish and Monitor Schedule Replacement/Maintenance of Safety-Critical Equipment
Please send resume, transcript with salary expectations to
5, Soi G-4, Pakornsongkhoraj Road, WHA Eastern Industrial Estate (Mapthaphut) Huaypong, Rayong 21150
Telephone: 038-693219 ; Email : hr@kljgroup.com; sanjaym@kljgroup.com