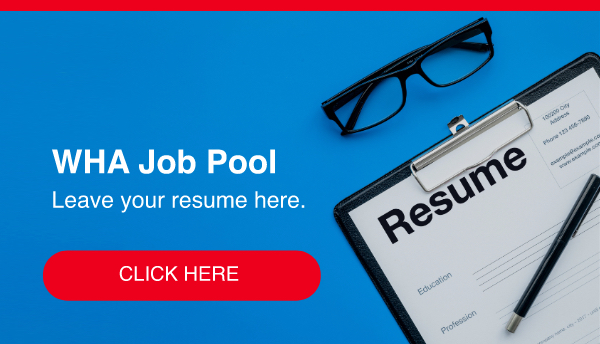 WHA E-Job Market
The First Online Job Fair in Eastern Seaboard
The impact from COVID-19 situation in Thailand has critically hit the workforce in many industries. Thus, there are some sunrise industries that still look forward to fill the vacancies in their manufacturing plants. WHA would like to assist both WHA customers to find candidates and the community in the EEC area to find a job easily by launching the WHA E-Job Market.
For recruiters who would like to leave your job vacancies, please send the details to jobpool@wha-industrialestate.com.
For job seekers who would like to leave your application form, please click https://www.wha-industrialestate.com/en/job-pool/application-form
Filter by Location:
Filter by Company:
สมัครด้วยตนเองที่บริษัทฯ ตั้งแต่วันจันทร์ - ศุกร์ เวลา 08.00-15.00 น. !!!!!!!
64/108 ม.4 ต.ปลวกแดง อ.ปลวกแดง จ.ระยอง 2114 โทร. 033-010928-9
สมัครได้ตั้งเเต่วันนี้เป็นต้นไป
คุณสมบัติ
เพศชาย อายุ 23 – 30 ปี
ผ่านการเกณฑ์ทหารแล้ว
จบการศึกษาระดับ ม.6 ขึ้นไป
มีประสบการณ์การทำงานในโรงงานอุตสาหกรรม อย่างน้อย 1 ปี
ไม่มีรอยสักทั้งในและนอกร่มผ้า
หากมีประสบการณ์ด้านงานไฟฟ้า/งานเจาะ จะได้รับการพิจารณาเป็นพิเศษ
สามารถเดินทางมาทำงานเองได้
สามารถทำงานล่วงเวลา วันเสาร์ – วันอาทิตย์ หรือวันหยุดนักขัตฤกษ์ได้ และสามารถเดินทางไปทำงานนอกสถานที่ได้
สวัสดิการ
ค่าแรง 335 บาท/วัน
ค่าเช่าบ้าน 100 บาท/วัน
ค่าล่วงเวลาวันทำงานปกติ 1.5 เท่า
ค่าล่วงเวลาวันหยุด 2 เท่า และ 3 เท่า
ค่าเดินทางจ่ายตามระยะทางจริงที่บริษัทกำหนด
เครื่องแบบพนักงาน/อุปกรณ์ป้องกันอันตรายส่วนบุคคล
ประกันสังคม
อื่นๆตามที่กฏหมายกำหนด
สวัสดิการจ่ายเมื่อทำงานครบ 4 เดือน ดังนี้
ค่าข้าว 40 บาท/วัน
เบี้ยขยัน 250 / 350 / 500 บาทตามเกณฑ์
วันเวลา/ทำงาน : จันทร์ – ศุกร์ และวันเสาร์ตามปฏิทินบริษัท
กำหนด เวลาทำงาน : 07.30 – 16.30 น.
บริษัท นิชโช เดนกิ (ประเทศไทย) จำกัด ตั้งอยู่ นิคมอุตสาหกรรมอีสเทิร์นซีบอร์ด ระยอง ซอย 14 เป็นบริษัทสัญชาติ ญี่ปุ่น ได้เปิดดำเนินการใน ปี ค.ศ.2010 ประกอบธุรกิจผลิต รับจ้างผลิต ออกแบบ ประกอบ ติดตั้ง และพัฒนาเครื่องจักร ระบบควบคุมเครื่องจักร และอุปกรณ์เครื่องมือเครื่องใช้ในโรงงานอุตสาหกรรมทุกชนิด
สนใจติดต่อ 0-3301-0928 ถึง 9 ฝ่ายบุคคล (จิราพร)