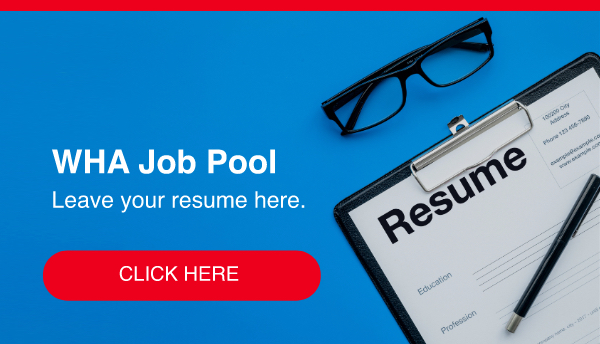 WHA E-Job Market
The First Online Job Fair in Eastern Seaboard
The impact from COVID-19 situation in Thailand has critically hit the workforce in many industries. Thus, there are some sunrise industries that still look forward to fill the vacancies in their manufacturing plants. WHA would like to assist both WHA customers to find candidates and the community in the EEC area to find a job easily by launching the WHA E-Job Market.
For recruiters who would like to leave your job vacancies, please send the details to jobpool@wha-industrialestate.com.
For job seekers who would like to leave your application form, please click https://www.wha-industrialestate.com/en/job-pool/application-form
Filter by Location:
Filter by Company:
The job of Director of Maintenance and Facilities was established for the purpose/s of planning, organizing and directing the maintenance, repair and alteration of plant support / buildings and grounds; also serving in planning and developing facilities and new construction; ensuring that jobs are completed efficiently and within regulatory guidelines and projected deadlines; preparing and managing the annual budgets for the maintenance, grounds and custodial departments; and ensuring optimal utilization of personnel and other resources.
Responsibilities
Preventive Maintenance/repairs of buildings, plant support equipment, fire protection systems, electrical systems, air handling systems plus maintaining maintenance records.
Electrical Safety Officer responsible to review custom built electrical installations to ensure proper construction, circuit breaker/fuse protection and that proper grounding is present.
Supervise vendor performance during normal and off hours including weekends when necessary
Manage building access control system, issue employee badges, track and maintain inventory of temporary badges issued to visitors and contractors.
Oversight of contracted Security Staff, Janitorial Staff, Food Service Staff, and of copier/printer lease, including reporting of monthly count data
Manage employee covered parking assignments
The responsibilities as defined are intended to serve as a general guideline for this position. Associates may be asked to perform additional tasks depending on strengths and capabilities.

Schedule : Full-time
Travel : As Require
Experience Requirements
10-15 years' experience in similar business and scale of site management (1m ++ sq. ft)
Associated technical degree with courses in engineering or electronic engineering discipline, with knowledge of engineering principles gained through long and varied work experience in a facility maintenance role/environment.
Knowledge of property, telecommunications, furniture systems, building infrastructure (electrical, plumbing, air handling, compressed air, fire system, and liquid nitrogen piping)
Proven competency and success in electrical, plumbing, HVAC, carpentry and general maintenance
Minimum 10-years of direct supervision of a team
Strong organizational, time management, interpersonal and supervisory skills
Knowledge of Tracer & I-Vu Energy Management Systems
Ability to read blueprints and respond to mission critical situations.
Demonstrate leadership by example and shows integrity and candor in all actions.
Financial experience with a focus on budgeting, forecasting, planning and controlling costs.
Experience working in an electronics manufacturing setting, as well as corporate office exposure
Exceptional interpersonal skills, including communicating with general employees and Executive management.
Excellent communication skills, both verbal and written
Ability to manage multiple projects
Customer service abilities and attitude
MS Office; Word, Excel, PowerPoint, Project and Share Point.
Can work proactively to identify potential project problems or opportunities, analyze issues using appropriate resources and develops and implements optimum alternatives.
AutoCAD experience preferred, but not required
How To Apply : Please send the Resume to..
Mr.Kevin Camelon at Email: kevinc@fabrinet.co.th
FABRINET COMPANY LIMITED
WHA Eastern Seaboard Industrial Estate 2, 475/2 Moo 7, T. Klong Kaeo, A.Ban Bung, Chonburi 20197