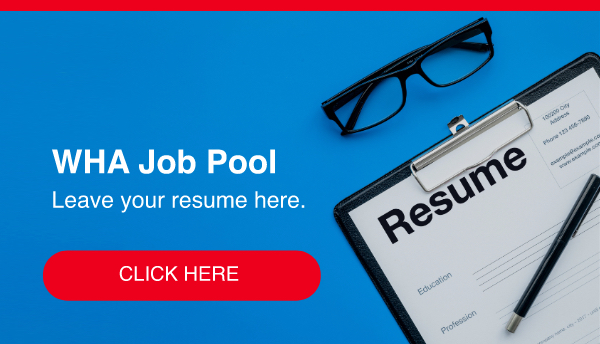 WHA E-Job Market
The First Online Job Fair in Eastern Seaboard
The impact from COVID-19 situation in Thailand has critically hit the workforce in many industries. Thus, there are some sunrise industries that still look forward to fill the vacancies in their manufacturing plants. WHA would like to assist both WHA customers to find candidates and the community in the EEC area to find a job easily by launching the WHA E-Job Market.
For recruiters who would like to leave your job vacancies, please send the details to jobpool@wha-industrialestate.com.
For job seekers who would like to leave your application form, please click https://www.wha-industrialestate.com/en/job-pool/application-form
Filter by Location:
Filter by Company:
URGENTLY REQUIRED
Job Description:
Daily communication with customer's purchasing team.
Receive RFQs from customers.
Receive quotation from suppliers and prepare quotation draft to customers.
Obtain approval for the quotation and submit to the customers.
Maintain the quotation file.
Daily communication with supplier's sales team.
Managing overseeing shipping schedules and input / maintaining purchase records.
Prepare draft RFQ to suppliers.
Prepare the draft PO & Forecast to the suppliers.
Other as assignment.
Qualification:
Male or female, age 26 years up.
Bachelor's degree.
Business level English (TOEIC 750 or above) – Read/Speak/Write.
Business level Japanese (preferred).
Must be able to use MS Office (Macro programing for Excel is preferred).
Business experience in automotive industries (preferred).
Knowledge of Quality Management System IATF16949 (preferred).
Positive Thinking / Interpersonal relations / Be able to work under pressure and timeline.
Allowance:
Housing and meal allowance / Diligent Allowance / Transportation allowance / Allowance on a particular occasion such as funeral, wedding, etc. / New Year Party / Company Trip / Provident fund / Uniform & Safety shoes / Annual Leave maximum 12 Days / Group Insurance / Yearly Bonus / Healthy Check
Working Day and Holiday:
Regular Working Time: 08.00 – 17.00 on Monday – Friday (and some Saturday)
For interested candidates, please contact Human Resource Department Tel: (+66)38-656580-1 ext.102 Or send your resume to email: jittarat@koide.co.th
URGENTLY REQUIRED (ด่วน)
รายละเอียดงาน:
รับ/โหลดวัตถุดิบจากตู้คอนเทนเนอร์ และเบิกจ่ายเข้าไลน์การผลิต
จัดเตรียมชิ้นงานสำเร็จรูปเพื่อจัดส่งให้ลูกค้าตามจำนวนที่ลูกค้าต้องการ
ควบคุมการรับ-จ่าย จัดเก็บวัตถุดิบและสินค้าสำเร็จรูป ให้เป็นไปตามระบบFIFO
ตรวจรับบรรจุภัณฑ์และอุปกรณ์อื่นๆ และจัดเก็บในพื้นที่ที่กำหนด
ลงบันทึกเอกสารต่างๆ ที่เกี่ยวข้องกับการปฏิบัติงาน
ดูแล 5 ส. ในพื้นที่ปฏิบัติงานให้เป็นไปตามกฎระเบียบของบริษัท
งานอื่นๆที่ได้รับมอบหมาย

คุณสมบัติ:
เพศชาย อายุระหว่าง 23 - 30 ปี
วุฒิการศึกษา ม.3ขึ้นไป หรือเทียบเท่า
สามารถขับและมีใบอนุญาตการขับรถโฟร์คลิพท์
มีมนุษย์สัมพันธ์ดี
สามารถทำงานภายใต้ภาวะกดดันได้ดี
มีประสบการณ์ในการทำงานด้านสต๊อกสินค้า และระบบควบคุมสินค้าFIFO จะพิจารณาเป็นพิเศษ
สวัสดิการ:
ค่าเช่าบ้าน / ค่าอาหาร / ค่าเบี้ยขยัน / ค่าเดินทาง / ค่าทำงานล่วงเวลา / งานสังสรรค์ประจำปี / ท่องเที่ยวประจำปี / กองทุนสำรองเลี้ยงชีพ / ชุดยูนิฟอร์มและรองเท้าเซฟตี้ / ประกันกลุ่ม / วันหยุดพักผ่อนประจำปีสะสมสูงสุด 12 วัน / โบนัสประจำปี / ตรวจสุขภาพประจำปี
วันทำงานและวันหยุด:
เวลาทำงานปกติ 8:00 – 17:00 น. ในวันจันทร์-ถึงวันศุกร์ และบางเสาร์
สนใจติดต่อฝ่ายบุคคล โทร (+66)38-656580-1 ext.102 หรือ ส่งข้อมูลประวัติการทำงานได้ที่ Email: jittarat@koide.co.th