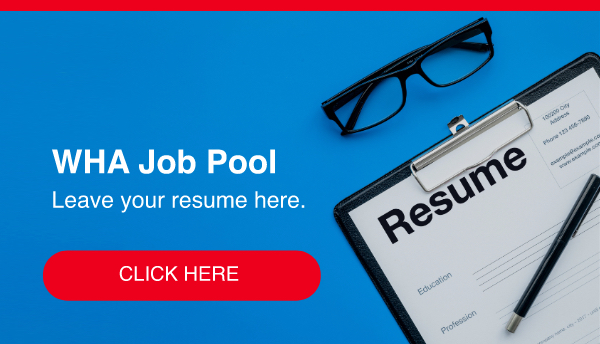 WHA E-Job Market
The First Online Job Fair in Eastern Seaboard
The impact from COVID-19 situation in Thailand has critically hit the workforce in many industries. Thus, there are some sunrise industries that still look forward to fill the vacancies in their manufacturing plants. WHA would like to assist both WHA customers to find candidates and the community in the EEC area to find a job easily by launching the WHA E-Job Market.
For recruiters who would like to leave your job vacancies, please send the details to jobpool@wha-industrialestate.com.
For job seekers who would like to leave your application form, please click https://www.wha-industrialestate.com/en/job-pool/application-form
Filter by Location:
Filter by Company:
We are newly company in Thailand, established in 2013, and from 2014 completed factory and starting operation in Eastern Seaboard Industrial Estate (Rayong) to manufacture MAZDA's Automobile transmission parts, BOI promotion. We are looking for the person who has responsibilities and carry out our business as central role of admin area.
Qualification
Male, Female below 30 year old
Bachelor's Degree or Diploma / Hight Vocation in Accounting, Finance or relation field.
Minimum 1-3 years of related work experience in Accounting
Have a knowledge about Accounting ( Can use ready-made accounting software and prepare accounting documents )
Good computer skill (MS Office, Outlook and Internet)
Fast learner, challenge to conference, Good communication skill, Team work, Service mind, Positive thinking
New graduated are welcome
JOB DESCRIPTION
Accounts receivable / Accounts Payable / Asset Account
Finance Job / Petty cash
Prepare invoices and collect relevant documents
Contact with various departments both inside - outside.
Other related tasks as assigned
WELFARE
Salary Responding experience and abilities
Annual Bonus
Social security
Compensation fund
Ocean Life Group insurance
Housing 3,000 baht
Meal 2,000 baht
Petrol motor cycle 1,200 baht, car 2,500 baht
Diligent 800 – 2,000 baht
Japanese language allowance (certificate level)
Wedding, Maternity and funeral allowance
The shuttle Pluakdaeng, Bowin, Sriracha
Free first three sets Uniform (one full year free two sets)
Company travel, New year's party, Raffle gifts, Birthday gifts, Annual gifts
Interested Candidates, please send your full resume in Word format in English along with your recent photo and expected salary to below contact details:
HIROSEI (THAILAND) LTD.
Eastern Seaboard Industrial Estate ( Rayong )
246/3 Moo 7 T.Bowin A.Sriracha Chonburi 20230
Tel: 038-119-676-8 Fax: 038-119679