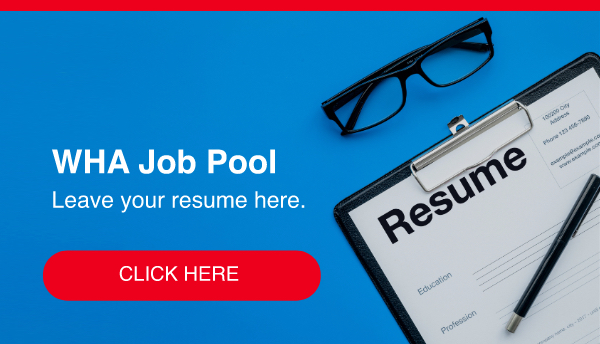 WHA E-Job Market
The First Online Job Fair in Eastern Seaboard
The impact from COVID-19 situation in Thailand has critically hit the workforce in many industries. Thus, there are some sunrise industries that still look forward to fill the vacancies in their manufacturing plants. WHA would like to assist both WHA customers to find candidates and the community in the EEC area to find a job easily by launching the WHA E-Job Market.
For recruiters who would like to leave your job vacancies, please send the details to jobpool@wha-industrialestate.com.
For job seekers who would like to leave your application form, please click https://www.wha-industrialestate.com/en/job-pool/application-form
Find the latest job vacancies from companies in WHA Industrial Estates.
Filter by Location:
Filter by Company:
Position : Secretary
Responsibility :
Report and disclose all required information in accordance with the rules and regulations of the SET and the SEC as a listed company in a timely manner
Preparing Annual Reports (One Report) to SEC and SET
Prepare all papers for shareholders, Board of Directors & Sub-Committee meetings to be delivered in presentable form.
Arranging meetings for the Board of Directors, Management Committee and AGMs/EGMs as well as ensuring that all related activities have been implemented and comply with the Company's articles
Handling correspondence before and after meetings
Take Minutes of all Meeting (BOD, NED, NRC, Excom)
To monitor corporate governance (CG) practice in order to facilitate or ensure compliance with good corporate governance requirements of applicable exchanges.
Manage process of coordinating with corporate governance agency e.g. SET, SEC, IOD, Thai Listed Company Association in order to update rules, regulations and best practices, and exchange relevant information.
Assist in Board activities and coordinate between the Board of Directors and executives.
Update and Monitor data on website of the Company.
Take accountability to coordinate with various authority.
Qualification :
Thai nationality, Female or male
Bachelor's Degree or higher in Laws, Business Administrator or related field.
1-3 years of experience Company Secretary and Preferred experience with Public Company Limited, SET.
Possess basic knowledge of Listed Companies & Stock Exchange Acts.
Understanding of SEC and SET rules in related to Company Secretary functions.
Excellent command of English.
Proficient in MS Office (Word, Excel, PowerPoint).
Welfare :
Provident Fund
Accommodation allowance
Fuel/transportation fees
Telephone bill allowance
Funeral payment support
Annual trip or party
Performance/results-based bonus
Work Location : Ingress Industrial (Thailand) Public Company Limited
No. 9/141 UM Tower Floor 14th Unit A 1, Ramkhamhaeng Road Suanluang, Bangkok Thailand Phone : 062-7199644-46
Please send your resume to à nabilah@ingress.co.th