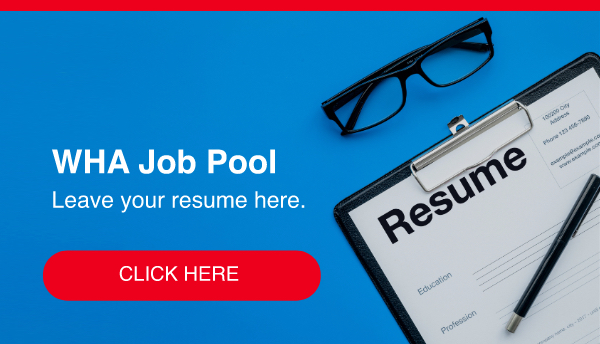 WHA E-Job Market Weeks
The First Online Job Fair in Eastern Seaboard
The impact from COVID-19 situation in Thailand has critically hit the workforce in many industries. Thus, there are some sunrise industries that still look forward to fill the vacancies in their manufacturing plants. WHA would like to assist both WHA customers to find candidates and the community in the EEC area to find a job easily by launching the WHA E-Job Market Weeks during 15-31 July 2020
For recruiters who would like to leave your job vacancies, please send the details to jobpool@wha-industrialestate.com.
For job seekers who would like to leave your application form, please click https://www.wha-industrialestate.com/en/job-pool/application-form
WHA E-Job Market Partners

Filter by Location:
Filter by Company:
คุณสมบัติ
Thai nationality, Male/Female Age 22-35 years.
Bachelor's degree, majoring in Japanese language.
Strong command of both written and spoken Japanese (JPTL 2).
Have strong skills in Microsoft Office & outlook (respond e-mail in English).
Have experiences in factory translation from Japanese manufacturing 2 years up.
Experience in automobile manufacturing.
Strong in operation & quality system of TS16949, ISO14000 & ISO18000, Kaizen, Productivity management.
Excellent communication, high responsibility, positive attitude.
Good human relationship and service-mind. Can work under high pressure and good responsibility, positive attitude toward team work.
สวัสดิการ : ค่าเช่าบ้าน, กองทุนสำรองเลี้ยงชีพ, ค่าอาหาร, รถรับส่ง, ชุดพนักงาน, เบี้ยขยัน, ค่ากะ, ประกันอุบัติเหตุ, ค่ารักษาพยาบาล, เงินช่วยเหลือแต่งงาน, เงินช่วยเหลืองานศพ, เงินช่วยเหลือกรณีพนักงานเสียชีวิต,โบนัส (ตามผลประกอบการ), ปรับค่าจ้างประจำปี และอื่นๆตามที่กฎหมายกำหนด
**ผู้ที่สนใจสามารถเขียนใบสมัครได้ที่ป้อมรปภ.หน้าบริษัทโดยตรง หรือส่งเอกสาร รูปถ่ายและประวัติมาที่**
คุณรัตนา (ฝ่ายทรัพยากรบุคคล) บริษัท สตีล อัลลายแอนซ์ เซอร์วิส เซ็นเตอร์ จำกัด
500/95 ม. 3 นิคมอุตสาหกรรม ดับบลิวเอชเอ อีสเทิร์นซีบอร์ด 1 ต.ตาสิทธิ์ อ.ปลวกแดง จ.ระยอง 21140
โทร. 033-659014-7 ต่อ 304, Fax. 033-659018 E-mail : rattana.s@sasc.co.th
คุณสมบัติ
เพศ ชาย/ หญิง 25ปีขึ้นไป
วุฒิปริญญาตรี สาขาที่เกี่ยวข้อง
ประสบการณ์ 1-3 ปี (หากมีประสบการณ์ด้าน Coil Center จะได้รับการพิจารณาเป็นพิเศษ)
สามารถพูด เขียน และสื่อสารภาษาอังกฤษได้เป็นอย่างดี
มีบุคลิกภาพดี และสามารถทำงานร่วมกับผู้อื่นได้เป็นอย่างดี
สามารถทำงานภายใต้แรงกดดันและการแข่งขันได้เป็นอย่างดี
มีทัศนคติเชิงบวก
สวัสดิการ : ค่าเช่าบ้าน, กองทุนสำรองเลี้ยงชีพ, ค่าอาหาร, รถรับส่ง, ชุดพนักงาน, เบี้ยขยัน, ค่ากะ, ประกันอุบัติเหตุ, ค่ารักษาพยาบาล, เงินช่วยเหลือแต่งงาน, เงินช่วยเหลืองานศพ, เงินช่วยเหลือกรณีพนักงานเสียชีวิต,โบนัส (ตามผลประกอบการ), ปรับค่าจ้างประจำปี และอื่นๆตามที่กฎหมายกำหนด
**ผู้ที่สนใจสามารถเขียนใบสมัครได้ที่ป้อมรปภ.หน้าบริษัทโดยตรง หรือส่งเอกสาร รูปถ่ายและประวัติมาที่**
คุณรัตนา (ฝ่ายทรัพยากรบุคคล) บริษัท สตีล อัลลายแอนซ์ เซอร์วิส เซ็นเตอร์ จำกัด
500/95 ม. 3 นิคมอุตสาหกรรม ดับบลิวเอชเอ อีสเทิร์นซีบอร์ด 1 ต.ตาสิทธิ์ อ.ปลวกแดง จ.ระยอง 21140
โทร. 033-659014-7 ต่อ 304, Fax. 033-659018 E-mail : rattana.s@sasc.co.th