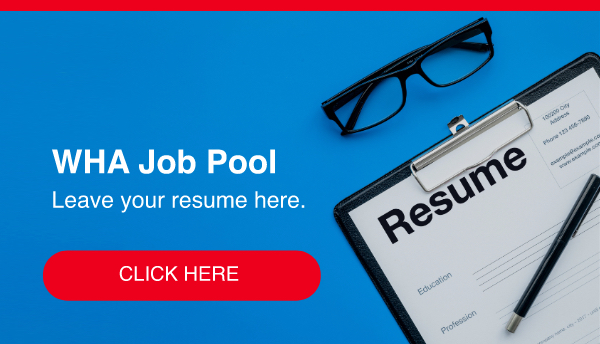 WHA E-Job Market
The First Online Job Fair in Eastern Seaboard
The impact from COVID-19 situation in Thailand has critically hit the workforce in many industries. Thus, there are some sunrise industries that still look forward to fill the vacancies in their manufacturing plants. WHA would like to assist both WHA customers to find candidates and the community in the EEC area to find a job easily by launching the WHA E-Job Market.
For recruiters who would like to leave your job vacancies, please send the details to jobpool@wha-industrialestate.com.
For job seekers who would like to leave your application form, please click https://www.wha-industrialestate.com/en/job-pool/application-form
Filter by Location:
Filter by Company:
Adient & Summit Corporation Ltd.
Main Responsibilities
Check and Record check sheet preventive maintenance daily weekly monthly and master plan
Repair and check all machine
Maintain and utilization all machine Hight capability
Record machines break down and down time don't over target.
Check and replace spare part machine
Check and set-up parameter and config machine
Move and install, set-up machine on process line
Maintain and support process line any problem and quality issue
Monitoring 5S all machine and facility
Support safety issue and LOTO Record
Utility repair
Work Request Job
Other tasks assigned
PPE. LOTO,
waste sorting
5S
Energy saving
Qualifications (Education, Skills, and Experiences)
Strong interpersonal and communication skills.
Good knowledge sewing M/C and Cutting Lectra M/C, Automation system (PLC Program Basic) , Pneumatics and hydraulics system. Automation Line Conveyor.
Service Mind , Work under pressure from production line, overtime working weekend, long holiday.
Diploma/High Vocation, with Electrical or Mechanical.
More than 3 Years in Maintenance Technician.
experience more than 3 Years.
Contact : 0815761265 (Thanachai) send resume at email below
thanachai.pummalee@adient.com