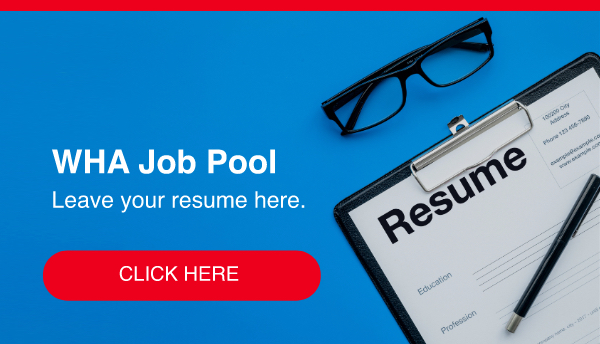 WHA E-Job Market
The First Online Job Fair in Eastern Seaboard
The impact from COVID-19 situation in Thailand has critically hit the workforce in many industries. Thus, there are some sunrise industries that still look forward to fill the vacancies in their manufacturing plants. WHA would like to assist both WHA customers to find candidates and the community in the EEC area to find a job easily by launching the WHA E-Job Market.
For recruiters who would like to leave your job vacancies, please send the details to jobpool@wha-industrialestate.com.
For job seekers who would like to leave your application form, please click https://www.wha-industrialestate.com/en/job-pool/application-form
Filter by Location:
Filter by Company:
*** รับสมัครงาน ด่วน ***
แผนก บัญชี
คุณสมบัติ
Male / Female not over 35 years
Have experience in cost accounting for industrial business
Have skill in cost analysis
Used to be responsible for the in-out item of goods and materials, including the inventory counting.
Able to communicate in English
Diligence and able to work under pressure
Knowledge in Microsoft office
Have experience in Express Software
สวัสดิการ
ค่าเช่าบ้าน , ค่าตำแหน่ง, ค่าน้ำมัน, กองทุนสำรองเลี้ยงชีพ, ประกันชีวิต , รถรับ-ส่ง, ชุดยูนิฟอร์ม, โบนัส , ท่องเที่ยวประจำปี อื่นๆ
เอกสารการสมัคร
สำเนาบัตรประชาชน
สำเนาทะเบียนบ้าน
วุฒิการศึกษา
เอกสารการผ่านงาน / การฝึกอบรม (ถ้ามี)
สนใจสมัคร
บริษัทโยโกฮามา รับเบอร์ (ประเทศไทย) จำกัด
นิคมอุตสาหกรรมอีสเทริ์นซีบร์อด ซอย 10 (E10)
โทร. 038-954625-30 ต่อ 122 , 121
E-Mail : darunee_s@yrtc.co.th
สามารถส่งเอกสารการสมัครได้ทั้งทางบริษัท และ ทาง E-mail
Responsibilities:
Responsible for standardized methods of working /planning in the process engineering
Process Improvement CR
Responsible for process documentation preparation and revision (Flow chart, PFMEA, Control plan, work instruction)
Ensure new launch on time and within budget.
Responsible for process release and trial build
Responsible for new jig and fixture implementation
Support new line set up.
Candidate Qualifications:
Minimum bachelor degree or equivalent ( IE or Engineering related)
3-5 years' work experience (Preferably Automotive)
Mechanical/ Electrical/ Manufacturing/ Industrial Engineering background
PLC preferable
Good English – Oral and Written
Knowledge of IATF 16949 , Core tools and lean manufacturing preferable.
สวัสดิการ
ค่าเช่าบ้าน ค่าตำแหน่ง ค่าน้ำมัน กองทุนสำรองเลี้ยงชีพ ประกันชีวิต รถรับ-ส่ง ชุดยูนิฟร์อม โบนัส ท่องเที่ยวประจำปี อื่นๆ
เอกสารการสมัคร
สำเนาบัตรประชาชน
สำเนาทะเบียนบ้าน
วุฒิการศึกษา
เอกสารการผ่านงาน / การฝึกอบรม (ถ้ามี)
สนใจสมัคร
บริษัทโยโกฮามา รับเบอร์ (ประเทศไทย) จำกัด
นิคมอุตสาหกรรมอีสเทริ์นซีบร์อด ซอย 10 (E10)
โทร. 038-954625-30 ต่อ 122 , 121
E-Mail : darunee_s@yrtc.co.th
*** รับสมัครงาน ด่วน ***
แผนก จัดซื้อวัตถุดิบ
คุณสมบัติ
วุฒิการศึกษา : ปริญาตรี ขึ้นไป สาขา การจัดซื้อ, บริหรทั่วไป หรือสาขาอื่นๆ
ประสบการณ์ : 3 - 5 ปี งานด้านการจัดซื้อ ภายในประเทศ และ จัดซื้อต่างประเทศ
ความรู้ / ทักษะ : ความรู้ด้านงานจัดซื้อ , การพัฒนา Supplier ,Vander , การตรวจติดตามการส่งมอบ , KPI ด้านการจัดซื้อ, ความรู้ระบบ IATF16949 , ISO14001 , ISO45001 , Core Tools, สามารถอ่าน Spec drawing ได้จะพิจารณาเป็นพิเศษ
สวัสดิการ
ค่าเช่าบ้าน ค่าตำแหน่ง ค่าน้ำมัน กองทุนสำรองเลี้ยงชีพ ประกันชีวิต รถรับ-ส่ง ชุดยูนิฟร์อม โบนัส ท่องเที่ยวประจำปี อื่นๆ
เอกสารการสมัคร
สำเนาบัตรประชาชน
สำเนาทะเบียนบ้าน
วุฒิการศึกษา
เอกสารการผ่านงาน / การฝึกอบรม (ถ้ามี)
สนใจสมัคร
บริษัทโยโกฮามา รับเบอร์ (ประเทศไทย) จำกัด
นิคมอุตสาหกรรมอีสเทริ์นซีบร์อด ซอย 10 (ESEI 10)
โทร. 038-954625-30 ต่อ 122 , 121
E-Mail : darunee_s@yrtc.co.th