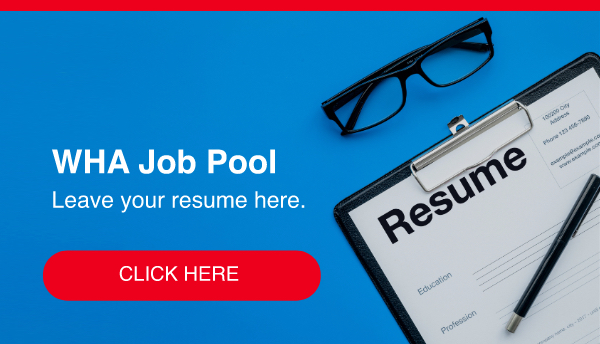 WHA E-Job Market
The First Online Job Fair in Eastern Seaboard
The impact from COVID-19 situation in Thailand has critically hit the workforce in many industries. Thus, there are some sunrise industries that still look forward to fill the vacancies in their manufacturing plants. WHA would like to assist both WHA customers to find candidates and the community in the EEC area to find a job easily by launching the WHA E-Job Market.
For recruiters who would like to leave your job vacancies, please send the details to jobpool@wha-industrialestate.com.
For job seekers who would like to leave your application form, please click https://www.wha-industrialestate.com/en/job-pool/application-form
Filter by Location:
Filter by Company:
A world-class IATF, ISO9001, ISO14001, ISO45001 and ISO50001 certified leading rubber product, offering Windshield Sealant
and Hydraulic Hose for automobile and construction machine industries, is seeking experienced,
highly motivated and enthusiastic professional for the following positions.
Qualifications :
Male / Female

Bachelor's Degree in INTERNATIONAL BUSINESS, SALE, MARKETING

Experience 5 years up in Sale system in automotive.

English Speaking and Good presentation skills

Acknowledge in IATF16949, ISO9001

Can go to abroad for business trips
สวัสดิการ
ค่าเช่าบ้าน
ค่าอาหาร
ค่ากะ
เงินช่วยเหลือค่าน้ำมัน
ประกันชีวิต ประกันอุบัติเหตุ
เบี้ยขยัน
กองทุนสำรองเลี้ยงชีพ
โบนัส
ท่องเที่ยวประจำปี
ค่ารักษาพยาบาลผู้ป่วยนอก ผู้ป่วยใน

ติดต่อสมัครพร้อมสัมภาษณ์
ได้ตั้งแต่วันที่ 16 มีนาคม 2564
ที่อยู่บริษัท
64 หมู่ 4 นิคมอุตสาหกรรมอีสเทิร์นซีบอร์ด(ระยอง) ซอย ESIE 10
ต.ปลวกแดง อ.ปลวกแดง จ.ระยอง 21140
โทรศัพท์: 038-954625-30, 089-8913109, 081-7230955
หรือ e-mail : poonnavut_w@yrtc.co.th, thanathat_o@yrtc.co.th