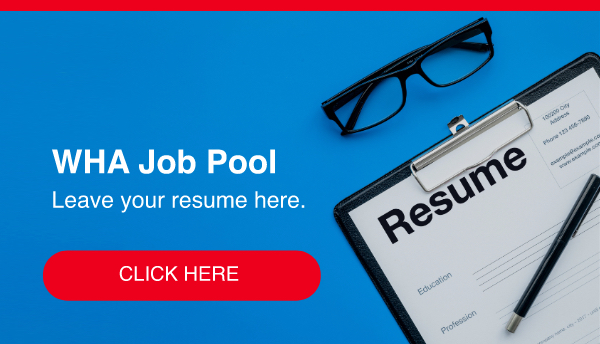 WHA E-Job Market
The First Online Job Fair in Eastern Seaboard
The impact from COVID-19 situation in Thailand has critically hit the workforce in many industries. Thus, there are some sunrise industries that still look forward to fill the vacancies in their manufacturing plants. WHA would like to assist both WHA customers to find candidates and the community in the EEC area to find a job easily by launching the WHA E-Job Market.
For recruiters who would like to leave your job vacancies, please send the details to jobpool@wha-industrialestate.com.
For job seekers who would like to leave your application form, please click https://www.wha-industrialestate.com/en/job-pool/application-form
Filter by Location:
Filter by Company:
Job descriptions
Create and implement workplace health and safety plans and procedures
Evaluate health and safety practice and procedures for risk assessment and following legal guidelines
Conduct accident prevention training and health and safety training
Inspect equipment for unsafe workplace conditions
Monitor employee conformity to safety laws and policies
Investigate accidents and incidents to find cause and take prevention measures for further incidents
Handle worker's compensation claims in the event of a workplace accident
Suggest solutions, improvements and prevention steps for safety issues
General qualifications
Male, Thai nationality, age between 30-40
Bachelor's degree or higher in Occupational Health and Safety, Engineer or related fields.
Good command of English (Conversation level)
Working on Saturday
Minimum 7 years' experience in Safety Management and Occupational Health System.
Knowledge of multi-site ISO 14001, and ISO 9001 OHSAS 18001,ISO 45001 management systems standards and certifications
Tel: 038-955824 for HR.Dept. For please press 123
E-mail : nrbthr1@nrbbearings.co.th
JOB SUMMARY FUNCTION :
Follow up, monitor and improvement the task that concern with safety and health.
To prevent and control an incident that may be generated by company's process and may be affected to employee's health and control all activity as follow by legal requirement.
RESPONSIBILITIES / DUTIES :
Lead the safety and health committee, ergonomics for the company's safety and health policy updating, evaluating and approval.
Manage the safety incident investigation system to find out the incident root causes for incident recurrence prevention.
Ensure equipment safety devices are adequately maintained and records documented.
Assist in developing company safety and health procedures and programs.
Administrative employees health monitoring, health promotion and improvement.
Ensure the safety risk assessment are in placed with improvement progressive included assessment for new project/new machine installation.
Setup workplace and environment monitoring plan. Follow up the monitoring result, summarize, analysis and present to commander.
Responsible for managing safety registration compliance system with government such as law, company permit, compulsory report and internal concerned associates.
Manage implementation of Thai regulatory and international safety and health management systems.
Ensure employees' discipline to comply with company safety and health rules/ policy.
Lead and organize the HSE team and emergency team activities in term of safety and health.
Administrative and control of high risk job to ensure all risk are in acceptable level.
Lead and organize the safety contractor system.
Manage the safety chemical administrative system to ensure all safety risk are in acceptable level.
Organize, coordinate and conduct safety and health training and communication to keep all the associates informed the Company's safety and health policies and procedures and to improve their safety awareness.
Establish and monitor ISO45001 system.
Responsible for maintaining the safety management systems established in the company to make sure the compliance with the systems' requirements as well as related government laws and regulations, including those for safety protection.
In charge of office security manages and review security report.
Other duties per superior recommendation.
Monitoring west water system
REQUIREMENT & QUALIFICATION :
Bachelor's Degree or higher in Occupational Health and Safety.
Minimum 3-5 years' experience in safety management from any manufacturing environment.
Strong knowledge in ISO45001 / ISO14001
Good command of English and Computer literacy
Strong leadership skill, Interpersonal skill and communication skill.
New graduated are welcome
Tel: 038-955824 for HR.Dept. For please press 123
E-mail : nrbthr1@nrbbearings.co.th
JOB SUMMARY FUNCTION
ISO officer (main task 90%)
Document control ISO 9001:20015, ISO 45001,ISO 14001:2015 system
Responsible System ISO 14001:2015
Follow up document ISO45001, ISO14000
Control internal audit and support external audit
Prepare management review
Monthly meeting ISO
Training ISO system for new staff
Internal Control Officer (subtask 10%)
Control document internal control of the company
Prepare report internal control
Follow up internal control
Other tasks assigned
REQUIREMENT & QUALIFICATION :
Age 25-30 years
Bachelor degree in a related field.
Conversation middle of English
★At least 3 years working experience of taking care of ISO
Have experience of work in industrial plants
Have working experience in internal control
Languages skills
Tel: 038-955824 for HR.Dept. For please press 123
E-mail : nrbthr1@nrbbearings.co.th