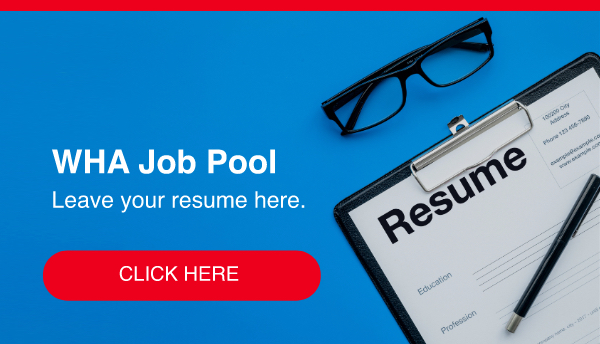 WHA E-Job Market Weeks
The First Online Job Fair in Eastern Seaboard
The impact from COVID-19 situation in Thailand has critically hit the workforce in many industries. Thus, there are some sunrise industries that still look forward to fill the vacancies in their manufacturing plants. WHA would like to assist both WHA customers to find candidates and the community in the EEC area to find a job easily by launching the WHA E-Job Market Weeks during 15-31 July 2020
For recruiters who would like to leave your job vacancies, please send the details to jobpool@wha-industrialestate.com.
For job seekers who would like to leave your application form, please click https://www.wha-industrialestate.com/en/job-pool/application-form
Filter by Location:
Filter by Company:
Ampacet is a global independent manufacturer and supplier of color, additive concentrates, and services for the thermoplastic industry that is recognized the world over for innovation, quality, and consistency. It is founded in 1937 being operated now worldwide with 24 manufacturing sites, 4 research and development centers, and over 1,500 employees. Our products are sold successfully in more than 80 countries. Ampacet Global Headquarter is located in New York, USA, Australia with an Asia-Pacific Headquarter in Rayong, Thailand.
Due to our rapid growth and expansion in Asia operation, we are now seeking for high caliber Business Process Analyst Manufacturing and Product Data Management to be based in our Thailand Headquarters office to drive the continued success in the Thailand market. If you are looking for the employer with culture of trust, diversity, and innovation where your career is continuously developed and rewarded, please join us as detailed below:
Job Summary
This position will act as a liaison between key stakeholders within the organization and with technology solutions across all applications. This Business Processes Analyst will be responsible for transforming and implementing solutions to existing technological and analytical business processes for Asia Pacific. The focus will be integrating all current systems to deliver maximum efficiency and business value. In addition, the position's primary function will be to:
Understand current business processes across all applications and solutions
Assess process changes and the resulting impact on workflows
Capture, analyze, and document system requirements while supporting the communication and delivery of requirements to relevant stakeholders
Qualifications:
Bachelor's Degree or higher in business process management or related field.
Minimum 5 years' experience in business application, system analysis and system design is an advantage.
Minimum 3 years' experience in business operation in the specific field is necessary.
Fluent in English (International level) both spoken and written.
Able to work under high pressure situation and manage critical situation
Careful in data management / planning and detail-oriented.
Expert in Windows MS-Office and basic level in computer programming.
Competent in managing changes in the area of expertise.
International skills, initiative, service – minded, and able to handle confidential information.
Flexible in working time and able to be on duty outside Thailand when required
Own transportation is a must.
The company offers an attractive package that includes a competitive basic salary, up-country allowance, housing allowance, car allowance, food allowance, a fixed one-month yearly bonus, an annual performance bonus, a 5-day working week, provident fund, medical and life insurance, and a rewarding career.
Mail your full CV with academic transcript and a recent photo to:
Human Resources Department, Ampacet (Thailand) Co., Ltd.
64/52 Eastern Seaboard Industrial Estate, Moo 4, Highway 331 Road, Pluakdaeng, Rayong 21140.
E-mail: alishada.kwanthongyim@ampacet.com