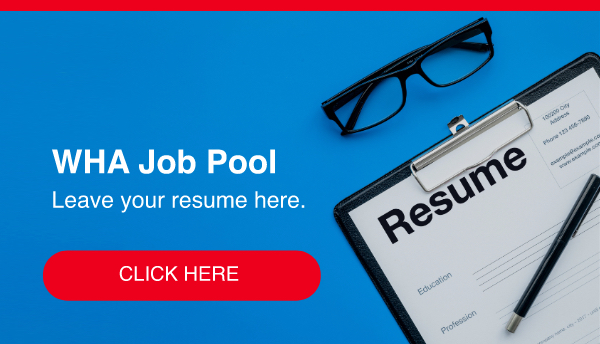 WHA E-Job Market
The First Online Job Fair in Eastern Seaboard
The impact from COVID-19 situation in Thailand has critically hit the workforce in many industries. Thus, there are some sunrise industries that still look forward to fill the vacancies in their manufacturing plants. WHA would like to assist both WHA customers to find candidates and the community in the EEC area to find a job easily by launching the WHA E-Job Market.
For recruiters who would like to leave your job vacancies, please send the details to jobpool@wha-industrialestate.com.
For job seekers who would like to leave your application form, please click https://www.wha-industrialestate.com/en/job-pool/application-form
Find the latest job vacancies from companies in WHA Industrial Estates.
Filter by Location:
Filter by Company:
Position Type Permanent
Position Reports To (position) HR GA & IT Section Manager
Section HR GA & IT

Job Description; Duties and Responsibilities
1. Support all company expenses, general expenses, transportation expenses included computers and perk cars
2. Support all agreements for rental, monthly payments, and yearly payments
3. Monitor housemaids and gardeners to follow their duties and concerned issues
4. Confront general maintenance voice and repair procedure, follow up, and support to comply requirements
5. Mobile Phone (Rental, Package, and Maintain)
6. Handle and manage wellbeing of employees' stuffs such as canteen, pantry, toilet, etc.
Requirements
Bachelor degree in Business Administration, Political or related field.
Age preferably 22-30 years
Minimum 3 years of experience in General Affairs or MNC environment.
Having good positive thinking, accountability, strong service mind and "can-do" attitude
Experience in ISO9001, ISO14001
Good at writing and reading in English
Excellent in computer literacy
Contact person
Khun Arnuparp Namkhum (arnuparn@scg.com)
About Company
Siam Tohcello Company Limited (STC) is the newly established company in April 2012. The company is the Joint Venture between SCG Chemicals (45% share) and Mitsui Chemicals Tohcello Inc. (55% share). SCG Chemicals is the renowned Petrochemicals Company in Asia with numerous companies in Thailand based production in Rayong, while Mitsui Chemicals Tohcello Inc. (MCTI) is the subsidiary company under Mitsui Chemicals Inc. (MCI), which is the famous company in Japan in several business sectors. MCTI itself is the market leader in plastic packaging business in Japan. Siam Tohcello Company Limited (STC) main purpose is to produce LLDPE-Film Sealant Layer with initial capacity of 15,000 mt/year. This project is the first Fabrication Film business for SCG Group, and is the first overseas investment on MCTI on Film business. Both companies are committed to contribute benefits in growth to packaging industry in Thailand and ASEAN

Website
http://www.siamtohcello.com/
Position Type Permanent
Position Reports To (position) HR GA & IT Section Manager
Section HR GA & IT

Job Description; Duties and Responsibilities
Installing and configuring computer hardware, software, systems, networks, printers, and scanners
Monitoring and maintaining computer devices or other IT devices to be accuracy
Responding in a timely manner to service issues and requests
Providing basically technical support across the company (this may be in person or over the phone)
Coordinating to support setting up accounts for new users
Repairing and replacing equipment as necessary
Other IT Tasks as assigned
Requirements
High Vocational Certificate in Computer or related field
At least a year of working experience.
Intermediate skill in English
Good command in computer skill
Ability to work independently and as part of the team
Knowledge in computer fixing and other IT devices and also Network LAN
Good skill in Microsoft Office
Welfare & Benefits
Free shuttle bus
Health allowance
Housing allowance
Provident Fund
Staff training and development
5-day work week
Social security
Health insurance
Employee's uniform
Annual trip or party
Attendance bonus or other special compensation
Annual Bonus
Contact person
Khun Arnuparp Namkhum (arnuparn@scg.com)
(Send your resume to provided email above)
About Company
Siam Tohcello Company Limited (STC) is the newly established company in April 2012. The company is the Joint Venture between SCG Chemicals (45% share) and Mitsui Chemicals Tohcello Inc. (55% share). SCG Chemicals is the renowned Petrochemicals Company in Asia with numerous companies in Thailand based production in Rayong, while Mitsui Chemicals Tohcello Inc. (MCTI) is the subsidiary company under Mitsui Chemicals Inc. (MCI), which is the famous company in Japan in several business sectors. MCTI itself is the market leader in plastic packaging business in Japan. Siam Tohcello Company Limited (STC) main purpose is to produce LLDPE-Film Sealant Layer with initial capacity of 15,000 mt/year. This project is the first Fabrication Film business for SCG Group, and is the first overseas investment on MCTI on Film business. Both companies are committed to contribute benefits in growth to packaging industry in Thailand and ASEAN

Website
http://www.siamtohcello.com/
Position Type: Permanent (พนักงานประจำ)
Position Reports To (position): เจ้าหน้าที่จัดซื้อจัดจ้าง (Purchasing Officer)
Section: ซัพพลายเชน (Supply Chain Management)
Key Responsibilities (ความรับผิดชอบหลัก)
เจรจาต่อรองในการจัดซื้อจัดหา ให้บริษัทได้รับสินค้าและบริการที่คุ้มค่า และผู้ใช้งานสามารถได้รับสินค้าที่มีประสิทธิภาพ ตรงเวลา ในราคาที่คุ้มค่า
Job Description; Duties and Responsibilities (รายละเอียดงานที่รับผิดชอบ)
ทำการเจรจาต่อรองกับผู้ขายเพื่อจัดซื้อจัดจ้าง สินค้าและบริการให้กับผู้ใช้งานในราคาที่คุ้มค่ากับสินค้ามากที่สุด
จัดทำเอกสารคำสั่งซื้อเพื่อให้ผู้มีอำนาจอนุมัติ
จัดทำรายงานตามคำสั่งของผู้บังคับบัญชา
ปฏิบัติตามมาตรฐานการทำงานตาม ระบบ ISO9001, ISO14001 อย่างเคร่งครัด
ทำการบันทึกรายการซื้อและแจ้งตารางการส่งสินค้าให้หน่วยงานที่เกี่ยวข้องทราบ
ทำการตรวจรับของที่มาส่งพร้อมกับผู้ใช้งานให้ถูกต้อง และทำการแก้ไขเมื่อการส่งสินค้าไม่เป็นไปตามใบคำสั่งซื้อ
ปฏิบัติหน้าที่ให้ความร่วมมือกับนายจ้างในการดำเนินการและส่งเสริมด้านความปลอดภัย อาชีวอนามัยและสิ่งแวดล้อม และอื่นๆ ตามที่ได้รับมอบหมาย
Requirements (คุณสมบัติ)
การศึกษาระดับ ปวส. หรือปริญญาตรีในสาขาที่เกี่ยวข้อง
มีประสบการณ์ด้านการจัดซื้อจัดหา 1 ปีขึ้นไป
สามารถทำงานภายใต้แรงกดดันและสามารถทำงานประสานกับหน่วยงานอื่นได้เป็นอย่างดี
มีทักษะการใช้งาน ERP พิจารณาเป็นพิเศษ
มีความทางด้าน ISO9001, ISO14001 เป็นอย่างน้อย
ภาษาอังกฤษในระดับค่อนข้างดี
มีทักษะด้านคอมพิวเตอร์ Microsoft Office โปรแกรมสำนักงานที่เกี่ยวข้อง
Contact person
Khun Arnuparp Namkhum (arnuparn@scg.com)