Job posting is FREE OF CHARGE for WHA customers.
WHA Job Boards
Recruiting workers in and around the Eastern Seaboard has never been easier!
There are WHA Job Board Center at WHA Chonburi Industrial Estate, and boards at ESIE Plaza I and ESIE Plaza II at Eastern Seaboard Industrial Estate (Rayong) for job advertisements. Job posting is FREE OF CHARGE for WHA customers.
The Job Board Center and Value Added Center at ESIE Plaza I also serve as the job application dropping points for people looking for jobs. Companies within WHA's Industrial Estates are entitled to select applications from the database.
WHA Job Board is the latest service on top of current job ad posting on WHA's website. The latter has link to Vocational Education Commission's website where vocational/ technical graduates nationwide visit for checking job announcements.
Please send your job announcement in format of Microsoft office file (word, excel, powerpoint) to jobpool@wha-group.com. (สำหรับฝากประกาศรับสมัครงานเท่านั้น)

SEND JOB ANNOUNCEMENT
Filter by Location:
Filter by Company:
We are the world's leading chemical company, with the best teams developing intelligent solutions for our customers and for a sustainable future.
Our success as a company relies on the personal engagement of our employees. We encourage our staff to develop their strengths, and we recognize their achievements. For you, this means an exciting variety of job roles, career development and lots of learning opportunities. At BASF we believe strongly in the power of connected minds.
Currently, we are seeking for the qualified candidate to fill the vacant positions in Thailand as follows:
Work Location: Eastern Seaboard Industrial Estate, Rayong
Job Summary:
Responsible of Optimization and continuous improvement of plant equipment. Execute maintenance and engineering services. Propose, plan, implement and follow up machineries improvement and upgrade projects to achieve process efficiency, plant's reliability including on stream time with safe operations
Qualifications:
Bachelor 's Degree in Mechanical, Electrical Engineering or related field.
At least 2 years directly related work experience in maintenance of manufacturing or chemical industry
Good personal and team leadership, problem solving and analytical.
Good in English communicate both speaking and writing
Computer & presentation skills
Interested candidates, please submit your resume in English stating present and expected salary to chaiyasit.thiratanet@basf.com. Only short-listed candidates will be interviewed.
HR Department; BASF (Thai) Ltd.
111/3 Moo4, ESIE 4 Rd. Eastern Seaboard Industrial Estate,
Pluakdaeng, Rayong 21140
Tel 038-953100 ext. 137
Email: chaiyasit.thiratanet@basf.com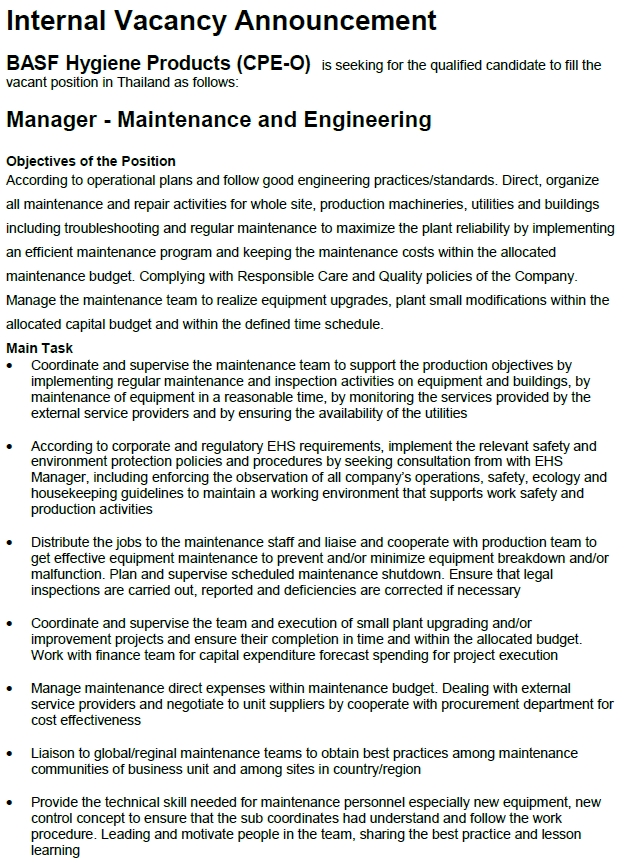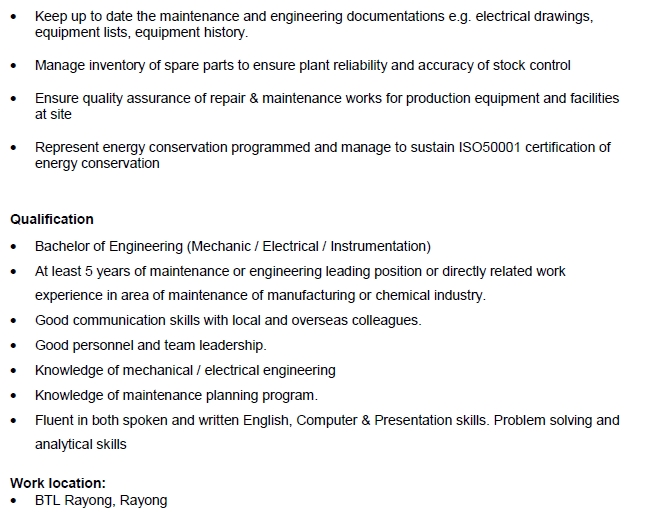 ผู้สนใจสามารถส่งเอกสารสมัครงานพร้อมรูปถ่ายได้ที่
กลุ่มบริษัท บีเอเอสเอฟ ในประเทศไทย
ฝ่ายทรัพยากรบุคคล โรงงานระยอง
111/3 หมู่.4 นิคมอุตสาหกรรมอีสเทิร์นซีบอร์ด ซอย 4 ต.ปลวกแดง
อ.ปลวกแดง จ.ระยอง 21140
โทร: 038 953137 แฟ็กซ์: 038 955102
Email: chaiyasit.thiratanet@basf.com