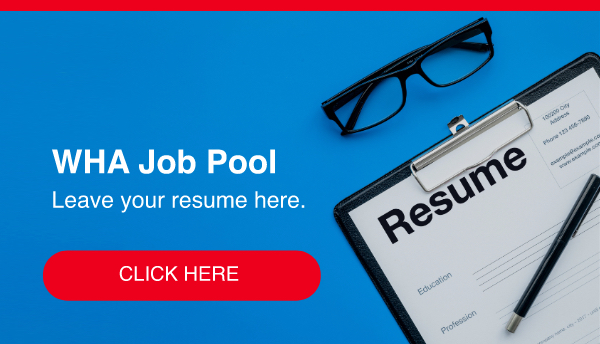 WHA E-Job Market
The First Online Job Fair in Eastern Seaboard
The impact from COVID-19 situation in Thailand has critically hit the workforce in many industries. Thus, there are some sunrise industries that still look forward to fill the vacancies in their manufacturing plants. WHA would like to assist both WHA customers to find candidates and the community in the EEC area to find a job easily by launching the WHA E-Job Market.
For recruiters who would like to leave your job vacancies, please send the details to jobpool@wha-industrialestate.com.
For job seekers who would like to leave your application form, please click https://www.wha-industrialestate.com/en/job-pool/application-form
Filter by Location:
Filter by Company:
We are the world's leading chemical company, with the best teams developing intelligent solutions for our customers and for a sustainable future.
Our success as a company relies on the personal engagement of our employees. We encourage our staff to develop their strengths, and we recognize their achievements. For you, this means an exciting variety of job roles, career development and lots of learning opportunities. At BASF we believe strongly in the power of connected minds
Prospects with BASF: We rely on the strengths of our employees. As a committed and forward-looking team, they are the key to our success. We offer our employees interesting career prospects.
Currently, we are seeking for the qualified candidate to fill the vacant positions in Thailand as follows:
ความก้าวหน้าทางด้านอาชีพกับบีเอเอสเอฟ เราให้ความสำคัญกับการพัฒนาความเข้มแข็งของบุคลากรในทีมงาน ซึ่งถือเป็นกุญแจสำคัญสู่ความสำเร็จอย่างยั่งยืน รวมทั้งให้การฝึกอบรมพัฒนาและโอกาสก้าวหน้าทางหน้าที่การงานสำหรับบุคลากรที่มีศักยภาพ บีเอเอสเอฟ ประเทศไทยกำลังมองหาบุคคลากรใหม่สำหรับตำแหน่งงานต่อไปนี้
สถานที่ทำงาน:
โรงงานนิคมอุตสาหกรรมอีสเทิร์นซีบอร์ด ระยอง
คุณสมบัติ:
ปริญญาตรี ทุกสาขา
มีประสบการณ์อย่างน้อย 1 ปี ที่เกี่ยวข้องกับ warehouse , logistics , Customer service หรือที่เกี่ยวข้อง (ยินดีรับนักศึกษาจบใหม่)
สามารถใช้ภาษาอังกฤษเบื้องต้นได้ ใช้โปรแกรมคอมพิวเตอร์ MS Office ได้ (สามารถใช้ SAP ได้จะพิจารณาเป็นพิเศษ)
ผู้สนใจสามารถส่งเอกสารสมัครงานพร้อมรูปถ่ายได้ที่
กลุ่มบริษัท บีเอเอสเอฟ ในประเทศไทย
ฝ่ายทรัพยากรบุคคล โรงงานระยอง
111/3 หมู่.4 นิคมอุตสาหกรรมอีสเทิร์นซีบอร์ด ซอย E4 ต.ปลวกแดง
อ.ปลวกแดง จ.ระยอง 21140
โทร: 038 953137 แฟ็กซ์: 038 955102
Email: tina.jankaew@basf.com