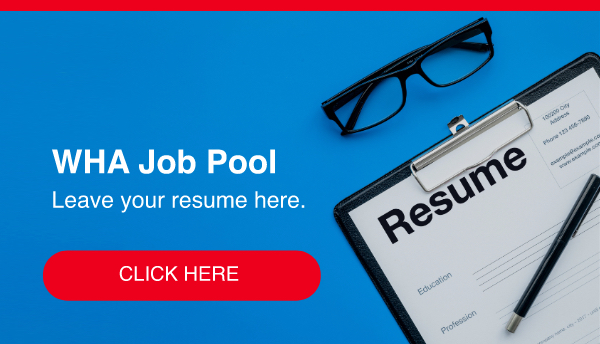 WHA E-Job Market
The First Online Job Fair in Eastern Seaboard
The impact from COVID-19 situation in Thailand has critically hit the workforce in many industries. Thus, there are some sunrise industries that still look forward to fill the vacancies in their manufacturing plants. WHA would like to assist both WHA customers to find candidates and the community in the EEC area to find a job easily by launching the WHA E-Job Market.
For recruiters who would like to leave your job vacancies, please send the details to jobpool@wha-industrialestate.com.
For job seekers who would like to leave your application form, please click https://www.wha-industrialestate.com/en/job-pool/application-form
Filter by Location:
Filter by Company:
THAI OKAWA CO.,LTD.
บริษัท ไทยโอกาว่า จำกัด
เลขที่ 500/3 หมู่ 3 ต.ตาสิทธิ์ อ.ปลวกแดง จ.ระยอง 21140 โทร. 038-950199
ธุรกิจและผลิตภัณฑ์ : บริษัทฯ ทำการผลิตชิ้นส่วนอุปกรณ์เครื่องกลสำหรับรถยนต์และรถมอเตอร์ไซค์และ
Qualification :
Male or Female Age 25-35 Years old
Bachelor degree in related fields
At least 1 year working experience in factory interpreter
Good Japanese language skills Level N3 up
Good communication, negotiation and interpersonal skills at all levels of company personnel, and with outside contacts.
สวัสดิการ : ยูนิฟอร์ม รถรับ-ส่ง กองทุนสำรองเลี้ยงชีพ โบนัส ประกันชีวิตกลุ่ม ประกันสังคม เงินช่วยเหลือค่าเช่าบ้าน
จะปิดรับสมัครเมื่อได้รับพนักงานตามต้องการ
ติดต่อสอบถามข้อมูลได้ที่ : 083-5441579 (คุณวรรณภา), 061-4175897 (คุณปรารถนา)
E-MAIL : prattana@thaiokawa.co.th (รับสมัครผ่าน E-MAIL เท่านั้น)