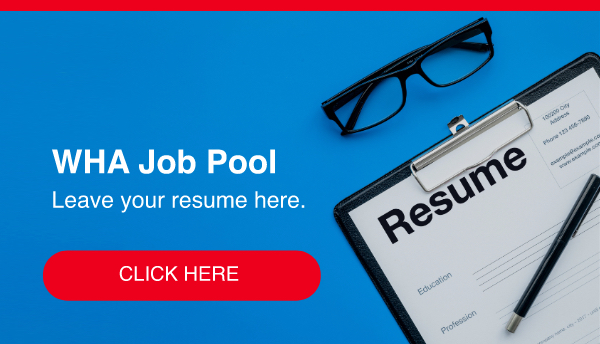 WHA E-Job Market
The First Online Job Fair in Eastern Seaboard
The impact from COVID-19 situation in Thailand has critically hit the workforce in many industries. Thus, there are some sunrise industries that still look forward to fill the vacancies in their manufacturing plants. WHA would like to assist both WHA customers to find candidates and the community in the EEC area to find a job easily by launching the WHA E-Job Market.
For recruiters who would like to leave your job vacancies, please send the details to jobpool@wha-industrialestate.com.
For job seekers who would like to leave your application form, please click https://www.wha-industrialestate.com/en/job-pool/application-form
Find the latest job vacancies from companies in WHA Industrial Estates.
Filter by Location:
Filter by Company:
THAI OKAWA CO.,LTD.
บริษัท ไทยโอกาว่า จำกัด
เลขที่ 500/3 หมู่ 3 ต.ตาสิทธิ์ อ.ปลวกแดง จ.ระยอง 21140 โทร. 038-950199
JOB POSTING
Detail of responsibility :
Coordinate between Japanese and Thai Staff or manager.
Translate the documents of internal requirement and documents as assigned.
Translate documents Thai - Japanese- Thai.
Translate for meeting.
Support Japanese Manager.
Qualification :
Not over 35 years old.
Bachelor's degree in Japanese or related field.
0-3 years' experience up of Japanese interpreter.
Good communication in Japanese N3 - N2 (Speaking, Listening, Reading and Writing).
Honest, work hard person and can keep secret.
Having good relationship, communication skill and can coordinate with others well.
Having service mind.
Welfare benefit :
Uniforms / ชุดฟอร์มพนักงาน
Shuttle bus / รถรับส่ง
Bonus twice a year / โบนัส ปีละ 2 ครั้ง
Group life insurance / ประกันชีวิตกลุ่ม
Diligent allowance / เบี้ยขยัน 900 บาท/เดือน
Meal allowance / ค่าอาหาร
Housing allowance / เงินช่วยเหลือค่าที่พัก 1,700 บาท/เดือน
Special prize / เงินรางวัลพิเศษพนักงานดีเด่น
สนใจติดต่อสอบถามได้ที่
คุณปรารถนา ทองเติม (ฝ่ายบุคคล)
โทร. 038-950199 ต่อ 102 หรือ 061-4175897 , Email : prattana@thaiokawa.co.th