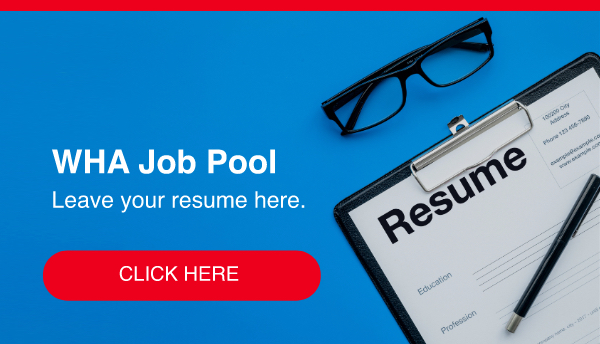 WHA E-Job Market Weeks
The First Online Job Fair in Eastern Seaboard
The impact from COVID-19 situation in Thailand has critically hit the workforce in many industries. Thus, there are some sunrise industries that still look forward to fill the vacancies in their manufacturing plants. WHA would like to assist both WHA customers to find candidates and the community in the EEC area to find a job easily by launching the WHA E-Job Market Weeks during 15-31 July 2020
For recruiters who would like to leave your job vacancies, please send the details to jobpool@wha-industrialestate.com.
For job seekers who would like to leave your application form, please click https://www.wha-industrialestate.com/en/job-pool/application-form
WHA E-Job Market Partners

Filter by Location:
Filter by Company:
Number: 6 – 12 persons | 2 per each region
Type of employment: 1-Year contract (Period to join from July 202 – June 2021) I Homebase
The world leader in commercial laundry designer, manufacturer and marketer of standalone commercial laundry equipment, providing our customers with a single source solution for nearly all their standalone commercial laundry equipment needs. We produce a full line of commercial washing machines and dryers with load capacities from 15 to 400 pounds, as well as presses, ironers and laundry finishing equipment. Our equipment is sold globally in 155 countries through a network of over 1,600 distributors and route operators under the well-known brand names Speed Queen®, UniMac®, Huebsch®, IPSO®, Primus® and Deli®.
Position Responsibilities:
Primary duties:
Directly responsible for implementation of results-oriented strategies that allow for sales of company products to end-users within coin operated laundry market.
Achieving targets for the assigned territory.
Develop and maintain strong relationships with the laundromat investors. Support the investors on their needs and address any possible request, complain or opportunity.
Developing and implementing company sales programs, promotions and strategies to achieve volume.
Spread advertising and promotion programs with company directives relative to trademark use and cooperative advertising policies.
Continuously monitor and evaluate competitive activity in the assigned sales territory.
Position Qualifications:
Knowledge/Experience:
Sales experience to final customer for at least 5 years.
Knowledge of the laundry industry would be a plus.
Mechanical aptitude with regards to machinery and equipment is also desirable.
Skills and Abilities:
Ability to travel around the whole Region.
Excellent communication and follow-up skills.
Ability to self-manage workload, deadlines and priorities effectively, take initiative and create opportunities.
Possess effective selling techniques and a strong business sense.
Ability to effectively communicate in Thai language. Ability to communicate by written in English is desirable.
Others:
Personal vehicle and ability to travel within the region.
Residence in the assigned region.
Interested person should apply detailed resume to: Human Resources Department
Alliance Laundry (Thailand) Co., Ltd. e mail address : ThailandHR@alliancels.com
Contact Person: Ms.Thanyanan Wantawee – HR Business Partner
Tel. 033-019019 Ext. 3113,
Ms.Duangporn Wongpakdee – HR Manager Tel. 033-019019 Ext. 3111