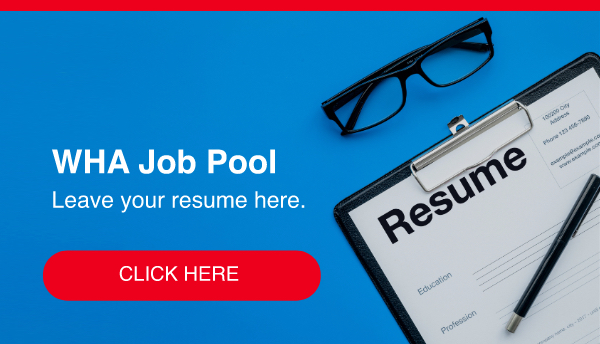 WHA E-Job Market
The First Online Job Fair in Eastern Seaboard
The impact from COVID-19 situation in Thailand has critically hit the workforce in many industries. Thus, there are some sunrise industries that still look forward to fill the vacancies in their manufacturing plants. WHA would like to assist both WHA customers to find candidates and the community in the EEC area to find a job easily by launching the WHA E-Job Market.
For recruiters who would like to leave your job vacancies, please send the details to jobpool@wha-industrialestate.com.
For job seekers who would like to leave your application form, please click https://www.wha-industrialestate.com/en/job-pool/application-form
Find the latest job vacancies from companies in WHA Industrial Estates.
Filter by Location:
Filter by Company:
Surface Treatment Technology (Thailand) Co., Ltd.
890/5 Moo 3, Khao Khan Song, Sriracha, Chonburi, 20110
Phone: 033-048075-7 Fax : 033-048078      
ประกาศรับสมัครงานด่วน
ตำแหน่ง Sales Officer 1 อัตรา
เงินเดือน 25,000 Baht
รายละเอียดงาน
Introduce company product information to customers.
Push sales to achieve the assigned target.
Preparing documents related to sales
Planning for sales activities each fiscal year.
Quotation calculation.
Estimate and summary sale amount (yearly and monthly)
Control and summary KPI Monthly.
Contact and negotiate with customer.
Manage all task to conform with ISO 9001 requirements.
Other tasks assigned by supervisor.
คุณสมบัติผู้สมัคร
Male or Female, Thai nationality, age 25 years up
Bachelor's Degree in Marketing filed or related field.
At least 3-5 years experiences of Sales / Marketing function in Automotive Industry.
Fair Command in English.
Proficiency in MS Office ( Execl, Word, and PowerPoint )
Have knowledge of ISO 9001.
Strong communication & interpersonal skill & negotiation skill.
Able to work under pressure.
Able to drive a car to work and have a driver's license.
สวัสดิการ
ชุดยูนิฟอร์ม
ค่าเดินมาทำงาน
ท่องเที่ยวประจำปี
ประกันชีวิตกลุ่ม
เบี้ยขยันการมาทำงาน
โบนัสประจำปี
ค่าเดินมาทำงาน
เงินพิเศษทำงานครบ 5 ปี จำนวน 10,000 Baht.
เงินพิเศษทำงานครบ 10 ปี จำนวน 20,000 Baht.
ประกันสังคม
ค่าตำแหน่ง
ค่าเช่าบ้าน
ค่าร้อน
วิธีการสมัคร
nalinrat@stt-th.co.th , nattaya@stt-th.co.th
สมัครด้วยตนเองที่บริษัท เซอร์เฟส ทรีทเม้นท์ เทคโนโลยี(ประเทศไทย) จำกัด
LINE ID : 0885253681
ติดต่อฝ่ายบุคคล
คุณนลินรัตน์ อาจสัญจร
088-5253681 033-048078-7