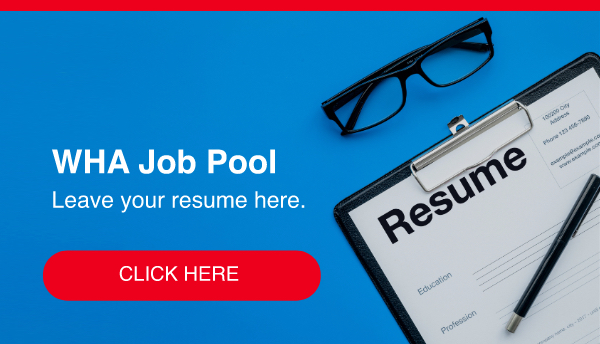 WHA E-Job Market
The First Online Job Fair in Eastern Seaboard
The impact from COVID-19 situation in Thailand has critically hit the workforce in many industries. Thus, there are some sunrise industries that still look forward to fill the vacancies in their manufacturing plants. WHA would like to assist both WHA customers to find candidates and the community in the EEC area to find a job easily by launching the WHA E-Job Market.
For recruiters who would like to leave your job vacancies, please send the details to jobpool@wha-industrialestate.com.
For job seekers who would like to leave your application form, please click https://www.wha-industrialestate.com/en/job-pool/application-form
Filter by Location:
Filter by Company:
บริษัท ชู้ทซ์ (ประเทศไทย) จำกัด เป็นบริษัทชั้นนำจากประเทศเยอรมนี ซึ่งก่อตั้งขึ้นตั้งแต่ปี พ.ศ. 2501 และเป็นผู้นำทางด้านการผลิตถังบรรจุภัณฑ์พลาสติก ขนาด 1,000 ลิตร หรือ เรียกอีกอย่างว่า "Intermediate Bulk Container" (IBC) ซึ่งมีฐานการผลิตทั้งในยุโรป และเอเชีย ปัจจุบัน บริษัท ชู้ทซ์ ที่ประเทศเยอรมนี ได้ขยายฐานการผลิตมายังประเทศไทย ณ.นิคมเหมราชอีสเทิร์นซีบอร์ด (ใกล้อีซี่พลาซ่า 3) เพื่อดำเนินการผลิตให้ลูกค้าภายในประเทศ และส่งออกไปยังภูมิภาคเอเชียตะวันออกเฉียงใต้ และทั่วโลก ท่านสามารถเข้าชมเวปไซต์ ของทางบริษัทได้ที่ www.schuetz.net
หน้าที่และรายละเอียดของงาน
ดูแลงานซ่อมบำรุง Break down / Preventive maintenance ให้เครื่องจักรมีประสิทธิภาพสูงสุดและพร้อมใช้งาน
ดูแลบำรุงรักษา Air compressor, Chiller, MDB , Transformer , Blow molding machine.
ควบคุมและดูแล Spare parts ให้ถูกต้องและเพียงพอต่อการใช้งาน
งานปรับปรุงพัฒนา continue improvement (Kaizen, suggestion)
จัดทำและบันทึกผลการซ่อมบำรุง MTTR และ MTBF เพื่อปรับปรุงงานซ่อมบำรุงให้มีประสิทธิภาพสูงสุด
Machine Set up, Condition Set up
Other tasks assigned by Management.
คุณสมบัติ
วุฒิ ปวส. ช่างไฟฟ้า หรือ ช่างอิเล็คทรอนิคส์
มีหนังสือรับรองผ่านการทดสอบมาตรฐานช่างไฟฟ้า
สามารถอ่านแบบวงจรไฟฟ้าได้
มีประสบการณ์ทำงานในโรงงานอุตสาหกรรมอย่างน้อย 5-7 ปี
เรียนรู้งานได้เร็ว ชอบทำงานเป็นทีมและมีความคิดสร้างสรรค
สามารถให้คอมพิวเตอร์ MS Office, CAD ได้
มีความรู้ในระบบ ISO9001, ISO14000, OHSAS18001, FSSC2200
สวัสดิการ: ค่าเช่าบ้าน, ค่าอาหาร, ค่าเดินทาง, ค่าเป้าหมาย, เบี้ยขยัน, เบี้ยขยันรายปี, โบนัส, ประกันสุขภาพกลุ่ม, ประกันสุขภาพสมาชิกในครอบครัว, กองทุนสำรองเลี้ยงชีพ และอื่นๆ
สนใจกรุณาส่ง e-mail ประวัติการทำงานมาที่ คุณเสาวภา: saowapa.veerachartyanukul@schuetz.net
หรือโทร.033-069-911-5 ต่อ 12