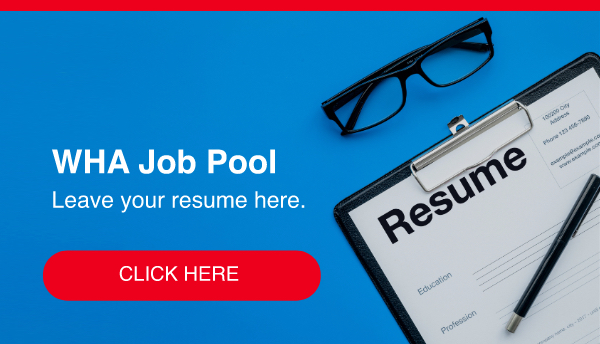 WHA E-Job Market Weeks
The First Online Job Fair in Eastern Seaboard
The impact from COVID-19 situation in Thailand has critically hit the workforce in many industries. Thus, there are some sunrise industries that still look forward to fill the vacancies in their manufacturing plants. WHA would like to assist both WHA customers to find candidates and the community in the EEC area to find a job easily by launching the WHA E-Job Market Weeks during 15-31 July 2020
For recruiters who would like to leave your job vacancies, please send the details to jobpool@wha-industrialestate.com.
For job seekers who would like to leave your application form, please click https://www.wha-industrialestate.com/en/job-pool/application-form
WHA E-Job Market Partners

Filter by Location:
Filter by Company:
Primary Objectives:- Support the Project Manager and other functional managers with New Project Introduction or New Product Launch activities within an automotive industry manufacturing environment.
Responsibilities:-
Assists the Project Manager in the implementation of the SMR New Project Introductions as directed and lead by the Project Manager, Works as the primary Product Engineer supporting the introduction of new products, Provide BOM analyst support to the company.
Lead the Project Manager with Engineering Change management tasks as required.
Lead to ensure the project meets project timing, quality, and cost objectives.
Lead the Project manager and NPI team plan and accomplish project milestones and key dates, and meet customer expectations.
Works as a Lead of a Project Development Team, and will need to lead team members in the accomplishment of New Project tasks from time to time.
Assists in the introduction and development of new products with the Global SMR team.
Assists the represent SMR in front of the customer and with suppliers to ensure finished products and components meet SMR quality and craftsmanship specifications.
Be prepared to learn and teach others to increase personal and team skills.
Able to follow the SMR Thailand ethical rules inside and outside the company.
Qualifications:-
Male/Female 27-32 years old.
Bachelor's degree in any Engineering or related field.
At least 5 years in Production of Manufacturing Engineering, QA Engineering or Project Engineering in Automotive Industry.
Experienced in analysing, creating and following bill of material (BOM)
Exellent English language skills: spoken and written (TOEIC 650 require).
Experienced in New Product Launch Activities.
Skilled and knowledgeable in CAD, Engineering Change Management (ECM) and ECR/ECA processes.
Skilled at reading and understanding product drawings.
Experieanceed in problem solving skills: 8D, Six Sigma, Statistical control.
Able to paticipate in and contribute to group problem solving discussions and demonstrate leadership.
Location: SMR Automotive System (Thailand) Limited
500/49 WHA Eastern Seaboard I/E 1 . Moo 3 T. Tasith A. Pluakdaeng, Rayong 21140
Contact person: K. Piyawadee Yoisang (Email: Piyawadee.yoisang@smr-automotive.com) Tel. 065-5094778-80 Ext. 200