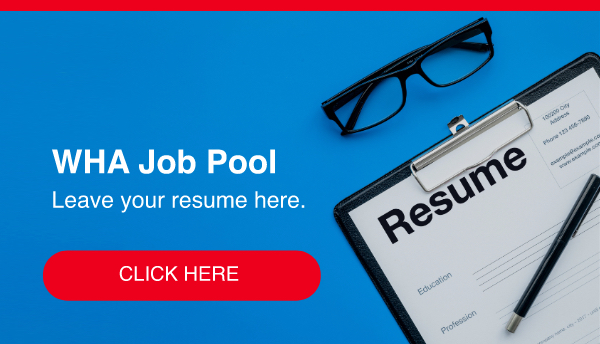 WHA E-Job Market
The First Online Job Fair in Eastern Seaboard
The impact from COVID-19 situation in Thailand has critically hit the workforce in many industries. Thus, there are some sunrise industries that still look forward to fill the vacancies in their manufacturing plants. WHA would like to assist both WHA customers to find candidates and the community in the EEC area to find a job easily by launching the WHA E-Job Market.
For recruiters who would like to leave your job vacancies, please send the details to jobpool@wha-industrialestate.com.
For job seekers who would like to leave your application form, please click https://www.wha-industrialestate.com/en/job-pool/application-form
Find the latest job vacancies from companies in WHA Industrial Estates.
Filter by Location:
Filter by Company:
Job Description :
Responsible for the repairs and maintenance of machines and facilities
Performs machine down time and preventive maintenance (PM) and Predictive Maintenance (PDM) on a scheduled basis
Request for spare parts to repair and control spare parts
Responsible for Wastewater treatment system
Improvement support and 5s, kaizen activities and any activities
Perform related duties as assigned by supervisor
Qualifications :
Male , 27-35 years
Vocational or Diploma in Mechanical
Able to working on Night Shift
At least 3 years experience in Manufacturing Machine maintenance
Working Location
KANEKA (THAILAND) CO., LTD.
500/26 Moo3, WHA1Tasit, Pluak Daeng, Rayong 21140
Interested applicants are invited to apply in person or send application with full resume stating qualifications and experiences, transcript, current and expected salary and recent photo via
Email: Aunchalee.s@kaneka.co.th (Expired date: 31 July 2023) start work in August 2023
KANEKA (THAILAND) CO., LTD.
500/26 Moo3, WHA1Tasit, Pluak Daeng, Rayong 21140 THAILAND
Tel: 033 – 683358-9
All the information will be treated as confidential. Only short-listed candidates shall be contacted for further discussion.
Allowance :
Monthly Housing 1,500 THB.
Daily Lunch 50 THB.
OT Food 40 THB. (if have overtime 2 hrs. per day)
Diligent 600,800,1200
Night Shit Allowance 200 THB. per night
Night Shift Support 2,000 per month
Working service age 5-year special bonus 1 month
Dental 3,000 THB. Per year
Group Health Insurance
Gift Voucher 200 THB. per month
Life Insurance
PVD 3%
Other Allowance follow company policy
Outing, Bonus, Increase Salary, Annual Leave 10 days.
** 5 days working Mon-Fri 08.30am-17.30pm** or follow working schedule.