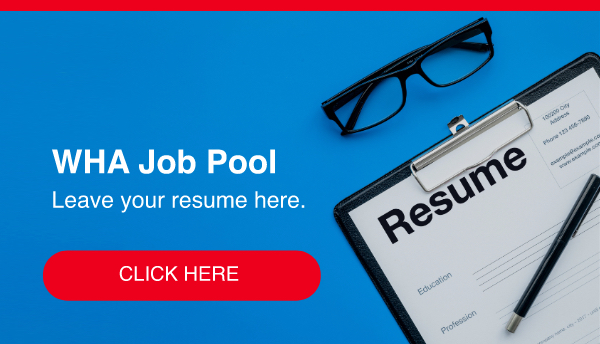 WHA E-Job Market
The First Online Job Fair in Eastern Seaboard
The impact from COVID-19 situation in Thailand has critically hit the workforce in many industries. Thus, there are some sunrise industries that still look forward to fill the vacancies in their manufacturing plants. WHA would like to assist both WHA customers to find candidates and the community in the EEC area to find a job easily by launching the WHA E-Job Market.
For recruiters who would like to leave your job vacancies, please send the details to jobpool@wha-industrialestate.com.
For job seekers who would like to leave your application form, please click https://www.wha-industrialestate.com/en/job-pool/application-form
Filter by Location:
Filter by Company:
SURUGA (Thailand) Co., Ltd. is a MISUMI Group Company with locations in Japan, USA, China, Korea, Vietnam and India. We produce press die components, plastic mold components and related products. We are offering challenging opportunities for dynamic and qualified candidates for the following position:
Qualifications preferred :
Male, age 22-30 years old.
Bachelor's Degree in Computer Science, Information Technology, Computer Engineering or related field.
New Graduate are Welcome.
Proficiency to communicate in English.
Good communication skill, Self motivated, Analytical skill, Positive thinking, Initiative and Flexible.
Knowledge skill in C#.Net, PHP, ASP.Net, SQL Language.
Service minded and a team player (Teamwork is a key element of the job).
Able to working under pressure.
Responsibility :
Support and Monitor all company's IT system.
Troubleshooting of Internet, Network and Desktop.
Perform system analysis and programming task to maintain and control computer system, software as a system programmer.
Others job as assigned by Manager.
Welfare :
Travelling Allowance Car 120 baht, Motorcycle 60 baht. ( per working day )
Group Insurance
OPD. 6,000 baht / year ./ Eye glasses 6,000 baht / year (Get after pass the probation)
Annual Leave 10 days/year, maximum 14 days/year.
Lunch Meal Free
Perfect Attendance 300, 500, 700
Provident Fund
Annual Bonus (Depend Operating result Company profit)
Other ( as requires by law )
Interested person please send resume with detail of qualification, photo and expect salary to:
SURUGA (Thailand) Co., Ltd.
300/23 Moo 1, Eastern Seaboard Industrial Estate (Soi 5), Tasith, Pluakdaeng, Rayong 21140
Tel: 038 954-935-8 #123 Fax: 038 954-939
E-Mail : Wissuta@suruga.co.th, Patcharin@suruga.co.th
บริษัท ซุรุกะ (ไทยแลนด์) จำกัด บริษัทในเครือของกลุ่มบริษัท มิซูมิ
จากประเทศญี่ปุ่น ผู้ผลิตชิ้นส่วนแม่พิมพ์ (Punch, Die)
ต้องการรับสมัครพนักงานในตำแหน่งดังต่อไปนี้
คุณสมบัติ
เพศ ชาย - หญิง
อายุ 25 - 35 ปี
จบการศึกษาระดับมัธยมศึกษาตอนปลายขึ้นไป
มีประสบการณ์ในการทำงานฝ่ายผลิตมาก่อนจะพิจารณาเป็นพิเศษ
มีสุขภาพร่างกายแข็งแรง
มีความกระตือรือร้น และตั้งใจในการทำงาน
สามารถใช้เครื่องมือวัด และทำงานเป็นกะได้
สวัสดิการ
เป็นพนักงานประจำรายเดือน
เงินช่วยเหลือพนักงาน เริ่มที่ 1,000 บาท สุงสุด 2,500 บาท (ปรับขึ้นตามอายุงาน)
อาหารกลางวันฟรี
ค่าอาหารสำหรับการทำงานในกะบ่าย และกะกลางคืน 40 บาท/มื้อ
เบี้ยขยัน 300 - 500 - 700
ค่ากะสำหรับทำงานกะบ่าย 50 บาท/วัน
ค่ากะสำหรับทำงานกะกลางคืนระหว่างทดลองงาน 70 บาท/คืน และผ่านทดลองงาน 100 บาท/คืน
ค่าเดินทางขั้นต่ำวันละ 60 บาท ( รถจักรยานยนต์ ) และ 120 บาท ( รถยนต์ )
ค่ารักษาพยาบาลผู้ป่วยนอกปีละ 6,000 บาท ( ได้รับเมื่อผ่านทดลองงานแล้ว )
ค่าตัดแว่นสายตา 6,000 บาท ( ได้รับเมื่อผ่านทดลองงานแล้ว )
วันหยุดพักผ่อนประจำปี เริ่มต้นที่ 10 วัน/ปี สุงสุด14 วัน/ปี (เพิ่มขึ้นตามอายุงาน)
กองทุนสำรองเลี้ยงชีพ
โบนัสประจำปี
อื่นๆ (ตามกฏหมายกำหนด)
กรอกใบสมัครได้ที่
บริษัท ซุรุกะ (ไทยแลนด์) จำกัด
300/23 หมู่ 1 (ซอย 5) นิคมอุตสาหกรรมอีสเทอร์นซีบอร์ด
ตำบลตาสิทธิ์ อำเภอปลวกแดง จังหวัดระยอง 21140
โทร. 038 954936-8 ต่อ123, ต่อ100 แฟกซ์. 038 954939
E-Mail : Wissuta@suruga.co.th, Patcharin@suruga.co.th