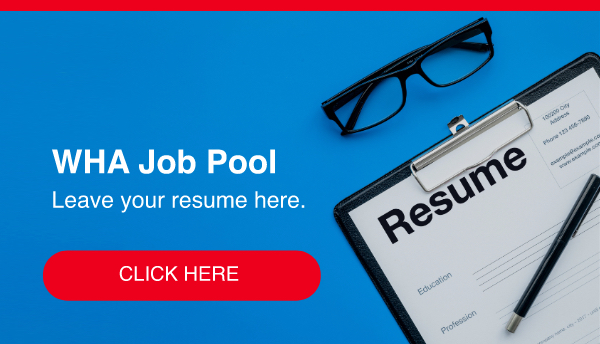 WHA E-Job Market
The First Online Job Fair in Eastern Seaboard
The impact from COVID-19 situation in Thailand has critically hit the workforce in many industries. Thus, there are some sunrise industries that still look forward to fill the vacancies in their manufacturing plants. WHA would like to assist both WHA customers to find candidates and the community in the EEC area to find a job easily by launching the WHA E-Job Market.
For recruiters who would like to leave your job vacancies, please send the details to jobpool@wha-industrialestate.com.
For job seekers who would like to leave your application form, please click https://www.wha-industrialestate.com/en/job-pool/application-form
Filter by Location:
Filter by Company:
บริษัท วีซี่ แพ็คเกจิ้ง (ประเทศไทย) จำกัด ผู้ผลิตบรรจุภัณฑ์อาหารที่ทำจากพลาสติก เป็นบริษัทสาขาจากประเทศออสเตรเลีย ได้รับการสนับสนุนการลงทุนจาก BOI และ ได้รับการรับรองระบบบริหารคุณภาพ ISO9001:2008 และรับรองมาตรฐาน GMP HACCP
คุณสมบัติผู้สมัคร
อายุ 21 ปี ขึ้นไป
วุฒิการศึกษาระดับ ปวช. ขึ้นไป
มีความรู้เกี่ยวกับกระบวนการขึ้นรูปพลาสติก เช่น เครื่องรีด เครื่องฉีด เครื่องเป่า จะได้รับพิจารณาเป็นพิเศษ
ทำงานเป็นกะได้ สามารถทำงานเป็นทีมได้ มีทักษะการสื่อสารที่ดี
มีทัศนคติที่ดีต่อองค์กร และเพื่อนร่วมงาน มีความคิดริเริ่มสร้างสรรค์
ความรู้เรื่องความปลอดภัยในการทำงานเบื้องต้น
รายละเอียดของงาน (ทำงาน 6 วันต่อสัปดาห์)
ปฎิบัติงานในหน้าที่ตามที่ได้รับมอบหมายจากผู้บังคับบัญชาอย่างเต็มประสิทธิภาพ
ควบคุมดูแลเครื่องจักร เครืองมือให้อยู่ในสภาพสมบูรณ์
รายงานผลการปฎิบัติงาน และปัญหาต่างๆ ให้ผู้บังคับบัญชาทราบทันที ที่เสร็จสิ้นภารกิจนั้นๆ
จัดทำ และจัดเก็บเอกสารที่เกี่ยวข้อง
ควบคุมกิจกรรม 5ส. ในพื้นที่
เงินเดือนและสวัสดิการ
เป็นพนักงานประจำรายเดือน
เงินช่วยเหลือค่าเช่าบ้าน
เงินช่วยเหลือค่าเดินทาง (ไม่มีรถรับ-ส่ง)
เงินช่วยเหลือค่าอาหาร
เงินค่ากะ
เบี้ยขยัน
โบนัส
วันลาพักร้อน 12 วันต่อปี
ตรวจสุขภาพประจำปี
ประกันชีวิตกลุ่ม (คุ้มครองชีวิต สุขภาพและอุบัติเหตุ)
กองทุนสำรองเลี้ยงชีพ
การฝึกอบรมประจำปี
กิจกรรมและงานเลี้ยงปีใหม่
เครื่องแบบพนักงาน เงินช่วยเหลือกรณีบุคคลในครอบครัวของพนักงานเสียชีวิต
เงินช่วยเหลืองานมงคลสมรส
ประกันสังคมและกองทุนเงินทดแทนตามกฏหมายกำหนด
เอกสารการสมัครงาน
รูปถ่าย 1 นิ้ว (ถ่ายไม่เกิน 6 เดือน)
สำเนาบัตรประชาชน
สำเนาทะเบียนบ้าน
สำเนารับรองการเกณฑ์ทหาร (เฉพาะเพศชาย)
สำเนาใบรับรองต่าง ๆ (ถ้ามี)
สำเนาวุฒิการศึกษา
วิธีการสมัคร
ผู้สนใจสามารถสมัครได้ด้วยตนเองที่บริษัทหรือ ส่งเอกสารสมัครงาน ที่คุณมนัสนันท์
บริษัท วีซี่ แพ็คเกจิ้ง (ประเทศไทย) จำกัด
500/54 ม.3 นิคมอุตสาหกรรมเหมราช อีสเทิร์นซีบอร์ด ต.ตาสิทธิ์ อ.ปลวกแดง จ.ระยอง 21140
โทร : (038) 958227
Email : Manutsanan.Piyawattanasakulchai@visy.co.th
บริษัท วีซี่ แพ็คเกจิ้ง (ประเทศไทย) จำกัด ผู้ผลิตบรรจุภัณฑ์อาหารที่ทำจากพลาสติก เป็นบริษัทสาขาจากประเทศออสเตรเลีย ได้รับการสนับสนุนการลงทุนจาก BOI และ ได้รับการรับรองระบบบริหารคุณภาพ ISO9001:2008 และรับรองมาตรฐาน GMP HACCP
คุณสมบัติผู้สมัคร
Bachelor degree in Science or Engineering.
2-3 years experience in plastic packaging industry with background of engineering process.
Direct experience with plastic injection, thermoforming and or plastic extrusion would be an advantage.
Able to communicate in English language.
Able to work flexible hours and driving own car for work.
รายละเอียดของงาน
Controlling and modifying to assess existing processes.
Monitoring and checking accuracy of processes and product samples.
Developing New Processes.
Customer Technical Management.
Ensuring processes comply with safety and quality standards.
Developing routines and best practices to ensure product quality.
Performing tasks as assigned.
เงินเดือนและสวัสดิการ
เป็นพนักงานประจำรายเดือน
เงินช่วยเหลือค่าเช่าบ้าน
เงินช่วยเหลือค่าเดินทาง (ไม่มีรถรับ-ส่ง)
เงินช่วยเหลือค่าอาหาร
เงินค่ากะ
เบี้ยขยัน
โบนัส
วันลาพักร้อน 12 วันต่อปี
ตรวจสุขภาพประจำปี
ประกันชีวิตกลุ่ม (คุ้มครองชีวิต สุขภาพและอุบัติเหตุ)
กองทุนสำรองเลี้ยงชีพ
การฝึกอบรมประจำปี
กิจกรรมและงานเลี้ยงปีใหม่
เครื่องแบบพนักงาน เงินช่วยเหลือกรณีบุคคลในครอบครัวของพนักงานเสียชีวิต
เงินช่วยเหลืองานมงคลสมรส
ประกันสังคมและกองทุนเงินทดแทนตามกฏหมายกำหนด
เอกสารการสมัครงาน
รูปถ่าย 1 นิ้ว (ถ่ายไม่เกิน 6 เดือน)
สำเนาบัตรประชาชน
สำเนาทะเบียนบ้าน
สำเนารับรองการเกณฑ์ทหาร (เฉพาะเพศชาย)
สำเนาใบรับรองต่าง ๆ (ถ้ามี)
สำเนาวุฒิการศึกษา
วิธีการสมัคร
ผู้สนใจสามารถสมัครได้ด้วยตนเองที่บริษัทหรือ ส่งเอกสารสมัครงาน ที่คุณมนัสนันท์
บริษัท วีซี่ แพ็คเกจิ้ง (ประเทศไทย) จำกัด
500/54 ม.3 นิคมอุตสาหกรรมเหมราช อีสเทิร์นซีบอร์ด ต.ตาสิทธิ์ อ.ปลวกแดง จ.ระยอง 21140
โทร : (038) 958227
Email : Manutsanan.Piyawattanasakulchai@visy.co.th