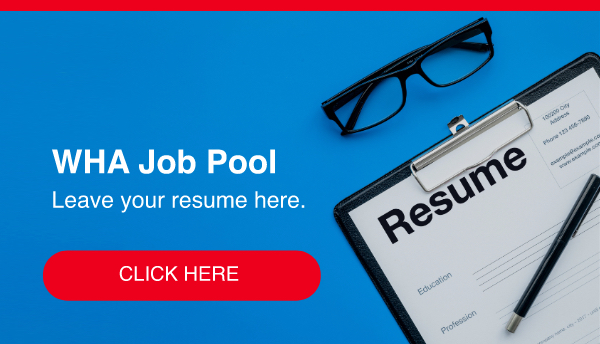 WHA E-Job Market
The First Online Job Fair in Eastern Seaboard
The impact from COVID-19 situation in Thailand has critically hit the workforce in many industries. Thus, there are some sunrise industries that still look forward to fill the vacancies in their manufacturing plants. WHA would like to assist both WHA customers to find candidates and the community in the EEC area to find a job easily by launching the WHA E-Job Market.
For recruiters who would like to leave your job vacancies, please send the details to jobpool@wha-industrialestate.com.
For job seekers who would like to leave your application form, please click https://www.wha-industrialestate.com/en/job-pool/application-form
Filter by Location:
Filter by Company:
Business Area Lucy Electric (Thailand)
Location Rayong
Hiring Manager Industrial Engineer
Date of Issue May 2022
Job Purpose
The position is responsible for assist Industrial Engineer design and develop specification, acquisition, installation and commissioning of new assembly line, material handling equipment and related equipment. Assist new project for successful industrialization of manufacturing process and control revision & part no. used in prototype and pre-production build. In addition to identify waste and eliminate through new and improved solutions.
Job Dimensions
The role will be based at Lucy Facility in Thailand.
Key Accountabilities
These will include:
1. Support to production: -
Supply & Assembly templates
Coordinate and get design and supply jigs/fixtures
Supply trolleys/pallets/racks/tools/workbenches etc. suggest right tools for
Operations.
Implement layout changes through proper industrial engineering principles Management.
2. Lean manufacturing.
Eliminate waste activities, (to identify waste, propose a solution to improve and implement)
Suggest and implement alternate layouts based on batch/single piece flow using lean Tools.
Ergonomic design and positioning of workbenches
All these changes need to be done in the tandem with production through
Presentations, cost benefits due to improved efficiency.
3. Time database and work instructions:
Generate extensive database for various assemblies/product groups with a view to
Have the requisite data ready for use during layout generation.
Assist IE generate work instructions for all new product and new process introduced in
Thailand site where-ever required.
4. New Product Introduction:
Product study from a manufacturing perspective and design correction for production
Assist Pre-production run
In-corporate all manufacturing facility for new product and also ensuring all testing
And documentation is in place.
Liaise with Industrial engineer to take over the industrial engineering part of production introduction.
Iron out issues before production release.
Create / update and follow up on obstruction during prototype and preproduction build Secondary activities / tasks
Secondary activities / tasks
To undertake any other duties and responsibilities as required / instructed to maintain and / or improve the efficiency, quality and service provided by the company
Comply with all company policies and procedures and maintain confidentiality of Information relating to the company's business and staff.
Qualifications, Experience & Skills
Minimum Qualifications, Knowledge and Experience
Diploma or above in relate technical, machine tool or related field.
Minimum 3 years' experience
23 years and up.
In Jigs/Fixtures designing and manufacturing,
Introducing new machines, incorporating better
Handling facilities, implementing layouts on lean
Manufacturing concepts, new product introductions
Well versed in understanding engineering drawings
minimal communication in English language
Behavioural Competencies
Communicating effectively in written and oral form
Conducting more than one tasks
Strong leadership skills, motivational, support and assertive.
Ability to analyse, prioritize, identified and action solutions.
Must be proactive, a team player with excellent leadership capabilities.