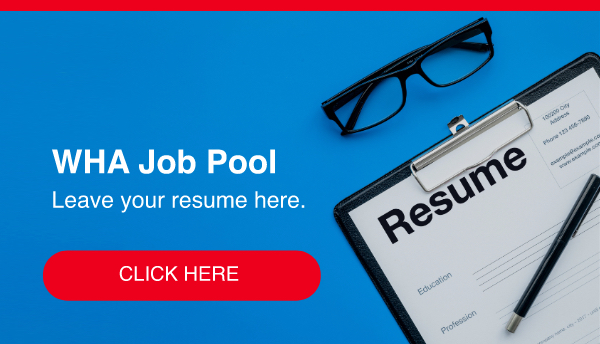 WHA E-Job Market
The First Online Job Fair in Eastern Seaboard
The impact from COVID-19 situation in Thailand has critically hit the workforce in many industries. Thus, there are some sunrise industries that still look forward to fill the vacancies in their manufacturing plants. WHA would like to assist both WHA customers to find candidates and the community in the EEC area to find a job easily by launching the WHA E-Job Market.
For recruiters who would like to leave your job vacancies, please send the details to jobpool@wha-industrialestate.com.
For job seekers who would like to leave your application form, please click https://www.wha-industrialestate.com/en/job-pool/application-form
Filter by Location:
Filter by Company:
บริษัทลูซี่ อิเล็คทริค (ประเทศไทย) จำกัด เป็นบริษัทฯ ที่ประกอบกิจการผลิต ออกแบบ ประกอบ ทดสอบและจำหน่ายอุปกรณ์ตัด-ต่อไฟฟ้าแรงต่ำและแรงกลางและตัวเชื่อมต่อรวมถึงอุปกรณ์ระบบจ่ายไฟฟ้าปัจจุบันบริษัทฯ มีการขยายงาน จึงต้องการรับสมัครพนักงานเพิ่มเติมดังต่อไปนี้
Key Accountabilities
Managing all preventive maintenance activities, including TPM, (Total Preventive Maintenance) and ensuring the plant is always running efficiently.
Improving machine productivity and managing various maintenance & repair activities to ensure all machines operate smoothly.
Maintaining machine reliability by following and improving short- and long-term maintenance plans.
Managing decision making relating to the maintenance of systems and appropriate locations for equipment
Supervising a team of maintenance technicians.
Managing the modification of machines and equipment to support Kaizen projects.
Ensuring the design and maintenance of building systems meet legislative and health and safety requirements.
Coordinating the day to day activities of maintenance technicians to ensure that production equipment, machinery and instruments function reliably and safely and that facilities, the building and plant are all in good working condition.
Qualifications, Experience & Skills
Bachelor's degree or above in Electrical.
Have a good knowledge of Utility and Automation System.
Good level of the English language and computer proficiency.
Well understanding in AutoCAD or Autodesk for line Layout and control the line set up and drawing of Jig & Fixture, sequence of Pneumatic and PLC.
Knowledgeable in Maintenance; Corrective and Preventive Maintenance for Facility and Utility.
Good command of English.
At least 5 years' experience in a maintenance role
Experience in TPM and TQM, PLC.
Experience in Industrial robot is preferable
If you're interested, please send in your application to pornchulee.pisutboriboon@lucyelectric.com
Lucy Electric (Thailand) Co., Ltd., WHA Eastern Seaboard Industrial Estate1, 500/64 M.3 , Tasit, Pluakdeang Rayong 21140