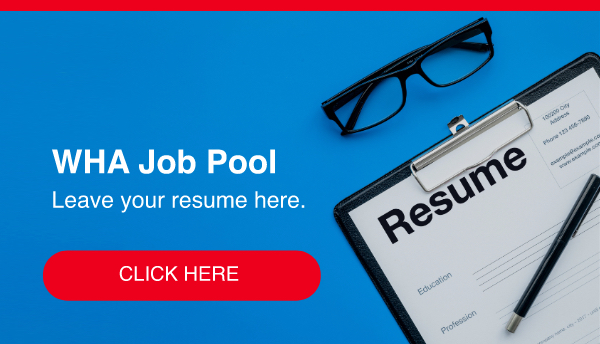 WHA E-Job Market
The First Online Job Fair in Eastern Seaboard
The impact from COVID-19 situation in Thailand has critically hit the workforce in many industries. Thus, there are some sunrise industries that still look forward to fill the vacancies in their manufacturing plants. WHA would like to assist both WHA customers to find candidates and the community in the EEC area to find a job easily by launching the WHA E-Job Market.
For recruiters who would like to leave your job vacancies, please send the details to jobpool@wha-industrialestate.com.
For job seekers who would like to leave your application form, please click https://www.wha-industrialestate.com/en/job-pool/application-form
Find the latest job vacancies from companies in WHA Industrial Estates.
Filter by Location:
Filter by Company:
URGENTLY REQUIRED!!!
As we introduce high technology engineering product like cutting tool &machines. This product is manufactured with technology for USA & Europe good acceptance in Thailand market already. We are looking for sates engineers with preference to locate at Rayong or Bangkok to look after our growing customer base.
This position would have attractive benefits & scope to earn commission with new customers.
To find new customer and actively follow up with customer's requirements.
To promote our product range.
To understand and have technical knowledge for engineering tools is preferred.
Report direct to our President.
Place of work: Eastern Seaboard Industrial Estate (Rayong).
Working day: Mon-Fri 8.30 a.m. - 6.15 p.m.
Salary: N/A + Commission for new customers.
Welfare: Travelling allowance, house allowance, diligence, Health & life insurance, uniforms, Mobile, shoes, birthday party, bonus, yearly travel.
Qualification:
Fresh graduate or at least 1-5 years relevant sales experience in Industrial products and tooling.
Male or Female, age 22-30 years old up
Bachelor's degree in related field (Mechanical engineer, Industrial or engineer is preferred or other for sale).
Able in written and spoken English is must.
Must have driving license as company car used for sales.
Understanding of selling skills, good relationship mind, good negotiation people, self-motivated, creative and diligent.
Good communication skills, computer literate in MS Office, MS outlook and understand basic drawing
If there is experience in the factory related to the product abrasive grinding wheel (Will be given special consideration)
Apply: Interested applicant please apply by e-mail : account @wendt-thai.com or praveen@wendt-thai.com
Contact Person: Ms.Pimlapat Boonpak Contact Number: 038-955491 -2 # 13, Fax : 038-955493
website : www.wendtgroup.com ,www.cumiabrasives.com