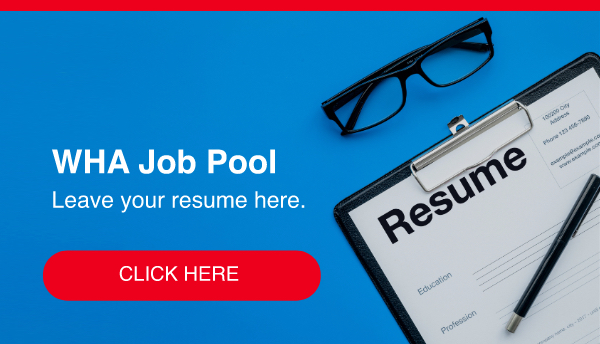 WHA E-Job Market
The First Online Job Fair in Eastern Seaboard
The impact from COVID-19 situation in Thailand has critically hit the workforce in many industries. Thus, there are some sunrise industries that still look forward to fill the vacancies in their manufacturing plants. WHA would like to assist both WHA customers to find candidates and the community in the EEC area to find a job easily by launching the WHA E-Job Market.
For recruiters who would like to leave your job vacancies, please send the details to jobpool@wha-industrialestate.com.
For job seekers who would like to leave your application form, please click https://www.wha-industrialestate.com/en/job-pool/application-form
Find the latest job vacancies from companies in WHA Industrial Estates.
Filter by Location:
Filter by Company:
บริษัท เอ็มเอเอ็กซ์ (ประเทศไทย) จำกัด
MAX (THAILAND) CO., LTD.
911/3 หมู่ที่ 5 ต.เขาคันทรง อ.ศรีราชา จ.ชลบุรี 20110 โทร. (033) 124584-7 แฟกซ์ (033) 124589 เลขประจำตัวผู้เสียภาษี 0135548008110
911/3 Moo 5, Khaokansong Sub-District, Sriracha District, Chonburi 20110 Thailand Tel : (033) 124584-7 Fax: (033) 124589 TAX ID 0135548008110
MAX (THAILAND) CO., LTD. is a 100% subsidiary of MAX CO., LTD., Japan, who is the No. 1 manufacturer of Staplers ("MAX"), Auto Staplers, Nailers (Pneumatic Nailing Tools) and other unique fastening devices in Japan. We are produced high quality products at our factory in Free Zone of WHA Eastern Seaboard Industrial Estate 1, Chonburi export 100% to America, Europe and Asia. We are looking for highly motivated persons to join us to grow together.
Benefits
Lunch Allowance (ค่าอาหารกลางวัน)
Housing Allowance (ค่าเช่าบ้าน)
Position Allowance (ค่าตำแหน่ง)
Provident Fund (กองทุนสำรองเลี้ยงชีพ)
Insurance (ประกันชีวิตและประกันอุบัติเหตุ)
Diligence Allowance (เบี้ยขยัน)
Transportation or Gas Subsidy (รถรับส่ง หรือ ค่าเดินทางตำแหน่ง Supervisor up)
Qualification:
Male or Female, age 30 years or above
Bachelor's Degree in related field
Experience 3 - 5 years in Planning function
Good command in English and Basic Japanese would be an advantage
Knowledge in ISO9001 and ISO14001
Knowledge in Production Control, Production Planning, Inventory Control, MRP, BOM
Knowledge in Microsoft Office and able to use Access program would be an advantage
สนใจติดต่อได้ที่ฝ่ายทรัพยากรบุคคล Tel. : 0-3312-4584-7 Ext. 207
E-mail: adminhr2@maxthai.co.th , adminhr4@maxthai.co.th
Remark: Please send your application with resume in English only.