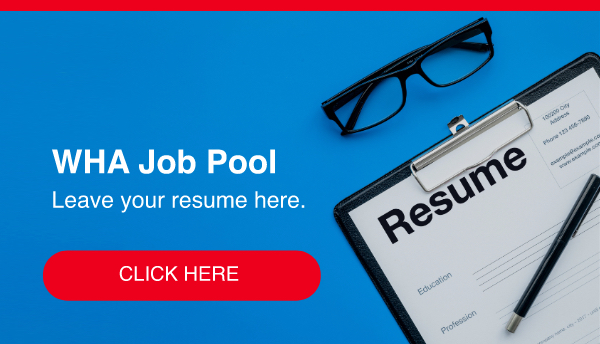 WHA E-Job Market
The First Online Job Fair in Eastern Seaboard
The impact from COVID-19 situation in Thailand has critically hit the workforce in many industries. Thus, there are some sunrise industries that still look forward to fill the vacancies in their manufacturing plants. WHA would like to assist both WHA customers to find candidates and the community in the EEC area to find a job easily by launching the WHA E-Job Market.
For recruiters who would like to leave your job vacancies, please send the details to jobpool@wha-industrialestate.com.
For job seekers who would like to leave your application form, please click https://www.wha-industrialestate.com/en/job-pool/application-form
Find the latest job vacancies from companies in WHA Industrial Estates.
Filter by Location:
Filter by Company:
บริษัท อาร์พีที เอเซีย จำกัด
สำนักงานใหญ่ เลขที่ 109/15 หมู่ 4 ต.ปลวกแดง อ.ปลวกแดง จ.ระยอง 21140
Tel. 033-017275-6 Fax. 033-017277
. . . รับสมัครพนักงาน ด่วน . . .
เอกสารที่ใช้ในการสมัคร :
| | |
| --- | --- |
| 1. รูปถ่ายสี 1 นิ้ว 1 รูป | 6. ใบอนุญาตขับขี่รถยนต์ และรถมอเตอร์ไซด์ |
| 2. วุฒิการศึกษา | 7. เอกสารการเกณฑ์ทหาร หรือ เรียน รด. (สด. 8 และ สด.43 เท่านั้น) |
| 3. สำเนาทะเบียนบ้าน | 8. เอกสารการเปลี่ยนแปลงชื่อ หรือ นามสกุล |
| 4. สำเนาบัตรประจำตัวประชาชน | 9. เอกสารการสมรส (ถ้ามี) |
| 5. ประกาศนียบัตรต่าง ๆ (ถ้ามี) | 10. เอกสารการผ่านงาน หรือผ่านการอบรมต่างๆ (ถ้ามี) |
Job Detail
ESSENTIAL DUTIES AND RESPONSIBILITIES
Oversee the comprehensive design and development of aquarium systems, plant equipment, and specialized tools.
Guide these projects from initial ideation through manufacturing stages, ensuring that project timelines and budgets are strictly adhered to.
Collaborate with multidisciplinary teams including production members, mechanical engineers, and/or architects to ensure cohesive and innovative product solutions.
Utilize your deep understanding of FEA simulation skills to create designs that meet technical requirements and industry standards.
Conduct feasibility studies and risk assessments to validate design concepts and iterate as necessary.
Harness your expertise in algorithmic solutions to address critical "pain points" within the factory and department processes.
Drive the evolution of these processes towards the new Industry generation by implementing algorithms that optimize efficiency and productivity.
Execute your responsibilities harmoniously with managerial directives and the broader strategies of the organization.
Regularly solicit guidance, provide progress updates, and flexibly adjust your approach based on feedback to maximize your contributions to company objectives.
Mentor and guide junior engineers, providing technical expertise, feedback, and fostering a culture of continuous learning.
Stay updated with the latest industry trends, emerging technologies, and best practices to contribute to the advancement of our design capabilities.
คุณสมบัติผู้สมัคร
Bachelor degree in Electrical, Software, Mechatronics, Mechanical Engineering or any related field.
Has experienced in design, development drawing, coding is required 5 years above.
Solving "Pain point" using algorithm to facilitate factory and department
Thai national, male or female, age 28-35 years
Good command in English
5 years of experience in product design engineering, with a strong portfolio demonstrating successful product launches and innovative design solutions.
Proficiency in Solidworks Simulation, Solidworks modeling and drawing, AutoCAD, and other design-related technologies.
Solid understanding of FEA Analysis, including Structure Analysis and others.
Proven experience in leading cross-functional teams and managing projects from concept to production.
หากท่านใดสนใจ สามารถรับใบสมัครได้ที่ นิคมอุตสาหกรรมอีสเทิร์นซีบอร์ด
บริษัท อาร์พีที เอเชีย จำกัด
สำนักงานใหญ่ เลขที่ 109/15 หมู่ 4 ต.ปลวกแดง อ.ปลวกแดง จ.ระยอง 21140
ติดต่อสอบถามข้อมูลเพิ่มเติมได้ที่ฝ่ายทรัพยากรบุคคล คุณกาญจนา พงษ์สวัสดิ์ โทรศัพท์ 033-017275-6 ต่อ 109
ได้ในวันและเวลาทำการ (08.00 – 17.00 น.) หรือ ส่งใบสมัครมาที่ E-Mail address: karnchana_p@reynoldspolymer.com