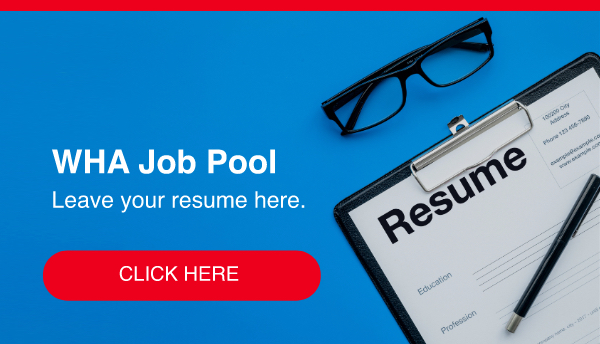 WHA E-Job Market
The First Online Job Fair in Eastern Seaboard
The impact from COVID-19 situation in Thailand has critically hit the workforce in many industries. Thus, there are some sunrise industries that still look forward to fill the vacancies in their manufacturing plants. WHA would like to assist both WHA customers to find candidates and the community in the EEC area to find a job easily by launching the WHA E-Job Market.
For recruiters who would like to leave your job vacancies, please send the details to jobpool@wha-industrialestate.com.
For job seekers who would like to leave your application form, please click https://www.wha-industrialestate.com/en/job-pool/application-form
Filter by Location:
Filter by Company:
บริษัท ฟูเซะราชิ(ประเทศไทย) จำกัด เป็นผู้นำผลิตและจำหน่ายน๊อต และชิ้นส่วนโลหะสำหรับยานยนต์ ในประเทศญี่ปุ่น กำลังขยายงาน จึงมีความต้องการรับผู้ร่วมงานเพิ่ม โดยมีตำแหน่งตามคุณสมบัติดังนี้
Qualifications
Male, Thai nationality, age 35 years up.
Bachelor's or Master's Degree in Marketing field or related field.
At least 5 years experiences of Sales/Marketing function in Automotive Industry.
Proficient in Japanese with JLPT N3 or above.
Good command in English will be advantage.
Proficiency in MS Office (Excel, Word, and PowerPoint)
Have knowledge of IATF16949.
Strong communication & interpersonal skill & negotiation skill.
Able to work under pressure.
Responsibility & Duties:
Planning for sales activities each fiscal year.
Quotation calculation.
Estimate and summary sale amount (yearly and monthly)
Control and summary KPI monthly
Contact and negotiate with customer.
Manage all task to conform with IATF16949 requirements.
Benefits: Housing allowance, Food allowance, Diligent allowance, Provident fund, Group Insurance, Parents Medical fee, Uniform, Transportation, Birthday gift, Company tour and other activities, etc.
Transportation: Sriracha, 9 Kilo, Bowin, Sapan 4, Huaiparb, Pluakdaeng,Bueng
Contact person: Ms.Jindaporn/Ms.Sunsanee 038-950-310 Ext.111
Email: jindaporn_t@fuserashi.co.th, admin@fuserashi.co.th
FUSERASHI (THAILAND) CO., LTD.
500/12 M.3 T.Tasit A.Pluakdaeng Rayong 21140
Issued date: 11 Sep 19