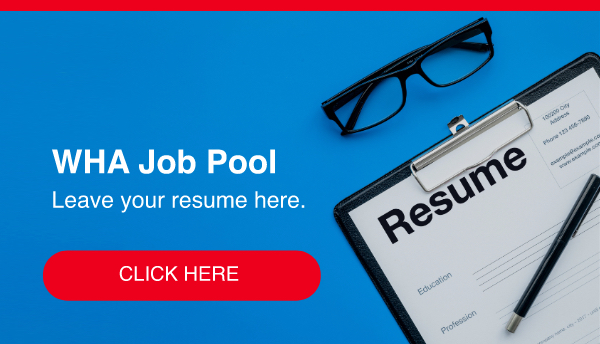 WHA E-Job Market
The First Online Job Fair in Eastern Seaboard
The impact from COVID-19 situation in Thailand has critically hit the workforce in many industries. Thus, there are some sunrise industries that still look forward to fill the vacancies in their manufacturing plants. WHA would like to assist both WHA customers to find candidates and the community in the EEC area to find a job easily by launching the WHA E-Job Market.
For recruiters who would like to leave your job vacancies, please send the details to jobpool@wha-industrialestate.com.
For job seekers who would like to leave your application form, please click https://www.wha-industrialestate.com/en/job-pool/application-form
Filter by Location:
Filter by Company:
บริษัท ฟูเซะราชิ(ประเทศไทย) จำกัด เป็นผู้นำผลิตและจำหน่ายน๊อต และชิ้นส่วนโลหะสำหรับยานยนต์ ในประเทศญี่ปุ่น กำลังขยายงาน จึงมีความต้องการรับผู้ร่วมงานเพิ่ม โดยมีตำแหน่งตามคุณสมบัติดังนี้
เพศชาย อายุ 25-30 ปี
วุฒิมัธยมศึกษาตอนปลายหรือประกาศนียบัตรวิชาชีพ (ปวช)
มีประสบการณ์ด้านการผลิตอย่างน้อย2ปี และควบคุมเครื่องจักรจะพิจารณาเป็นพิเศษ
สามารถซ่อมแซมและดูแลเครื่องจักรที่ตนรับผิดชอบได้ดี
มีประสบการณ์การทำงานด้านโรงงานอุตสาหกรรมยานยนต์
สามารถทำงานเป็นกะได้
สามารถขับรถโฟร์คลิฟท์ได้ (มีใบอนุญาต)
ผ่านการเกณฑ์ทหารแล้วเท่านั้น
สวัสดิการ : สวัสดิการช่วยเหลือค่าที่พัก ค่าอาหาร ค่าเบี้ยขยัน กองทุนสำรองเลี้ยงชีพ ปรับเงินประจำปี โบนัส รถรับส่ง ชุดยูนิฟอร์ม ประกันสังคม ประกันภัยกลุ่ม ของขวัญวันเกิดพนักงาน ท่องเที่ยวประจำปี งานเลี้ยงสังสรรค์ปีใหม่ และอื่นๆ
ผู้สนใจโปรดติดต่อสมัครด้วยตนเองหรือส่งจดหมายพร้อมแนบรูปถ่าย และหลักฐานการสมัคร ไปที่
คุณจินดาพร, คุณศันสนีย์
ฝ่ายธุรการ-บุคคล E-mail : jindaporn_t@fuserashi.co.th,admin@fuserashi.co.th
Qualifications
Male, Thai nationality, age between 26 - 35 years.
Bachelor's Degree in related field.
Have experiences in Production Planning, tooling control, warehouse and inventory in automotive industry
Good command in English will be advantage.
Computer literacy in MS Office.
Have knowledge of IATF16949 will be advantage.
Tooling control experience will be advantage
Able to work under pressure.
Responsibility & Duties:
Tool and raw material inventory.
Plan and order tool and contact with supplier for receiving and stock controlling.
Summary tool usage and cost.
Benefits: Housing allowance, Food allowance, Diligent allowance, Provident fund, Group Insurance, Parents Medical fee, Uniform, Transportation, Birthday gift, Company tour and other activities, etc.
Transportation: Bangsean,Sriracha, 9 Kilo, Bowin, Sapan 4, Huaiparb, Pluakdaeng, Bueng
Contact person: Ms.Jindaporn/Ms.Sunsanee 038-950-310 Ext.111
Email: jindaporn_t@fuserashi.co.th, admin@fuserashi.co.th
FUSERASHI (THAILAND) CO., LTD. 500/12 M.3 T.Tasit A.Pluakdaeng Rayong 21140 Issued date: 1 February 2022