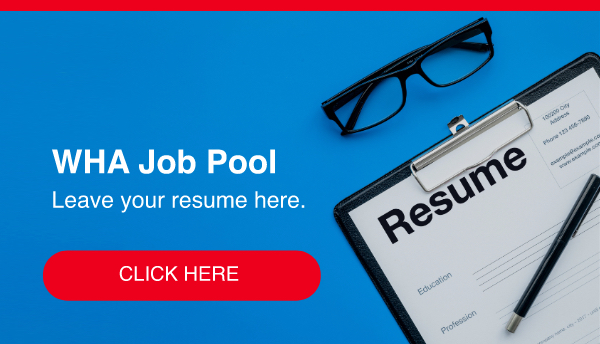 WHA E-Job Market
The First Online Job Fair in Eastern Seaboard
The impact from COVID-19 situation in Thailand has critically hit the workforce in many industries. Thus, there are some sunrise industries that still look forward to fill the vacancies in their manufacturing plants. WHA would like to assist both WHA customers to find candidates and the community in the EEC area to find a job easily by launching the WHA E-Job Market.
For recruiters who would like to leave your job vacancies, please send the details to jobpool@wha-industrialestate.com.
For job seekers who would like to leave your application form, please click https://www.wha-industrialestate.com/en/job-pool/application-form
Filter by Location:
Filter by Company:
MSX International – a leading, global provider of technology-enabled business process outsourcing (BPO) services to automotive manufacturers.
For more than 25 years, MSX International has worked closely with vehicle manufacturers around the world. We help our customers maximize value and achieve measurable success through an innovative portfolio of automotive business solutions and services.
We combine our deep industry expertise with cutting-edge technology solutions to help our automotive customers increase revenue and reduce cost, while enhancing operational efficiency and customer satisfaction.
At MSX, our goals are to help our customers reach their full potential and to excel as their global partner of choice. We are an international company with headquarters in Detroit, US, and Colchester, UK.
ตำแหน่ง: พนักงานตรวจสอบชิ้นส่วน / Part Inspector
ประเภทธุรกิจ: ที่ปรึกษาทางด้านธุรกิจรถยนต์ ศูนย์ประเมินสภาพอะไหล่รถยนต์ที่เสียในประกัน
ประเภทสัญญาจ้าง: พนักงานสัญญาจ้าง
อัตราจ้าง: 1 ตำแหน่ง
เริ่มงาน: กรกฏาคม 2565 – 31 ธันวาคม 2565
รายละเอียดงาน:
ทำการรับ ตรวจสอบ และจัดเก็บชิ้นส่วนเข้าคลังสินค้า
ตรวจสอบชิ้นส่วนตาม Procedure และ Q-Point
บรรจุชิ้นส่วนเพื่อเตรียมจัดส่ง ตามที่ได้รับมอบหมาย
จัดทำบันทึกและจัดเก็บข้อมูล รวมถึงการเรียกใช้ข้อมูลชิ้นส่วนผ่านระบบปฏิบัติการของบริษัท
ดูแลชิ้นส่วนในคลังสินค้า และทำการตรวจนับสต็อกตามที่ได้รับมอบหมาย
รายงานความผิดปกติที่เกิดขึ้นในคลังสินค้า
ดูแลความสะอาดเรียบร้อยในคลังสินค้า 5S Activity
ปฏิบัติงานอื่นตามที่ได้รับมอบหมาย
คุณสมบัติผู้สมัคร:
สัญชาติไทย
อายุ 23-30 ปี ขึ้นไป
วุฒิการศึกษา ระดับปวส. หรือเทียบเท่าขึ้นไป สาขาวิชาที่เกี่ยวข้อง
มีประสบการณ์ 2-5 ปี ในงานด้าน QA / QC / WHหรือ เพิ่งจบการศึกษาในสาขาวิชาที่เกี่ยวข้อง
มีความรู้พื้นฐานด้านคอมพิวเตอร์ Microsoft Office
เคยผ่านงานศูนย์บริการหรือโรงงานผลิตรถยนต์ดังระบุด้านล่างนี้ จะพิจารณาเป็นพิเศษ
มีประสบการณ์พนักงานรับประกันคุณภาพ (Warranty Claim)
มีประสบการณ์เจ้าหน้าที่ตรวจสอบคุณภาพ (Quality Control)
มีประสบการณ์ช่างเทคนิค (Technician)
สามารถขับรถโฟล์คลิฟท์ และมีใบอนุญาตขับขี่ จะพิจารณาเป็นพิเศษ
มีความรู้พื้นฐานเกี่ยวกับ MS Office และสามารถใช้งานได้
สวัสดิการ:
ค่าอาหาร
ค่าเดินทาง
ค่าเบี้ยขยัน (กรณี ไม่ขาดงาน ไม่ลางาน ไม่มาสาย)

เวลาทำงาน: 8.30 – 17.30 (จันทร์ – ศุกร์)
สถานที่ทำงาน: การนิคมเหมราช ต.ตาสิทธิ์ อ.ปลวกแดง จ.ระยอง
โปรดยื่นใบสมัคร พร้อมแนบประวัติการทำงาน รูปถ่าย เงินเดือนปัจจุบัน และเงินเดือนที่คาดหวัง ผ่านทาง Jobthai หรือ
อีเมล: Email: myasarn@msxi.com; pkrajaejun@msxi.com
MSX International Ltd.
Hemaraj Eastern Seaboard Industrial Estate
300/99 Moo 1, Tasit, Plauk Daeng, Rayong 21140 Thailand