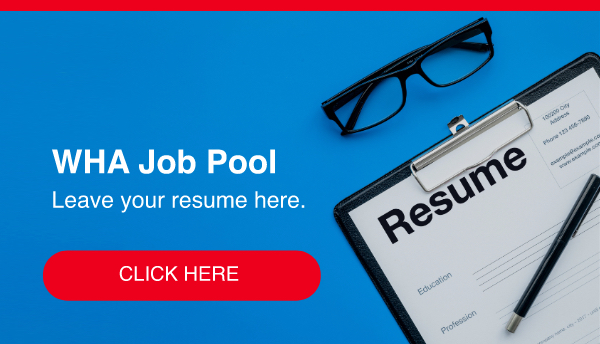 WHA E-Job Market
The First Online Job Fair in Eastern Seaboard
The impact from COVID-19 situation in Thailand has critically hit the workforce in many industries. Thus, there are some sunrise industries that still look forward to fill the vacancies in their manufacturing plants. WHA would like to assist both WHA customers to find candidates and the community in the EEC area to find a job easily by launching the WHA E-Job Market.
For recruiters who would like to leave your job vacancies, please send the details to jobpool@wha-industrialestate.com.
For job seekers who would like to leave your application form, please click https://www.wha-industrialestate.com/en/job-pool/application-form
Filter by Location:
Filter by Company:
คุณสมบัติ
เพศชาย
อายุ 25 ปี ขึ้นไป
สามารถทำงานเป็นกะได้
สามารถเดินทางมาทำงานด้วยตัวเองได้
มีความขยัน อดทน ทำงานเรียบร้อย
สามารถเริ่มงานได้ทันที
สวัสดิการ
หยุดวันเสาร์-อาทิตย์
ค่าเช่าบ้าน
ค่าเดินทาง
ยูนิฟอร์ม
ค่ากะ
กรอกใบสมัครพร้อมสัมภาษณ์งานได้ที่ บริษัท เจ-ซี ซาล่า ไทย จำกัด โทร 033-010-721-2, 081-945-0532 ติดต่อ คุณสุชาติ
ผู้ช่วยฝ่ายผลิต ต้องดูแลเครื่องจักรทั้งหมดให้พร้อมใช้งานอยู่เสมอ และบำรุงรักษาเครื่องจักรตามแผนงาน บันทึกและเก็บประวัติการซ่อมบำรุงรักษาเครื่องจักร จัดซื้อและจัดหาอะไหล่เครื่องจักรเมื่อต้องการ
ผู้ช่วยฝ่ายผลิตรายงานต่อ ผู้จัดการโรงงาน / ฝ่ายผลิต
หน้าที่ความรับผิดชอบของผู้ช่วยฝ่ายผลิต
ดูแลเครื่องจักรทั้งหมดให้พร้อมใช้งาน
ซ่อมแซมเครื่องจักรเมื่อมีอาการผิดปกติ
บำรุงรักษาเครื่องจักรตามแผนงาน
จัดหาและจัดซื้ออะไหล่
บันทึกและเก็บประวัติการซ่อมและบำรุงรักษาเครื่องจักร
ตรวจวัดเสป็คของผลิตภัณฑ์ทุกวัน
เก็บตัวอย่างผลิตภัณฑ์เพื่อทำใบรายงานผลการตรวจวิเคราะห์สินค้า
ตรวจสอบวัตถุดิบที่เข้ามา
เตรียมผลิตภัณฑ์ สำหรับจัดส่ง
จัดหาและจัดซื้อบรรจุภัณฑ์ เช่น กล่องกระดาษ, ถุงพลาสติก และ เทปกาว
ดูแลสต็อกของบรรจุภัณฑ์
ทำงานแทนพนักงานฝ่ายผลิตที่ลางาน
โหลดสินค้าเพื่อจัดส่งทั้งในประเทศและส่งออก
ดูแลรถยก (Forklift) ให้พร้อมใช้งานอยู่เสมอ
บำรุงรักษารถยก (Forklift)
ดูแลและตรวจสอบความสะอาดของโรงงานทั้งภายในและภายนอก
ปฏิบัติตามคำสั่งที่ได้รับมอบหมาย
สวัสดิการ
หยุดวันเสาร์-อาทิตย์
ค่าเช่าบ้าน
ค่าเดินทาง
ยูนิฟอร์ม
กรอกใบสมัครพร้อมสัมภาษณ์งานได้ที่ บริษัท เจ-ซี ซาล่า ไทย จำกัด โทร 033-010-721-2, 081-945-0532 ติดต่อ คุณสุชาติ
The assistant handles various duties and responsibilities in the company that may require to work over different departments and take on several tasks within the accounting, administration, human resource and quality management system ISO 9001: 2015
The assistant reports to the managing director.
Job description
Accounting Part
The assistant has to support the accountant handle the financial records to the express accounting program for clients, suppliers, government and other organizations.
Responsibilities
Issuing invoices for customers
Verify any generate invoices for suppliers and prepare account payable
Preparing bills receivable, invoices and bank deposits
Calculate overtime of operators for making a payroll each month
Take care the accounting system and backup data from the express accounting program each week
Quality Management System Part
Responsible for quality management activities and control quality of the products (raw material, production process and waste) according to the quality management system and quality control system ISO 9001: 2015 of the company.
Responsibilities
Make all necessary documentations for quality management according to the quality system
Control the quality of the products, raw material and packaging together with the operation manager
Control the quality of the production process and operator's performance according to the quality management system
Issue non conforming product report and request of corrective action when found the nonconformity and does not meet our requirements
Issue the monthly report of waste cuffs and yarn
Sending cuffs sample to the laboratory for bioburden testing
Summary result of quality objectives monthly
Evaluate suppliers' efficiency
Customer satisfaction survey
Calibration of measurement instruments
Supplier Audit, Internal and External Audit, ISO 9001: 2015 Audit
Qualifications
Bachelor's degree in related field
Age 28 years old and above
Good command of English, speaking and writing
Computer experience in PC and MS Office
Good team player and service mind
ISO 9001:2015 knowledge and experience will be advantage
Please contact and send your resume to Khun Pathitta, email: contact@jcsala.co.th or telephone number: 033-010721-2
Our Office located at
J-C Sala Thai Limited
64/68 Moo 4 Eastern Seaboard Industrial Estate (Rayong),
ESIE 9,T.Pluakdaeng, A.Pluakdaeng, Rayong 21140 Thailand
Tel: +66 (0) 33 010 721-2
Fax: +66 (0) 33 010 723