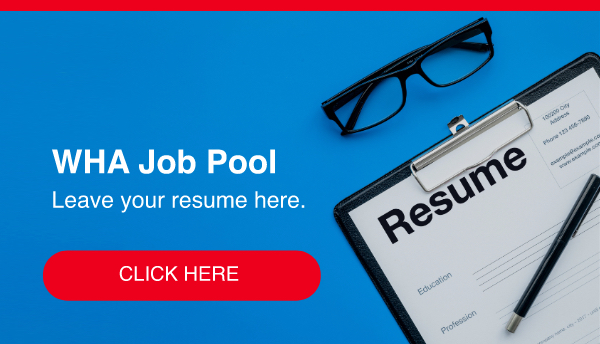 WHA E-Job Market
The First Online Job Fair in Eastern Seaboard
The impact from COVID-19 situation in Thailand has critically hit the workforce in many industries. Thus, there are some sunrise industries that still look forward to fill the vacancies in their manufacturing plants. WHA would like to assist both WHA customers to find candidates and the community in the EEC area to find a job easily by launching the WHA E-Job Market.
For recruiters who would like to leave your job vacancies, please send the details to jobpool@wha-industrialestate.com.
For job seekers who would like to leave your application form, please click https://www.wha-industrialestate.com/en/job-pool/application-form
Filter by Location:
Filter by Company:
JFE Steel Galvanizing (Thailand) Ltd.
We are now seeking qualified candidates with can do attitude, high energy, commitment, service mind and passion to
คุณสมบัติ
เพศหญิง อายุ 20-25 ปี
ระดับการศึกษา ปริญญาตรี ทุกสาขา เกรดเฉลี่ยไม่ต่ำกว่า 2.80
ไม่จำเป็นต้องมีประสบการณ์ ยินดีรับนักศึกษาจบใหม่
สามารถใช้งานคอมพิวเตอร์ได้เป็นอย่างดี (Microsoft Word, Excel, Power point, Outlook)
หากมีความรู้เกี่ยวกับระบบ ISO 9001,14001,17025 จะได้รับการพิจารณาเป็นพิเศษ
หน้าที่ และ ลักษณะงาน
การจัดทำเอกสารเกี่ยวกับ ISO 9001,14001,17025
ดูแลจัดการเอกสารเกี่ยวกับงานซ่อมบำรุง
ดูแลจัดการเอกสารเกี่ยวกับ PR ของแผนก
ติดต่อสื่อสารระหว่างแผนก คีย์ OT คีย์ใบลา และ ดูแลเรื่องเวลาการทำงานของพนักงานแผนก MMS
อื่นๆ ตามที่ได้รับมอบหมาย
Benefits & Welfare:
Uniform
Transportation
Housing 3,100.00
Day shift 75.00, Night shift 150.00
Married, new born, Funeral (Employee, Family)
Rice free, meal allowance 45.00/day have overtime add 20.00
Diligent 500/700/900 Baht/Month
Group Insurance
Mrs. Chotima Pientham
Address: WHA Eastern Seaboard Industrial Estate 1
500/94, Moo 3, T. Tasit, A. Pluakdaeng, Rayong 21140
Phone: 038-950-417 Ext. 174, 081-9349389
E-mail: Chotima-P@JSGT.CO.TH
Home Page: http://www.jsgt.co.th
| | |
| --- | --- |
| หมายเหตุ: สัมภาษณ์งานผ่านระบบออนไลน์ โดยใช้โปรแกรม Microsoft Team | |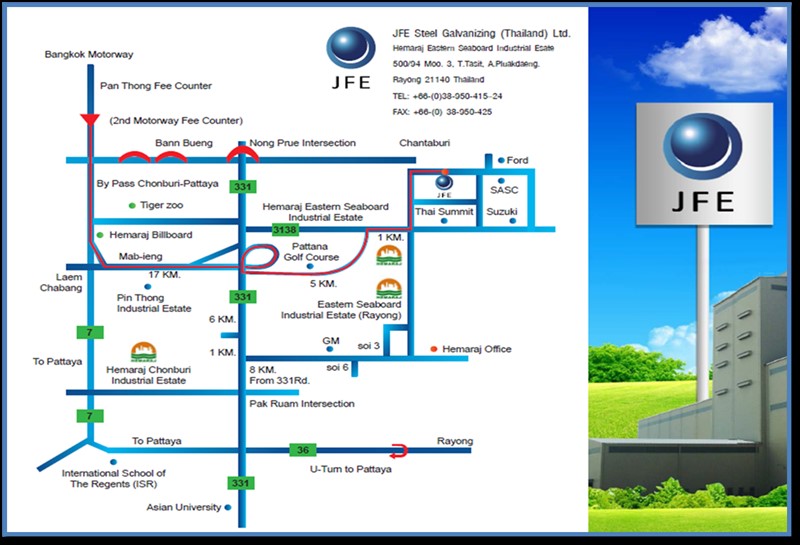 JFE Steel Galvanizing (Thailand) Ltd.
We are now seeking qualified candidates with can do attitude, high energy, commitment, service mind and passion to
คุณสมบัติ
ปวส. สาขาคอมพิวเตอร์, สาขาบริหารธุรกิจ, หรือที่เกี่ยวข้อง เกรดเฉลี่ยไม่ต่ำกว่า 2.75
เพศ หญิง อายุ 20-25 ปี
มีทักษะด้านการสื่อสารภาษาอังกฤษพอใช้ และ คอมพิวเตอร์ (Excel) อยู่ในเกณฑ์ดี
มีมนุษยสัมพันธ์, มีทักษะด้านการบริหารเวลา, มีทักษะด้านการจัดลำดับความสำคัญของงาน
หน้าที่ และ ลักษณะงาน
จัดเก็บเอกสาร
เก็บข้อมูลการทำงาน
จัดฝึกอบรม และ จัดเก็บเอกสาร OJT ของกลุ่มงาน Inspection
ติดต่อประสานงานกับหน่วยงานที่เกี่ยวข้อง
อื่นๆ ตามที่ได้รับมอบหมาย
Benefits & Welfare:
Uniform
Transportation
Housing 3,100.00
Day shift 75.00, Night shift 150.00
Married, new born, Funeral (Employee, Family)
Rice free, meal allowance 45.00/day have overtime add 20.00
Diligent 500/700/900 Baht/Month
Group Insurance
Mrs. Chotima Pientham
Address: WHA Eastern Seaboard Industrial Estate 1
500/94, Moo 3, T. Tasit, A. Pluakdaeng, Rayong 21140
Phone: 038-950-417 Ext. 174, 081-9349389
E-mail: Chotima-P@JSGT.CO.TH
Home Page: http://www.jsgt.co.th
| | |
| --- | --- |
| หมายเหตุ: สัมภาษณ์งานผ่านระบบออนไลน์ โดยใช้โปรแกรม Microsoft Team | |