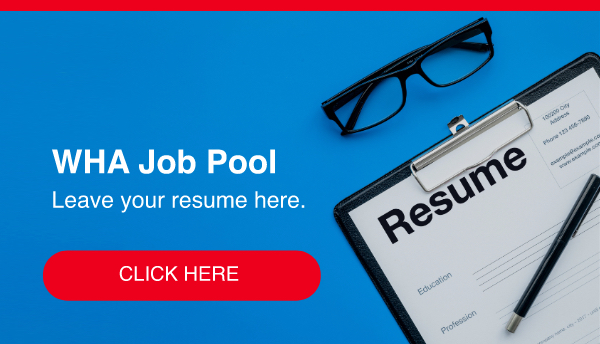 WHA E-Job Market
The First Online Job Fair in Eastern Seaboard
The impact from COVID-19 situation in Thailand has critically hit the workforce in many industries. Thus, there are some sunrise industries that still look forward to fill the vacancies in their manufacturing plants. WHA would like to assist both WHA customers to find candidates and the community in the EEC area to find a job easily by launching the WHA E-Job Market.
For recruiters who would like to leave your job vacancies, please send the details to jobpool@wha-industrialestate.com.
For job seekers who would like to leave your application form, please click https://www.wha-industrialestate.com/en/job-pool/application-form
Find the latest job vacancies from companies in WHA Industrial Estates.
Filter by Location:
Filter by Company:
NISSEI PLASTIC MACHINERY (THAILAND) CO., LTD
เราคือ บริษัทผู้ผลิตเครื่องฉีดพลาสติก (PLASTIC INJECTION MOLDING MACHINE) ชั้นนำของโลก ที่ได้รับการส่งเสริมการลงทุนจาก BOI มีสำนักงานใหญ่ในประเทศญี่ปุ่น และสาขาทั่วโลก ขณะนี้มีความต้องการรับผู้ร่วมงานในตำแหน่ง ดังต่อไปนี้
คุณสมบัติของผู้สมัคร:
เพศหญิง ไม่จำกัดอายุ 25-35ปี
จบการศึกษาไม่ต่ำกว่าระดับปริญญาตรี ในสาขาที่เกี่ยวข้อง
ยื่นเอกสารขออนุญาตใช้สิทธิ์ BOI ตามเงื่อนไขและข้อกำหนดของ BOI
ขออนุญาตยกเว้นอากรขาเข้าของวัตถุดิบและเครื่องจักร
ขออนุมัติจาก BOI กรณีจำหน่ายสินค้าของบริษัท ไปจำหน่ายยังต่างประเทศ
จัดทำสูตรการผลิต และขออนุมัติจาก BOI
ตัดจำหน่ายบัญชีวัตถุดิบ
จัดทำรายงานผลการดำเนินงานเป็นรายปี
งานอื่นๆ ตามเงื่อนไขข้อกำหนดของสำนักงาน BOI
หากมีความรู้ด้าน LOGISTICS / IMPORT / EXPORT / BOI จะได้รับการพิจารณาพิเศษ
สามารถขับรถยนต์ได้และมีใบขับขี่
สำหรับผู้ที่ได้รับการคัดเลือก จะได้รับค่าตอบแทนดังต่อไปนี้
เงินเดือนตามความสามารถ
สวัสดิการค่าที่พัก 1,000 บาท/เดือน ค่าเดินทาง 1,000 บาท/เดือน
ค่าครองชีพ (สำหรับพนักงานที่มีบุตรหรือคู่สมรส) 1,000 บาท/เดือน
ค่าอาหารกลางวัน ฟรี ( O.T 40บาท /มื้อ)
เบี้ยขยันรายเดือน 300/500/1000 บาท
ประกันชีวิต,อุบัติเหตุ และ กองทุนสำรองเลี้ยงชีพ ,ประกันสังคม
โบนัสประจำปี
ทำงานวันจันทร์ – วันศุกร์ 08.30-17.30 น.
ผู้สนใจสามารถสมัครด้วยตนเองหรือส่งใบสมัครพร้อมรูปถ่าย มาที่
Admin@nissei-pmth.co.th
บริษัท นิสเซ พลาสติก แมชชีนเนอรี่ (ไทยแลนด์) จำกัด
นิคมอุตสาหกรรม อิสเทิร์นซีบร์อด ซอย E5
เลขที่ 300/70 ตำบลตาสิทธิ์ อำเภอปลวกแดง จังหวัดระยอง 21140
สอบถามรายละเอียดเพิ่มเติม กรุณาติดต่อ แผนกบุคคลและธุรการ
โทร. 038-950562-4 ต่อ 114 / 091-5769139 / แฟกซ์ 038-950565