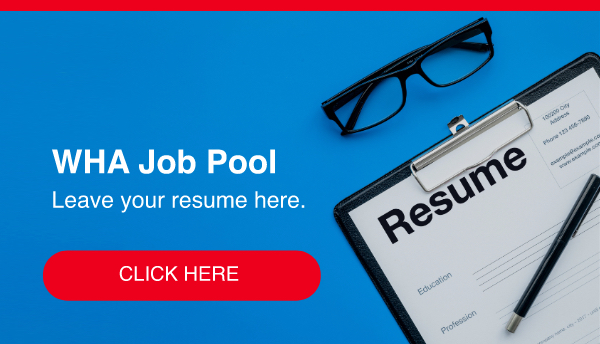 WHA E-Job Market
The First Online Job Fair in Eastern Seaboard
The impact from COVID-19 situation in Thailand has critically hit the workforce in many industries. Thus, there are some sunrise industries that still look forward to fill the vacancies in their manufacturing plants. WHA would like to assist both WHA customers to find candidates and the community in the EEC area to find a job easily by launching the WHA E-Job Market.
For recruiters who would like to leave your job vacancies, please send the details to jobpool@wha-industrialestate.com.
For job seekers who would like to leave your application form, please click https://www.wha-industrialestate.com/en/job-pool/application-form
Find the latest job vacancies from companies in WHA Industrial Estates.
Filter by Location:
Filter by Company:
Job salary: 25,000--30,000THB
Address: WHA Eastern Seaboard Industrial Estate 2,Chonburi Provinc
Working time: Monday - Saturday, working hours 8:00 - 17:00
Nationality requirements: Thai, Thai-Chinese
Job Requirements:
Responsible for collecting supplier information and understanding local material prices in Thailand
Actively cooperate with the requirements put forward by various departments and purchase relevant materials in a timely manner to meet order requirements.
More than three years of procurement experience and experience in customs import declaration will be specially considered.
Have basic computer skills and be proficient in Word, Excel and other software.
Those who belong to internal procurement positions and can drive will be given special consideration.
Be serious and careful, have good communication skills and ability to withstand pressure.
If you have a recommendation letter from a previous company, special consideration will be given.
Language required: Fluent in Chinese, Thai, listening, speaking, reading and writing, English is not a requirement
Company benefits: Talk about it in person
Reporting objects: YOYO
Contact details: Wechat/Whatsapp : +86 182 5835 7621